Prospects Update is a bi-weekly feature that will check in on a few of the Leafs top performing prospects. The fourth edition looks at 1st round pick Frederik Gauthier and Swedish winger Andreas Johnson. The 1st edition, featuring Verhaeghe and Brown, can be found here. The 2nd edition, featuring Finn and Abbott, can be found here. The 3rd edition, featuring Brennan and Herzog, can be found here.
Frederik Gauthier – C Rimouski Oceanic (QMJHL)
I have been hesitant to profile Gauthier all season long, due to his unimpressive offensive totals. At the end of October he had 15 points in 16 games. He had no goals and just five assists in eight November games. As of today, through 29 games, he has 24 points.
His stats so far this season are by no means disappointing, simply not as impressive as I figured they might be. He currently sits tied for fifth on his team in scoring. His team scores over 3.5 goals per game. He has less points-per-game this season than he did last year. This year he is also streaky, failing to go more than two consecutive games with a point all season long. This is not a good sign. So, with all the negativity, why profile him?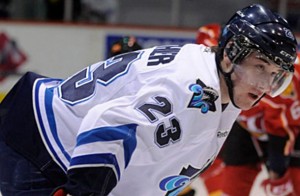 Well, the main reason is because he was named to Team Canada's preliminary World Junior squad. Which is what made me wonder; should I be worried that he isn't scoring? Because the fact is Gauthier is a defensive centerman, chosen for his play on both sides of the puck. He is big, strong, and smart. Canada is not choosing him to score big goals. They are choosing him to win key faceoffs, kill penalties, and play against the other team's best offensive weapons.
Now the question becomes was it worth taking him with a 1st round pick? Anthony Mantha, chosen one pick before Gauthier is currently ripping up the QMJHL with 73 points in 32 games. Emile Poirier, taken one pick after Gauthier, is 8th in league scoring with 48 points, twice as many as the Leafs pick.
Ultimately however, it is too hard to tell at this point whether opting for a defensive forward over a scorer was a bad decision. With the invitation to Team Canada though (something Poirier did not receive), the World Juniors will be a good test to see what he can do. At Leafs camp, the coaches pointed out his need to improve his skating. On international ice, where skating is that much more vital, Gauthier can't afford to be a step behind. He will have to keep up or he simply won't play.
If nothing else, this will be a good opportunity for Leaf fans to see Gauthier, who did win gold at last year's U-18's. Also of note is that he is just 47% on faceoffs this year for Rimouski.
Andreas Johnson – LW Frolunda Indians (SHL)
Johnson is by all means a player who is under the radar. Taken with the 202nd overall pick in the 2013 entry draft, Johnson is a skilled winger who has surprised this year in Sweden's top league, the Swedish Hockey League (formerly the Elite league).
Last season he played on the J20 Frolunda junior squad and tallied 54 points in 42 games. He dressed in seven games for the Frolunda men's team as well, and was subsequently signed to a two-year pro contract by the Indians in April. While the junior totals from last season are solid, it's the SHL totals from this year that clearly jump out. Through 32 games, he has 14 goals and 22 points. His 14 goals tie for the fourth-most in the league and his 22 points are top-20. For a 19-year old, this is rare.
One possible reason that Johnson was drafted so late may be because he did not play in a men's league for very long in his draft year. Previous higher-ranked Swedes such as Filip Forsberg (11th overall 2012) or Sebastian Collberg (33rd overall 2012) played against men during their draft year. The SHL and the Allsvenskan are both pro leagues, tier-1 and tier-2 respectively, where Forsberg and Collberg each played over 40 games before they were drafted. Although they did not pile up points, they proved they could at least compete with men, and so they were taken at a higher draft position.
Johnson meanwhile played almost his entire season in the J20 Super Elit, which is the top junior league in Sweden. He played well, but did not get called up to the pros. And so he was taken in the 7th round by the Leafs.
Fast forward to this season and though early, this may yet be a steal. Johnson and Collberg are teammates, where the former has the aforementioned 22 points, and the latter has just four. Both have been chosen to represent Sweden at the World Juniors and I am hoping that Johnson does something this year similar to what Sebastian Collberg accomplished in his draft year. Though Collberg played in the SHL in 2011-12, he did not play particularly well (zero points in 41 games!) and his real coming out party were the World Juniors where he tallied seven points in six games.
Can Johnson make the Leafs look really good with a solid World Juniors performance? Hopefully, though Collberg's stats also prove that one good international tournament does not necessarily lead to continued success, as his struggles this season have shown. But you have to think, if Johnson plays well in Malmo, what is stopping him from bringing that success back to Frolunda where he has started out so well?
*Notes & Updates:
– Connor Brown still leads the OHL in scoring with 68 points in 35 games.
– Verhaeghe is 13th with 48 in 33 games. In October, I predicted Verhaeghe would eventually surpass Brown and thought he was a better bet for long-term success. Guess I was wrong…
– Matt Finn was not selected to represent Team Canada, which is a bit of a surprise. Then again, a look at Canada's wealth on defense and I guess it isn't all that surprising…
– Fabrice Herzog, not surprisingly, has been chosen to represent Team Switzerland at the World Juniors
– Brennan and Abbott are still 1-2 in Marlies scoring, each with 25 points. The next best is Leivo with 12…
Here are a couple of snipes from Brown (one is shorthanded) last week against Kingston: