It has been readily apparent that the Toronto Maple Leafs are embarking on an ambitious rebuild plan that has seen them make headlines for their style of management and play so far this season. They have been making headlines for all manner of different topics.
William Nylander and his concussion and recovery process has been a hot issue. The trade deadline is fast approaching and the Leafs need to decide who to deal for picks and prospects. The Buds have also been struggling to win games lately. It may be tough to watch, but it might be for the best. Let's dive right in.
William Nylander Making Progress
Many people were extremely excited to hear that the Maple Leafs had released Nylander, the Buds eighth overall pick in 2014, to play for Sweden at the World Juniors. He was expected to rip the tournament up and lead the Swedes to medal position. Everything changed when Nylander took a hit to the head from Swiss player, Chris Egli.
The resulting concussion knocked Nylander out of the tournament for good. The future star of the Maple Leafs is now back in Toronto and is waiting to get cleared to play for the Toronto Marlies.
William Nylander has been reactivated to the Toronto Marlies roster — a positive sign as he makes his way back from a concussion.

— Chris Johnston (@reporterchris) January 17, 2016
The Maple Leafs made the smart choice to make sure Nylander is 100% healed and ready to go before be makes his return to the Marlies. He is one of the top prospects in the organization and the Leafs handled this situation perfectly. Nylander sits sixth in AHL scoring despite missing games due to the Juniors and a concussion. His presence will help the Marlies, who are a powerhouse this year, continue to win.
Trade Deadline Looms Large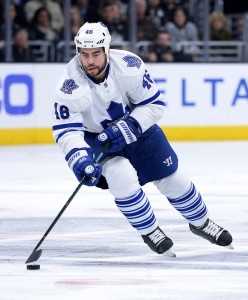 It's no secret that the Maple Leafs are in rebuilding mode. The goal of this year was two-fold. The Buds are supposed to lose and secure themselves a top pick in a very deep draft class. The plan was also to shed contracts and players at the trade deadline in order to secure more picks and young prospects for the future.
The Leafs signed many current roster players to short one and two year deals this past summer. Many of those same skaters will now more likely than not be shipped off to contending teams looking for that extra bit of punch before the playoffs. It wouldn't be a surprise if Roman Polak, Michael Grabner, P.A. Parenteau and more are gone in the coming weeks.
Teams have also called and are currently kicking tires on Dion Phaneuf and James van Riemsdyk. The Buds may also look to deal Joffrey Lupul if they can find a taker for his salary and term.
Leafs Struggling to Win
The last five games have not been very kind to the boys in blue and white. They lost a close decision to the Los Angeles Kings, a powerhouse in the Western Conference. They were then eaten alive by the San Jose Sharks. It was their worst game in recent memory and by the time it was over, it was 7-0.
More losses followed against Columbus, Chicago and Boston. The recent losing streak has many wondering if the Buds are finally showing their true colours. They have left points on the table and are rapidly dropping down the NHL standings. They appear to be in a slump where they simply can't figure out how to score goals.
Sure, it makes for painful hockey to watch. But there's always a silver lining in situations like this. In this case, it will be the 2016 NHL Entry Draft in June. The worse the Maple Leafs do, the better they draft. In a deep class featuring Auston Matthews, Patrick Laine, Jesse Puljujarvi, Matthew Tkachuk, and more, it will be beneficial for the Leafs to not win. Everyone knew there was going to be pain this year. It's no secret that before they got better, the Buds would be worse off.
It's all going according to plan. If the Leafs stick with it, a high draft pick and building block will be well worth the pain of one season.