Trade rumors can be tricky business. The rumor mills are a hotbed for sparking controversy and debate among hockey fans. In this weekly piece, I look at the current marketplace and what rumors are circulating both with the Pittsburgh Penguins and the NHL abroad. Unless otherwise noted, these discussions are strictly rumors and not information from inside sources.
The Pittsburgh Penguins, as expected, moved David Perron this past weekend. Though, the return that Jim Rutherford received from Bob Murray and the Anaheim Ducks was much different from what anyone had anticipated. I already discussed the trade and how it looks for both teams and with a few extra days to stew on it, I can't really say my perception of this deal has changed much. This is simply a deal that brings speed to a lineup in dire need of exactly that and a gamble on someone who is capable of much more than he provided the Ducks. One point that I didn't make in my initial reaction was that it's also nice to see the General Manager making decisions based on his coach's wants. There seemed to be a major disconnect between Rutherford and former head coach Mike Johnston when it came to how this team was built compared to how they were being deployed. It's clear now that Rutherford wants the Penguins to play with speed and Mike Sullivan has the same agenda. Carl Hagelin brings that.
I do however share some of the same concerns as many of you regarding Hagelin's $4 million cap hit for the next three seasons. While Pittsburgh may not be on the hook for his modified no-trade clause since he was traded prior to it kicking in, if he fails to perform in Pittsburgh who's going to take him off their hands at that price? It's certainly a high-risk move but considering the underwhelming performance of most of Pittsburgh's assets, I can't imagine a much better deal being available. With that in mind, let's take a look at the rumblings around the league.
Plenty of Big Fish to Catch This Season
We're all well aware of the Jonathan Drouin situation that's plaguing Steve Yzerman and the Tampa Bay Lightning. Insiders were recently reporting that Drouin could be moved at any moment, with the St. Louis Blues as the forerunner in those talks. However, recent rumblings lead us to believe the Blues could stand pat for a bit longer to see where they stand with their injury situation. Still, names like Kevin Shattenkirk continue to make their rounds.
Recently, a lot of buzz has surrounded David Backes, with Elliotte Friedman of Sportsnet recently stating that he could see the Penguins being interested.
https://twitter.com/NicholsOnHockey/status/688016477820182528
The Blues are definitely a team to watch in the coming weeks. According to Doug Armstrong, they're looking for a hockey trade and not something that entails youth leaving for veterans or vice versa. Solid hockey trades will normally mean the moving parts have term left on their contracts, which again points to Shattenkirk as a viable candidate.
Andrew Ladd and Dustin Byfuglien continue to make headlines in Winnipeg, as neither player has inked a new deal. Both are set to become unrestricted free agents at season's end and with the Jets struggling to remain in the playoff race, the writing is likely on the wall for at least one of them. All signs indicate that Ladd will get an extension while Byfuglien gets moved but if the Jets do stay in the playoff hunt, Winnipeg could potentially hold on to both.
There could be multiple names available in Vancouver, as the Canucks are inching toward a youth movement. Pending UFA's Chris Higgins, Brandon Prust, Dan Hamhuis and Yannick Weber will be players to watch in the coming weeks. Hamhuis is likely the most attractive name on the list but teams may be hesitant until they see him return to the ice after taking a puck in the face on December 10. Higgins, while being shopped by GM Jim Benning, was also recently waived and cleared waivers. So, the Canucks will likely need to retain some of his $2.5 million cap hit if they plan on moving him. If that weren't the case, someone would have scooped him up during the waiver process.
Do the Pittsburgh Penguins Still Have Options?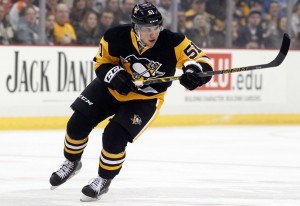 Aside from the recent acquisition of Carl Hagelin, the Penguins have also acquired a highly touted young defenseman that possesses high-end puck-moving skills and the ability to quarterback a power play. I'm not talking about a trade, though.
Pittsburgh has recalled Derrick Pouliot from their AHL affiliate in Wilkes-Barre/Scranton and with both Kris Letang and David Warsofsky injured, Pouliot is expected to play tonight in St. Louis. Heading into camp this past summer, Pouliot was largely expected to assume a top-four role in Pittsburgh but failed to impress. Now is the time for him to prove once and for all that he's ready for NHL action.
The addition of Hagelin, combined with the potential for Pouliot to cement his roster spot in the big league, means the Penguins may not be very active in the coming weeks as we approach the trade deadline on February 29. If they are, Rutherford will be walking a fine line with cap management and of course, if Pouliot doesn't play well, the Penguins may consider moving him. So, the potential lack of moves doesn't mean the Penguins aren't a team to keep a close eye on over the next few weeks.
One situation that I find intriguing is whether or not the Penguins would consider moving Patric Hornqvist. While he brings much more to the table than just offense, it's no secret that he's struggling to produce this season. Some have wondered how things will balance out with Hagelin on the books for three more years and multiple restricted free agents in need of new offers this spring. Well, moving either Hornqvist or veteran Chris Kunitz for an individual with a lower cap hit would help in that regard and I don't see Kunitz as very marketable. Does Rutherford have something else up his sleeve?