Since the announcement of Denna Laing's injury during the Winter Classic fans everywhere have been wanting to show their support. Below are a few ways you can help support Laing during her recovery period.
This list will be updated as more fundraisers take place.
#Cards4Denna
The NWHL players have started a twitter hashtag, #Cards4Denna, to remind fans of how they can show their support to Laing.
Cards and well wishes can always keep people in good spirits which is important during the recovery period.
There are a few different ways you can get cards and/or gifts to Denna Laing.
Bring them to any NWHL game for the rest of the season. There should be a box
email your well wishes with "Denna Laing" in the subject line to fanmail@nwhl.co
snail mail them to the NWHL office : National Women's Hockey Leauge, 67 West Street Suite 401-c11, Brooklyn, New York, 11222
On the website: dennalaing.org
NWHL All-Star Game Jerseys
The first ever NWHL All-Star Game weekend is almost here and one of the game worn jerseys can be yours. After All-Star weekend all the jerseys, with the exception of Knight and Pfalzer, will be auctioned off. All proceeds with go to the Denna Laing Fund.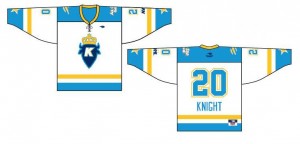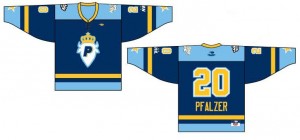 Patrice Bergeron
The Boston Bruins' center is raffling off his private box (holds 12) for the January 26th game against the Anaheim Ducks. Afterwards Bergeron will hold a private meet and greet with those in the box.
Raffle tickets are $5 each and can be purchased on the NHL Alumni Raffles website.
Bucci Overtime Challenge
Creator of #bucciovertimechallenge , John Buccigross, has decided to join in on the giving fun.
All proceeds from any item bought on bucciot.com in between now and March 1st will be donated to The Denna Laing Fund.
All #bucciovertimechallenge proceeds until March 1 will go to https://t.co/c1BztlJwto. Buy. https://t.co/cggCIMcF8R pic.twitter.com/8GNt12IsFH

— Bucci Mane (@Buccigross) January 13, 2016
Hayes Brothers and Barstool Sports
Barstool sports and the Hayes brothers have teamed together to raise money for The Denna Laing Fund.
Upon hearing about Laing's long recovery Dave of Barstool Sports felt as thought there was something he could do to help out. He immediately reached out to the Laing family asking if he could make shirts to sell stating 100% of the proceeds would go to the fund. The Laing family said yes and thanked them for all of their support.
Not long after the announcement of the shirt fundraiser, Jimmy and Kevin Hayes decided to hop on the fundraising train. For every 10k worth of shirts sold the Hayes brothers will donate $1,000 to the cause.
You can buy the shirt here.
Join @Jimmy10Hayes and I in supporting @dlaing14 She is a hockey hero with an amazing ❤️ Every 10k we will donate 1k https://t.co/0eU0iBOCPD

— Kevin Hayes (@KevinPHayes12) January 14, 2016
Boston Blades
Laing has a special place in the heart of the Boston Blades (CWHL). After playing for Princeton, Laing headed to the Blades where she helped them win the Clarkson Cup in 2015.
Showing support for their former teammate the Blades have decided to auction off a team signed stick adorned with a number 24 sticker to benefit Laing.
Although Denna no longer plays for the Blades, she will forever be a part of our family, and the entire organization's thoughts and best wishes are with her as she begins her recovery.

From the statement the Boston Blades released
The auction will take place on eBay until January 20th, 2016 at 1:54 pm est. All proceeds from the auction will go to Laing's recovery fund.
Bruins – Canadiens Winter Classic Jerseys
The Boston Bruins and Montreal Canadiens play each other on January 19th for the first time since the 2016 Winter Classic. Both teams will wear their Winter Classic jerseys during warm-ups, autograph them, and auction them off for the Denna Laing Fund.
100% of the proceeds will go to the fund. Auction begins at puck drop, 7:05 pm est, on the NHL Auction page.
Bruins Hat
Besides auctioning off their Winter Classic jerseys and pledging $200,000 the Bruins are also selling a hat to benefit the Denna Laing Fund.
Net proceeds will go to the fund.
The hat can be found here and will be available for delivery on the 26th of January.
Support Denna Laing w/ this B's & Denna Laing Charity Knit hat to benefit Denna Laing Fund: https://t.co/j3oa8WCJ97 pic.twitter.com/rLSei1uA6P

— Boston Bruins (@NHLBruins) January 19, 2016
A Dozen for Denna
Heather Yunger, owner of Top Shelf Cookies, is a diehard Boston sports fan with a passion for baking cookies and helping others. Although, Top Shelf Cookies is a small locally owned business in the toddler stages of life Yunger wants to help support Laing anyway possible. So, on January 19th she launched "A Dozen for Denna".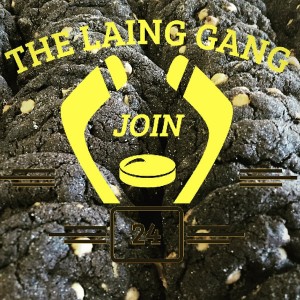 For every online order of "A Dozen for Denna" , a dozen Black and Gold cookies, $2.40 will go to the Denna Laing Fund.
Below is a statement from Yunger on why she felt it was important to help raise funds for Laing.
I continue to be blown away by the positivity of this young woman. I'm hoping that it continues for her. The outpouring of support from the hockey community has been beautiful, but unsurprising for those of us that are in it. I've been trying to figure out a way that Top Shelf Cookies can help. Since Top Shelf Cookies is not exactly a giant cookie empire (yet!), I can't write a giant check as much as I would like to. So, I thought I would give this a try.
Topshelf Cookies will be taking orders (here) for their famous Black and Gold cookies from January 19th – February 12th. Stick taps to Yunger for making the selling period 24 days in honor of Laing's jersey number.
Elaine is in her first year writing for The Hockey Writers. She will mostly be covering the Columbus Blue Jackets, Lake Erie Monsters, NWHL, and the charitable works all hockey players partake in.
She just ended a two season internship with the Ohio AAA Blue Jackets.