Already, it's been an exciting year for the Toronto Maple Leafs and their fans. The hype that once surrounded the future of the team now engulfs the current roster with players like Auston Matthews and Mitch Marner suiting up for the big club.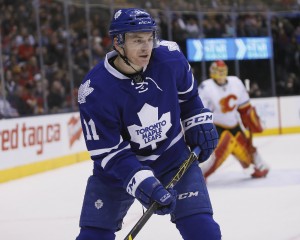 While the team currently employs a number of first-year players, it doesn't seem too soon for these rookies to leave their mark on a franchise celebrating their 100th year of existence. If it wasn't enough that Marner and Matthews sit first and second among NHL rookies in scoring, the  duo also lead the Leafs so far this season in goals (Matthews), assists (Marner) and points (Marner).
With that in mind, it seems as though the Leafs' record book for rookie scoring could be rewritten following the regular season. After all, with his third shorthanded goal of the season, which came on February 6 against the Islanders, Zach Hyman holds the franchise record for shorthanded goals in a season by a rookie.
On top of that, in the same game against the Islanders, the Leafs' rookies set another franchise mark with five rookies scoring goals in one game (Soshnikov, Marner, Matthews, Hyman and Nylander).
So, what's left for the Leafs' first-years left to accomplish? Well, how about total goals, assists and points over their first regular season in the NHL? By the looks of it, Matthews and Marner are on pace to set new benchmarks for all three of those offensive categories by season's end.
Matthew On Pace to Top Clark
When it comes to goals, there are 10 Maple Leafs including Matthews to reach the 25-goal plateau in their rookie season.
They've officially changed the #leafs second goal to Auston Matthews. He's the 10th player in #leafs history to score 25 as a rookie.

— Chris Johnston (@reporterchris) February 8, 2017
But there's one player who reached a higher goal total than any other Leaf rookie in the franchise's 100 year history. That player was Wendel Clark.
Clark – also the last Leaf to be drafted first overall by the team – was taken in the 1985 draft by Toronto. He made his debut with the team in 1985-86 and played 66 games during the regular season. He notched 45 points for the Leafs and set a rookie record for the team with 34 goals that year.
Fast forward 31 years and the Leafs' latest first overall pick is on pace to top Clark's 34-goal mark. Through 52 games, Matthews has 25 goals. He hasn't missed a game so far and is on pace to play all 82 regular season games. If he continues at the same scoring rate, the 19-year-old rookie will finish the year with 39 goals – five more than Clark scored in his rookie campaign.
Marner Lending Many Helping Hands
Marner has silenced any critics that may have existed prior to the 2016-17 season. His size hasn't been an issue thus far and he continues to impress with his hockey IQ and possession skills.
That being said, his ability to see the ice is possibly the most impressive part of Marner's game so far in his young NHL career. Like Matthews, he's played in all 52 games for the Leafs so far this season. In addition, he leads the NHL rookie scoring race and the Maple Leafs in assists and overall points.
#Leafs Mitch Marner is 1 of 14 players this season with 20 primary assists

— Sportsnet Stats (@SNstats) February 8, 2017
Now, Marner is chasing down a franchise mark of his own. Back in 1943-44, the Leafs' Gus Bodnar notched 40 assists in his rookie campaign in blue and white. Bodnar joined the Leafs for the 1943-44 season and played 50 games for the team. Along with his 40 assists, he added 22 goals for a total of 62 points.
But it's the assists mark that Marner could top this season. Through the first 52 games, Marner has 32 assists. He currently sits eight shy of Bodnar's mark with 30 games left on the team's schedule. The 19-year-old is on pace for 51 assists which would put him 11 higher than the team's current rookie mark set back in the 1940s. Not bad for a kid of his size.
Matthews, Marner Chase Leafs' Point Mark
While Marner and Matthews both chase down the franchise's rookie marks for assists and goals respectively, both of them could pass the team's record for points in a season by a rookie.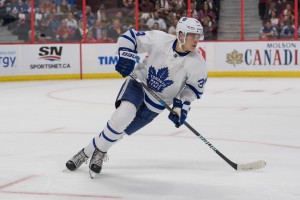 Drafted by the Leafs in the second round (25th overall) of the 1982 draft, Peter Ihnacak made his Leafs debut during the 1982-83 season. He played 80 games for the Leafs that year scoring 28 goals and adding 38 assists. His 66 points that year set the mark for the most points be a Leafs rookie.
However, this season could change that. Both Matthews and Marner are on pace to break that record just 52 games into their rookie campaigns. Matthews has 25 goals and 19 assists so far for 44 points. If continues on his torrid pace, he'll finish the season with 69 points – three more than Ihnacak had in his rookie season.
Marner, who leads the Leafs in that category, has 14 goals and 32 assists so far this season. If he also continues at the rate that he's collecting points, he'll finished the season with 73 points.
Whether the Leafs make the playoffs or not this year, this season will be remembered for quite some time. This is arguably their best rookie class in some time and will be for years to come. If the duo of Matthews and Marner can set new benchmarks for Toronto rookies moving forward, something tells me that Leafs nation will be antsy to get the 2017-18 campaign underway as soon as this season finishes.