The Toronto Maple Leafs top line had failed to score a goal as the team entered its third game of the season. But it wasn't just the lack of goals; the trio of players combined for a minus eight after two games. That's concerning for any first line, but we are talking about Toronto's top line, which has two of the best puck wizards in the game and a future Hall of Fame player.
That all changed in game three. Toronto beat the Ottawa Senators 3-2. Joe Thornton scored in the first, Mitch Marner scored in the second, and Auston Matthews scored in the third period. Together they had seven points, and their coach much happier.
"That line you could tell right from the drop of the puck today was going to have a night," said Sheldon Keefe after the win. "They've been working really hard, haven't had the results here quite yet, but they've been really working, and it was just a matter of time for the line and for Auston, certainly. I felt that line was going to break out today, I don't know that I had Jumbo maybe being the first one to get on the board, but you could tell that the line was going to break out and have a good night. It did, so it was great."
What a Difference a Day Makes
24 hours earlier, after a horrible performance against those same Senators, the head coach was critical of all team areas, including the offence. Just a couple of hours before Saturday's rematch with Ottawa, Keefe was asked how patient he would be with his current lines and the lack of production. Keefe said he was monitoring the situation, "I think part of the chemistry of the lines and giving them time is important. I also think when I look at our game, I haven't seen them (the lines) come together with the way we have worked from day one of training camp."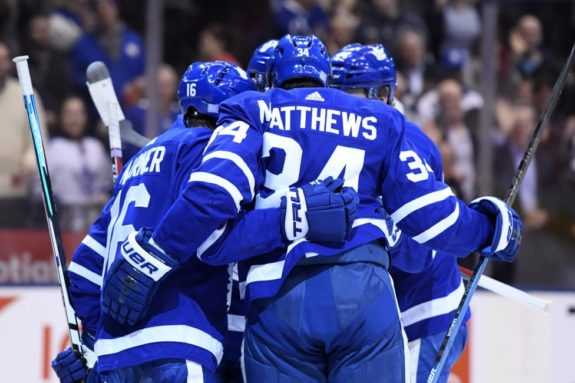 Arguably, the most talked-about signing for the Toronto Maple Leafs this off-season was Joe Thornton. While there was a lot of healthy debate, no one could question the experience and leadership he would bring to the team. Many assumed he would be a third- or fourth-line player. However, the day before camp opened, Keefe shocked Leafs' nation by announcing Thornton would be playing on the top line.
Chemistry is a Work in Progress
It presented an interesting dynamic. Thornton was drafted first overall in 1997, the same year Marner and Matthews were born. "Oh, I love all the boys, to be honest with you. It's been so fun with Mitch and Matty," said Thornton, who was all smiles after the game. "We have a lot of fun out there. I think we'll continue to keep growing as a line because we are having fun and we get excited before every game and I think you can tell each game we're getting better, and that's a real good sign. I love playing with those two kids."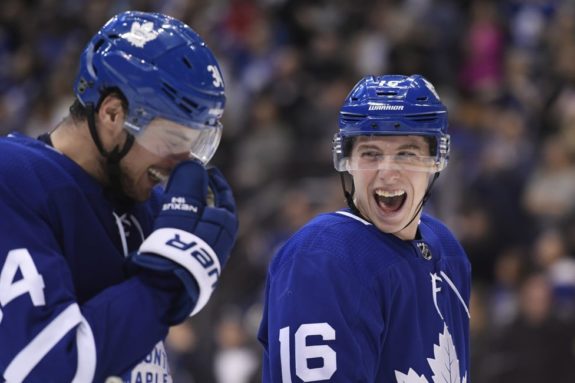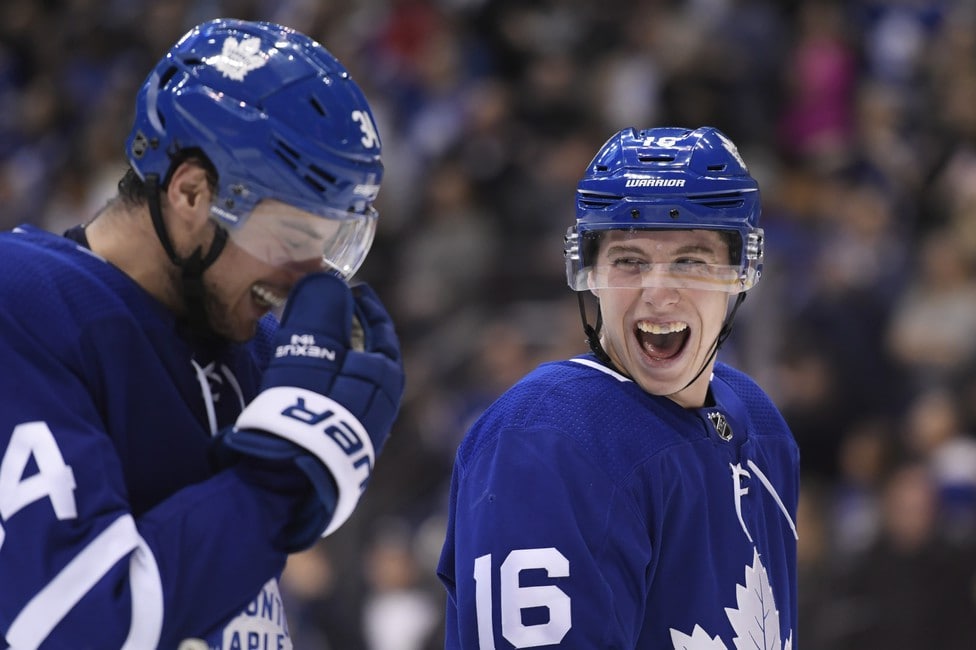 Marner may have been getting anxious, waiting on his line to get it's first goal. "I think we felt better. I think it was really our first good game together," said Marner during the post-game interview. "We were moving well. Down low, we were really creating a lot of chances holding onto the puck. We weren't rushing plays. I think we were really using our creativity out there, and that's something I think we weren't doing in the first two games."
Unique Schedule Presents Challenges
Remember, there was no preseason. Compounding that issue, Toronto made many changes, and every line is different than what we saw last season. Keefe says he is keeping an eye on the structures and the habits the team is forming. "It's a big adjustment. We have changed quite a number of things and really changed our mindset and mentality as a team."
While this season presents several challenges, it also has opportunities. The condensed schedule means more games in a shorter period. It took two games to see the top line gel, which may have taken two weeks of exhibition games in previous seasons. Now, can the first line continue to produce at this pace is the next question. We won't have to wait long for an answer. Toronto plays the Winnipeg Jets on Monday.
---
---