When the Buffalo Sabres drafted Jack Quinn with their eighth overall selection in the 2020 draft, they faced a lot of heat. With Marco Rossi and Cole Perfetti still on the board and Quinn being lower on most draft rankings, it was considered a reach. Now, it has been three months – he played for Team Canada at the U20 World Juniors and didn't impress that much, especially since he was given a spot on the second line. He did showcase his potential, though in flashes, making strong breakout passes like the one below.
After the heartbreaking loss to the United States, Quinn went to Buffalo training camp and impressed head coach Ralph Krueger. Although the Sabres haven't finalized a plan for him, skating with the taxi-squad is the only option.
He was not in the opening night lineup, and is expected to be ready if the Sabres have any players injured over these first few games. Practicing on the penalty-kill unit, he may be given a chance to get some action there if the opportunity arises.
The move to keep Quinn on the team is surprising, to say the least. He is not physically ready, and although the skills are there, it would seem to be best suited for his development to play in the minors. When the Ontario Hockey League starts back up, expect that Quinn will probably be reassigned to the Ottawa 67's. This is just a way to get an extended look at the prospect.
Let's take a deep dive on why Quinn needs to develop more in the minors before playing in his first NHL game.
A Poor World Junior Performace for Team Canada
I am typically the guy that advocates for the World Juniors not to be a topic when evaluating a prospect, as it is a small sample size. Look at Nathan MacKinnon, who scored only one point in six games for Canada in 2013, but is now one of the best players in the league. It can be brought up, though, because it highlighted some of the flaws in Quinn's game that were exposed against his own age group. He didn't impact the game in the way he was expected to.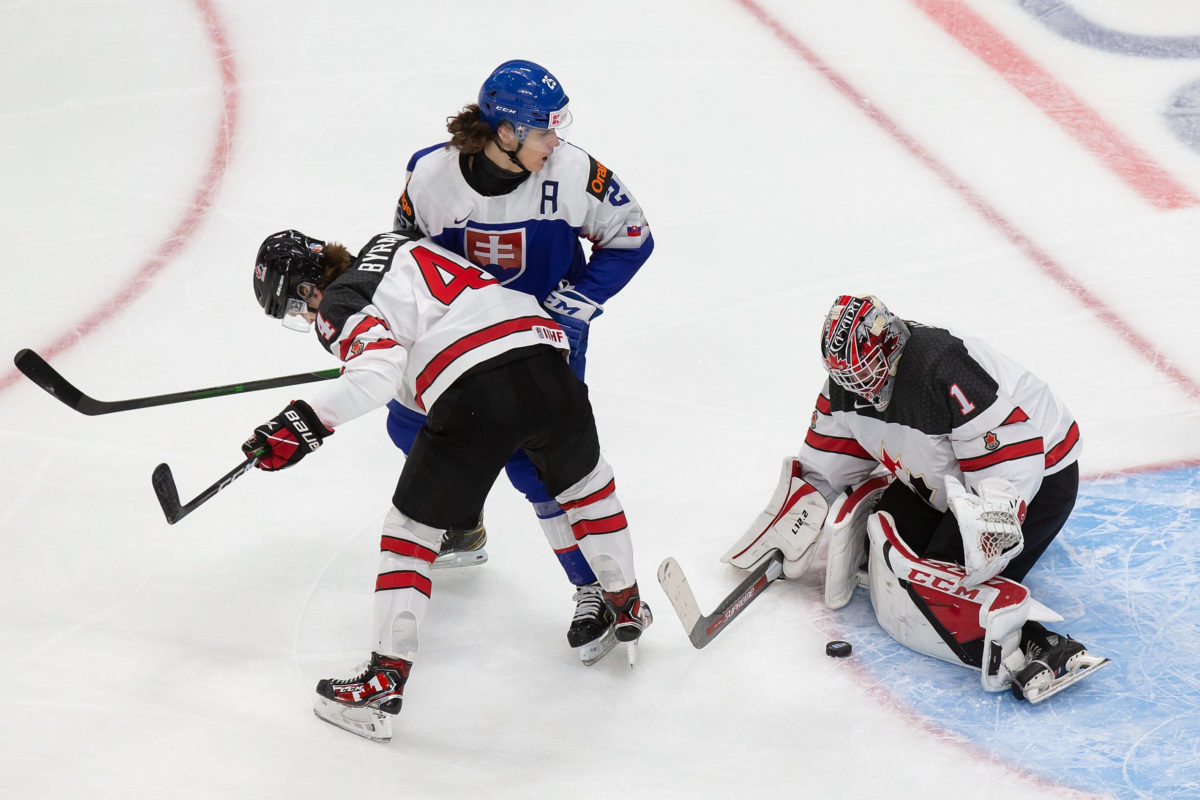 Prospects such as Seth Jarvis and Shane Wright arguably could have had a more productive tournament and increased the odds for Canada to win the gold medal. It is never one's player's fault, and this is a teenager that is being discussed here, but the criticism of his game is fair.
Related: 3 Takeaways from the Sabres' Season Opener
Just look at this play from the Canada – USA gold medal game that leads to Canada getting hemmed in the defensive zone. Before getting scored on, Quinn failed to get the puck out of the defensive zone and it led to the goal by Alex Turcotte.
Quinn had a goal and four assists for five points in seven games, which is pretty respectable. He made nice passes in the neutral zones to start the breakout and displayed outstanding chemistry with Alex Newhook in the offensive zone, which led to a few goals. The story of his hockey journey is also really inspiring as he always has faced adversity – growing up playing AA, and was never invited to a Hockey Canada camp before last year (from "Sabres prospect Jack Quinn 'could really take off' after he transformed his game, The Athletic NHL – 12/30/2020).
This is not the only reason for him making the taxi squad a surprising addition.
Quinton Byfield, Trevor Zegras, and Arthur Kaliyev Among the Players Sent to the AHL
The Rochester Americans' AHL training camp is underway, and Quinn would be better suited playing at that level. Quinton Byfield, a heavily criticized player for his underwhelming play at the World Juniors and the second-overall selection in the 2020 NHL Draft, was sent down. Other highly touted prospects, such as Anaheim's Trevor Zegras or Los Angeles' Arthur Kaliyev, were also sent down to their minor league clubs. The point of development is not to rush a prospect and let them work on their strengths and weaknesses before making their NHL debuts.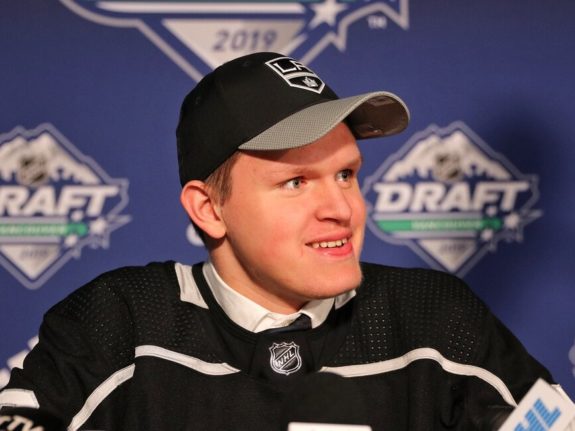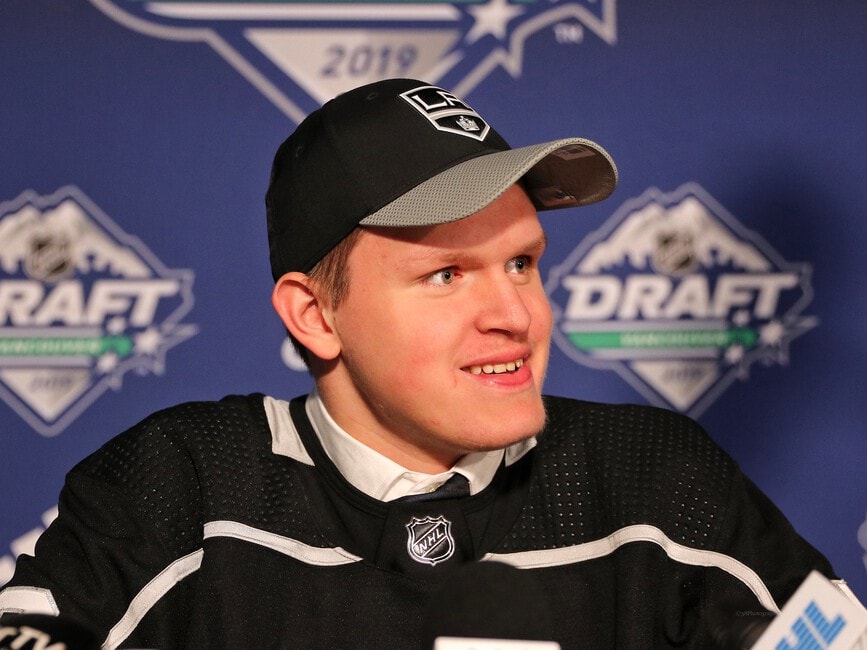 Looking at players sent down over the past week, there is one name that stands out. Arttu Ruotsalainen had a promising training camp, took shifts on the Sabres third line, and looked like he belonged. Instead of putting him on the taxi squad, they sent him to Rochester to get him some extra training and time to adapt to North American ice. If they decided that was the best decision for his development, it is confusing why they didn't do this with Quinn. 
A player like Dylan Cozens, who is in his draft-plus-two season, has proved to be NHL ready and has not looked out of place throughout the first two games. That development in the WHL allowed for him to work on all of the inefficiencies in his game. He almost would have been better suited to play at the AHL level because of how strong he was, leading me to my next point. 
Developing in the AHL Is a Possibility for U20 Prospects
Unless you're on loan from a European club, there are rules in place that don't allow certain prospects to play in the AHL. Look at former Sabre Alex Nylander, who was put on a European loan and was able to play for Rochester at the age of 18. This season's uniqueness allows for prospects that played in Canadian Hockey Leagues last season to play against the higher-quality competition, especially for a player like Quinn, who regularly plays in the OHL, which has banned bodychecking during the game action. That won't help him develop his physical game.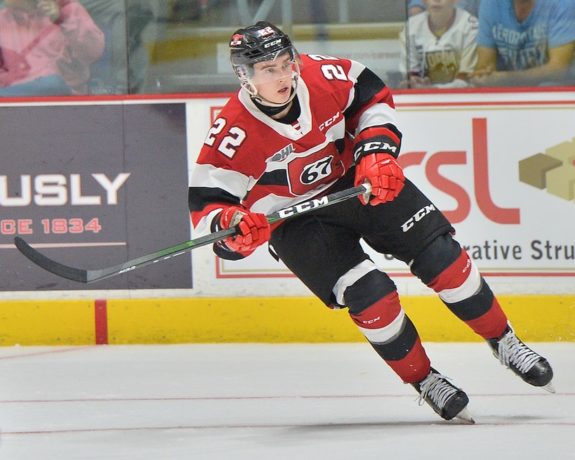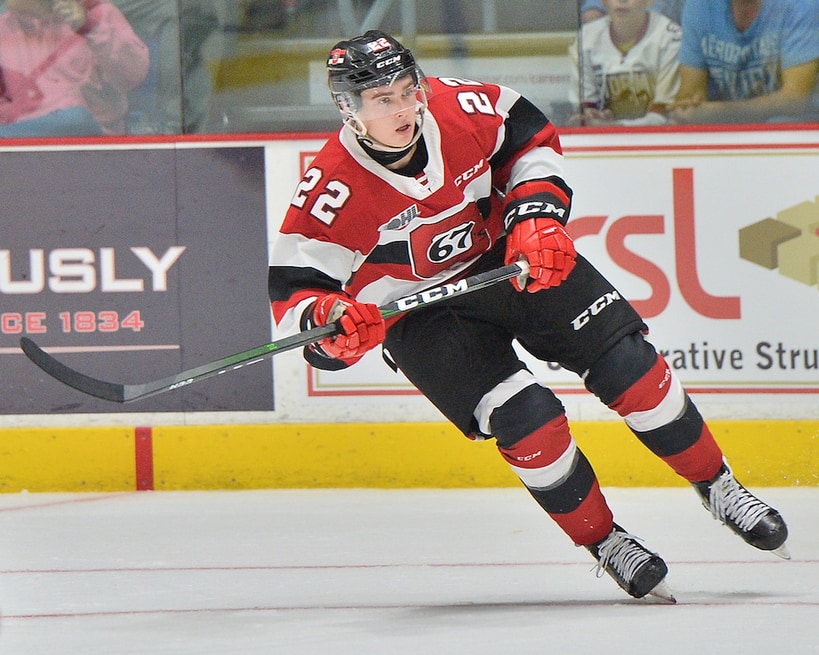 An example of a player that used the AHL to become an effective NHL player is William Nylander. The Swede was put on a European loan after being selected eighth overall in the 2014 NHL Draft and played two full seasons with the Toronto Marlies. During the second season, he played so well that he earned 21 games with the Leafs during the final stretch of the 2015-16 season.
Related: Sabres Look to End Nine-Year Playoff Drought in 2020-21
The Sabres must take advantage of the opportunity and play the prospects that are too good for the Major Junior leagues and allow for them to develop with professionals.
Overall, Jack Quinn is an extremely hard-working young man, and he has overcome most challenges that he's faced. Instead of sitting him on the taxi squad and playing him when he likely isn't ready for NHL competition, play him in the AHL and let him slowly develop until the OHL starts up.
---
---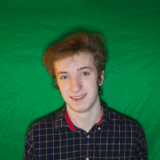 Jordan Jacklin is a freelance writer who covers the Buffalo Sabres here at The Hockey Writers. Jordan is a student at Ryerson's Sport Media program and uses analytics and video scouting to evaluate your favourite players in the game.