The Toronto Maple Leafs have made many moves in recent days. Fans have made comments, writers have posted articles, and commentators have voiced opinions. It's hard to tell if the general manager Kyle Dubas destroyed the team or dramatically improved it. I figured we wouldn't really know until the season starts, but now, I have an answer.
Truth is, I don't know anything about playing in the NHL. Neither do you (except for the odd professional player who happens to read this article – please leave a comment). So when Joe Thornton says the Maple Leafs are "ready to win now, and I'm ready to win," I listen.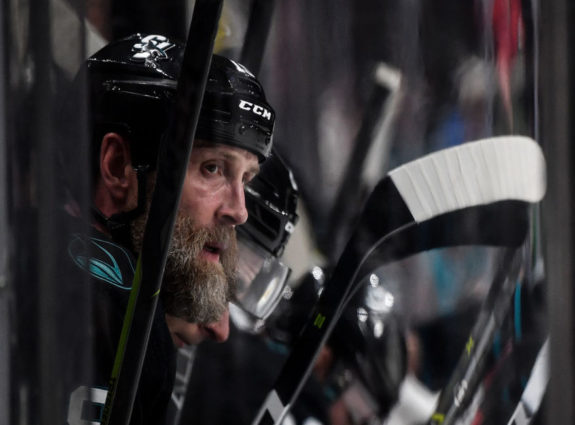 This is Joe Thornton we are talking about. His opinion supersedes any of the commentators, writers and fans, not only because of his resume but because of his actions. He signed with this team for a league minimum. Sure, maybe there weren't 30 teams lined up to get the 41-year-old centre, but there indeed were a few teams who would've welcomed him. One of those teams, the San Jose Sharks, is where he played for 15 seasons. But he decided to sign with Toronto.
Why Choose Toronto?
Thornton was asked why he picked Toronto, "I love their goalie, I really, really do, I like Freddy a lot think that was, you know, a big part of my decision here – I think he is great goalie," he said. That must be a remarkable vote of confidence for Frederik Andersen, who was the subject of a lot of trade speculation. Thornton would've seen Andersen a lot back when Denmark's big goalie broke into the league with the Anaheim Ducks. Thornton also approved of the recent signings, "I think adding T.J. Brodie on the back end really solidifies their D, Zack Bogosian coming in, Wayne Simmonds."
Related: Maple Leafs' One That Got Away – Tuukka Rask
Then the man they call Jumbo Joe lists nearly half of the roster as reasons he wanted to be in Toronto. "the list goes on and on, this is a really good team, and it will be a great team at the end of this."
Thornton Brings Renewed Energy and Leadership
I encourage Toronto fans to watch Thornton's interview. You can't help but get excited for the season to watch this new-look Toronto team. Thornton answered the questions with genuine authenticity, charisma and happiness. It's something that's been missing from Toronto interviews. Even before the most recent playoff loss, many interviews looked like the players were dreading the moment, repeating the same non-sensical sound bytes with every comment. Maybe they are burned out from too much media, or perhaps they've been burned, but Thornton is looking forward to the buzz, "I'll be fine with it; I don't mind you guys at all," he said.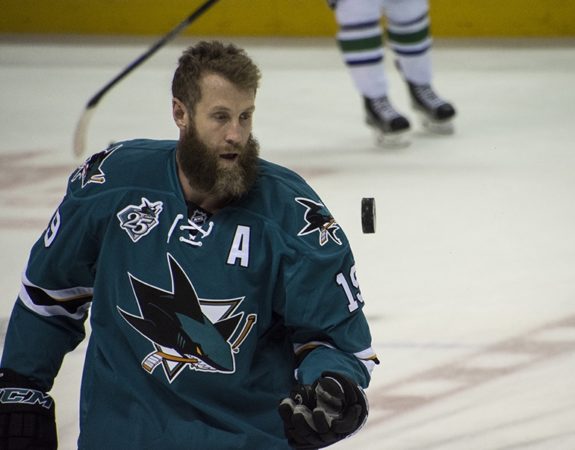 Thornton's arrival in Toronto is something special for Leafs fans and players. Besides chasing trophies, the roster is too young to be chasing records. Now every game and every shift will move Thornton closer to the top of several all-time lists. He is currently ninth in games played at 1,636, just three behind former Maple Leafs forward Dave Andreychuk. He is seventh in assists with 1,089, and Thornton is 14th on the NHL's all-time points list. He is just 22 points behind Paul Coffey and 24 behind Mark Recchi.
But that's not what Thornton is chasing and not why he picked Toronto for his 23rd NHL season. "It's because of the hockey team, honestly. This team is a very, very good team, and you know I need to win a Stanley Cup, and I think this is a great team that can do that," said Thornton. He joins a franchise and a fanbase that needs to win a Stanley Cup, too – whether they can combine to fulfill that dream will soon be determined.
---
---