For a couple of hours on Apr. 28, 2018, Montreal Canadiens fans dared to dream of seeing Rasmus Dahlin lining up beside Shea Weber for the Habs' 2018-19 season opener. Alas, it wasn't to be, but in hindsight, Marc Bergevin and the rest of the Habs brass should be very thankful for landing the 3rd overall pick, especially since they had a nearly 70% chance of drafting either 5th, 6th or 7th overall.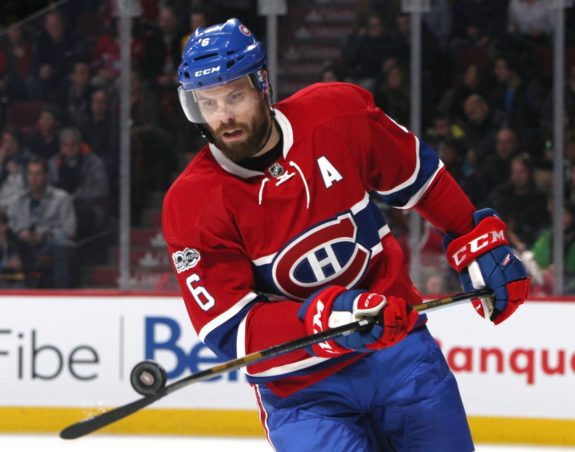 Habs' Organizational Needs
To be clear, I advocate drafting the Best Player Available (BPA). Always. Most 17 and 18-year-olds are 3-5 years from being NHL contributors and your organizational needs today may differ from what your needs will be 3-5 years from now. That being said, if two draft prospects have similar upside and draft rank, an organization can then consider their needs.
The Habs' everlasting search for a top-six centre is well publicized. Bergevin's inexplicable overhaul of the defence yielded predictable results given the increasing importance of a mobile defensive unit that can move the puck quickly and efficiently. Moreover, the Habs only scored 207 goals last season, which ranked 29th in the league, struggling to replace the offense that Alexander Radulov and Andrei Markov helped to generate.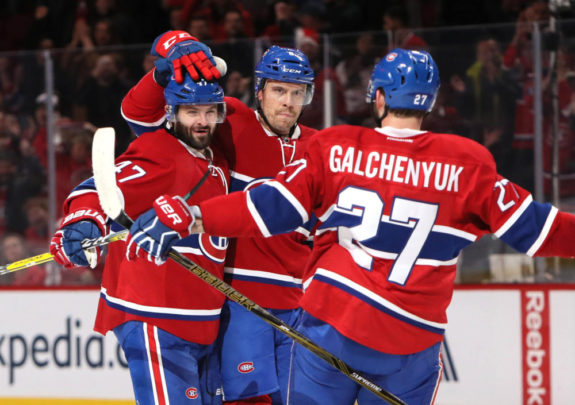 The Habs are clearly short on players who can create offense and that applies organization-wide, with the Laval Rocket finishing last in the AHL, and arguably no elite offensive prospects anywhere else in the Habs pipeline.
Trading Down is a Mistake
It is unfortunate for the Habs that none of the consensus top 5 prospects in the draft are centers. Given Bergevin's struggles to find one, it may be tempting for him to trade down and maybe select a guy like Jesperi Kotkaniemi, who might not have elite offensive ability, but should be a solid top 6 centre at the NHL level. Bergevin could also reach and decide to draft him 3rd overall, despite most rankings having him ranked in the late lottery range.
Scott Cullen of TSN has done a great job of assessing draft picks and the odds of a given pick becoming a top 6 forward or a top 4 defenseman at the NHL level. At 3rd overall, there is an 80% chance that the pick ends up becoming such a player. What are the same odds for the 4th overall pick? They drop from 80% to a 50% chance. That is a significant difference considering you are only moving down one spot.
The fact of the matter is that it's a blessing for the Habs to have moved into the top 3. They cannot afford to gamble and miss this rare opportunity to draft a possible top-tier player (this is only the 3rd time the Habs will have a top 5 draft pick since 1985). Yes, the Habs need a center but they need elite talent first and foremost. They need players who can create offense and, if you're playing the odds, you just don't find those kinds of players outside the top 3 very often.
What Are the Habs' Options?
We've established the case for keeping the 3rd overall pick in order to maximize the odds of finding a scoring talent. Bergevin may be tempted to trade the 3rd overall pick for an established player. However, given the high odds of landing a good asset at that spot, it would be poor asset and cap space management to trade a serviceable asset who would be cost-controlled over 8 pre-UFA years.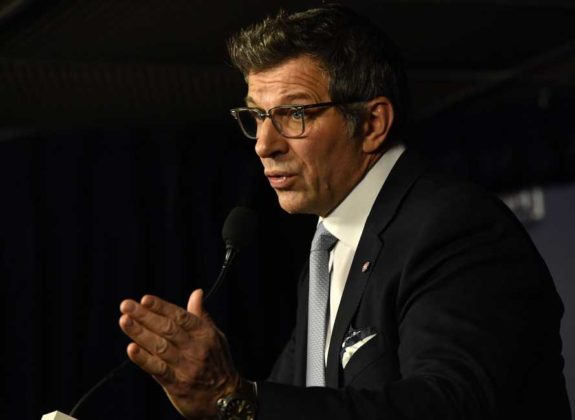 Trading the 3rd overall pick for an established player would be a short-sighted move, but an understandable one given the rumors that Bergevin's job may be on the line should the Habs fail to make the playoffs in 2018-19. Such a short-sighted could be justified if you believe that contention is still possible for the Habs' aging core (I don't, but that's a matter for another day). That being said, the right thing for the Habs to do is to plan for contention in 3-5 years time and use their 3rd overall pick (let's assume that trading up is a pipe dream). At the 3rd overall spot, you're likely looking at drafting either a winger (probably either Zadina, Wahlstrom or Tkachuk – assuming Svechnikov goes 2nd overall) or a defenseman (Boqvist, Hughes or Dobson). Kotkaniemi, as aforementioned, lacks top end offensive upside, which is why I believe drafting him at this spot would be a reach.
The Habs could draft a defenseman at 3rd overall, but there are a few reasons why I believe they should lean towards a forward. Firstly, there is more risk involved with drafting a defenseman since it is harder to assess their talent at the age of 17-18 than it is to project a forward's at the same age. The only Norris Trophy winner drafted in the top 10 in the past ten years is Drew Doughty. Other recent Norris winners like Duncan Keith, PK Subban, Nicklas Lidstrom and Zdeno Chara weren't drafted in the 1st round.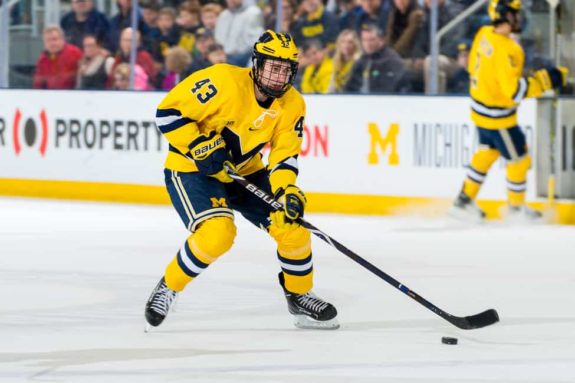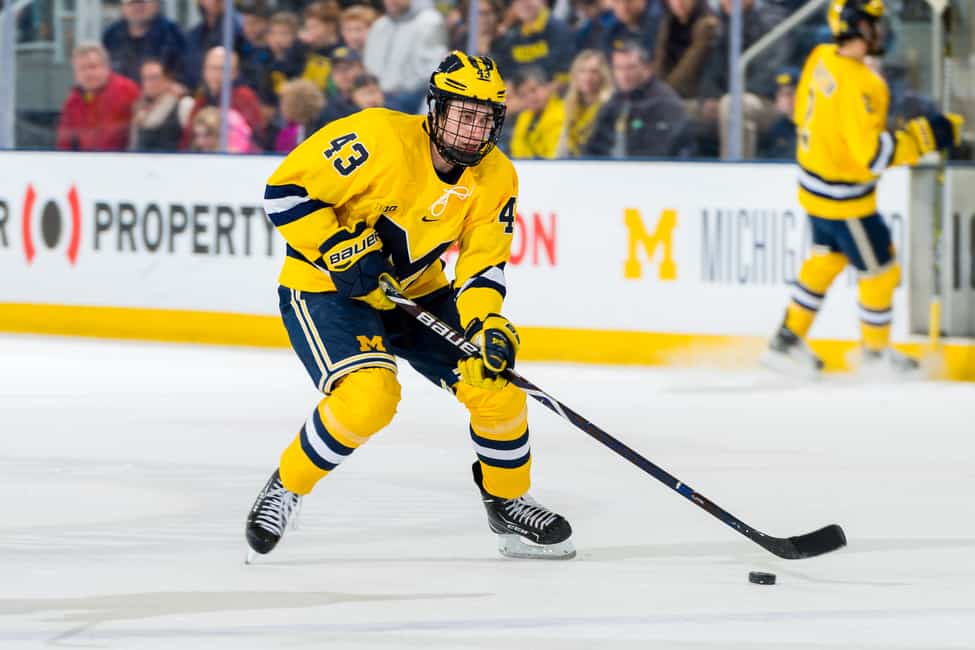 You can find elite forwards outside the top 10, but a quick look at those who have won either the Hart, Art Ross, or Rocket Richard Trophies in the past 10 years indicates that the odds of finding elite forwards outside of the top end of the draft are small. Secondly, while I like Boqvist, Hughes and Dobson, there are reasons why picking them 3rd overall might be a reach.
Boqvist still needs to improve play in his own end and has had concussion issues. Hughes has tremendous offensive skill, but also needs work on his defensive play and doesn't have the high-end shot that Boqvist has. Dobson is a more mature and defensively responsible defenseman than Boqvist and Hughes, but doesn't have quite as high the offensive upside that they have, so he'd Dobson at 3rd overall would also be a reach.
Looking at the forward options, Tkachuk would be a low-risk pick. However, given the dearth of organizational skill level, the Habs need to take this opportunity to drive potentially elite players who can create offense rather than great complementary top 6 players. Tkachuk also happens to be born late in 1999 (he missed the 2017 NHL draft cutoff by one day) and was out-played by his Boston University teammate Shane Bowers, drafted 28th overall in the 2017 NHL draft, who is less than 2 months older.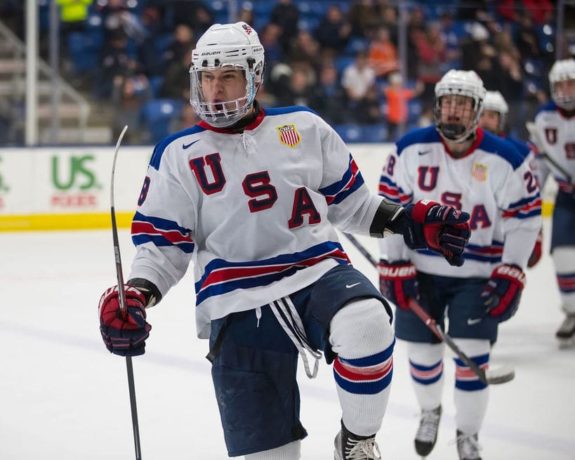 Zadina might be a winger but he averaged 1.12 primary points per game which is comparable to 2017's 1st overall pick Nico Hischier who had 1.21 primary points per game, especially when you consider Hischier was playing centre. Zadina is a player who drives play and creates offense, which is something the Habs desperately need. Wahlstrom is also a dynamic prospect with good vision, an elite shot and high-end upside. He scored 48 goals and 94 points in 62 games in his last U18 USNDT season, compared to Tkachuk who, being 9 months older than Wahlstrom, had his last U18 USNDT season in 2016-17, and managed 25 goals and 54 points in 61 games.
Given the need for the Habs to replenish their pipeline with players who have elite offensive upside, the greater risk in drafting defensemen, and the need for players who can drive play rather than complement other elite players, the Habs should draft either Zadina or Wahlstrom at 3rd overall. Both project to be elite goal-scoring wingers at the NHL level and the Habs could definitely use some more goals.
Joe has spent a sizable chunk of his time since the invention of the Internet writing about the Montreal Canadiens on various hockey forums. He finally figured it might be time to formalize this hobby into something a little more significant. Joe has decided to join The Hockey Writers recently, covering the Habs for the upcoming season to share his passion for hockey and hopefully some unique insights.