We're up to the San Jose Sharks defensive group in our review of the 2017-18 season. The prior articles are are here:
Defensemen
Goalies (up next)
For the second consecutive season, the San Jose Sharks had a defense which scored a lot and didn't give up much. The defensive group contributed 199 points, third best in the league. As a team, San Jose allowed the ninth-fewest goals. But within these very encouraging numbers were some surprising good stories, some notable disappointments, and given the continuity, a surprising amount of change.
Sharks Defense: The Top Pair
This season, the top pairing was Marc-Edouard Vlasic and Justin Braun. In part, because they were the best pair, and in part because they were the lone pair which stayed together the entire season.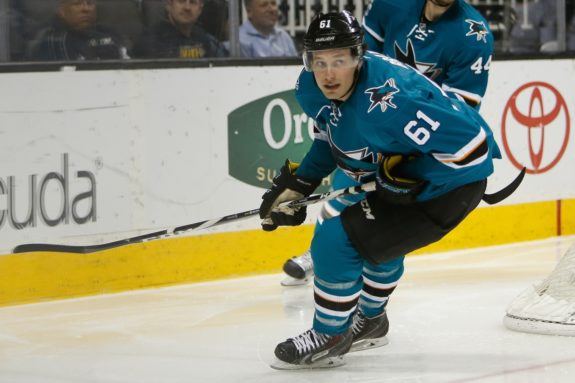 Vlasic (11G, 21A, plus-9) and Braun (5G, 28A, plus-7) each improved this season. Vlasic's 11 goals marked his first time with double-digit tallies, and 10 came at even strength, which tied him for 12th best among NHL defensemen. Meanwhile, Braun delivered several personal bests, including goals, assists and points. All his scoring came at even strength. He finished tied for 14th in the league in even strength scoring among NHL defensemen and tied for eighth in even-strength assists. Braun averaged 21:20 of ice time, another personal best. The longtime partners remained among the top shutdown defensive pairings in the league, but their offensive contributions raised a few eyebrows, in a very good way.
They were also healthy this season, both played in 81 games. The expectations are high for this duo on an annual basis because they've been so good for so long. It's par for the course when they meet these expectations. Yet again, they tipped the ice in the Sharks favor, shift after shift.
Vlasic was called for just two minor penalties all season long (both for delay of game). For a player routinely starting in his own defensive zone against the opposing team's top players, to go an entire season without a stick penalty (hooking, high sticking, tripping, etc) is remarkable.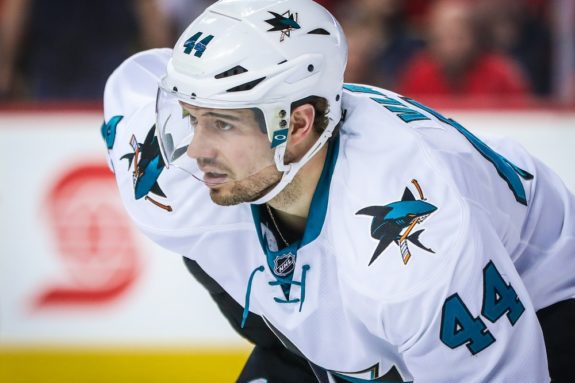 The Sharks count on Vlasic and Braun in the playoffs to shut down other teams most effective scoring lines. It worked against the Anaheim Ducks in the opening round, but they were less successful against the Vegas Golden Knights. Vlasic, who rarely turns the puck over, had a pair of turnovers which led directly to Vegas goals, including the game-winning (and series-winning) goal in Game 6.
Vlasic signed a contract extension back on July 1, 2017. It kicks in next season; he'll earn $7 million a year for the next eight seasons.
Sharks Defense: The Burns Pairing
Once again, the most interesting pairing involved Brent Burns (12G, 55A, minus-16). Coming off a season where he won the Norris Trophy as the league's best defensemen, much was expected from Burns. Adding to expectations, this was the first season of his new contract, featuring both the longest term and highest salary in team history. For this season, he had the third largest salary ($10 million) in the league among defensemen.
Burns began the season with a goal-scoring slump, going the first 20 games without registering a tally. Last season, he had 29 goals but recorded just 12 this season. While this might seem like a big issue, it really wasn't. Burns remained a dynamic offensive player and was nearly a point per game after the first quarter of the season.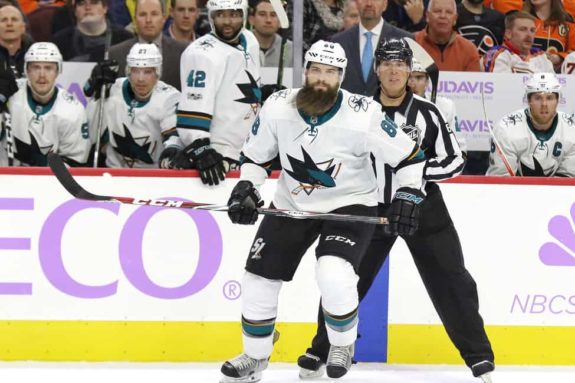 What was problematic, though, is Burns history of being a defensive liability. He cleaned it up last season, at least until the final quarter of the year. This season, he started on the wrong foot and it didn't get better for quite a while. Two games into the season, he was minus-five. He'd go minus-10 in December and minus-seven in January. Fifty games into the season, he was a brutal minus-24.
What is somewhat remarkable about this, one of Burns major partners this season, Joakim Ryan, was plus-13 on the season, best on the team. We'll get back to Ryan in a moment, after we cover Burns' other primary partner, Paul Martin.
Martin (0G, 2A, plus-3), now age 37, started the first two games of the season. His injured ankle hadn't healed sufficiently in the offseason and he was on the shelf for an extended period. It was a difficult season for Martin. When he wanted to come back, Ryan had essentially taken his roster spot. The Sharks wouldn't mind getting cap-hit relief from Martin's substantial salary and cap hit (his deal runs through the 2018-19 season). In mid-January, the team waived him, meaning any other team could claim him. Old, injured and expensive isn't an appealing combination, so unsurprisingly, no team did.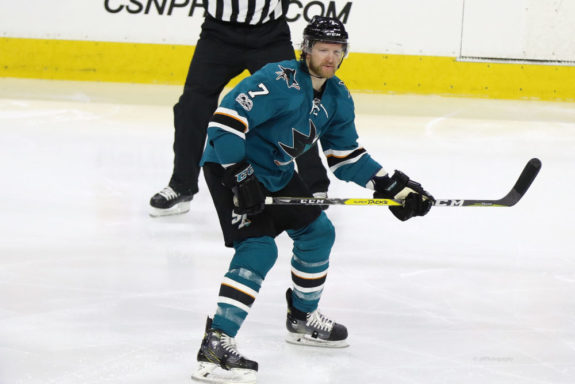 Having cleared waivers, he played with the San Jose Barracuda, the Sharks AHL affiliate. In March, Ryan went out with an injury and Martin returned to the Sharks lineup paired with Burns. And he stayed there for the remainder of the regular season (even when Ryan was presumably healthy) and the Sharks' first seven playoff games. From Martin's return in mid-March through the first playoff series against the Anaheim Ducks, Martin was plus-10 in just 15 games. For a player looking to revive his career, things looked good.
Things went awry for Martin in the series against the Vegas Golden Knights. People wondered if Martin was the right fit against the speedy team from Vegas, but San Jose head coach Peter DeBoer had no reservations on this front. Alas, Martin's final shift of the season was among the most consequential for both him and the team, and not in a good way. It'll stick in people's minds for a very long time. Poor communication between Martin and Burns led to the overtime winner for Vegas in Game 3 of the playoffs. Many blamed Martin for the breakdown and by the next game, the spot opposite Burns belonged, once again, to Ryan.
Ryan played the final games of the Vegas series, but he didn't have an easy time of it, either. On the play in this link, Vegas' Alex Tuch is faster, stronger and just plain better than Ryan. Still, Ryan had very few lowlights this season and was easily the team's top rookie. He played with great poise all season. He'd was rarely out of position, always seemed to have just the right gap control and was very good at anticipating play. These abilities are part of the reason he took very few penalties. Ryan had a stretch of 49 consecutive games where he was penalty-free.
With the puck, Ryan is a good skater. He has a bit of bob-and-weave in his motion, which helps him create passing lanes. It is a useful complement to his excellent on-ice vision. Ryan actually led the league in one category, albeit it has a fluky feel to it. Only 12 players in the league were 'plus players' on the penalty kill and Ryan led them all at plus-3, despite just 18 minutes of penalty-killing ice time.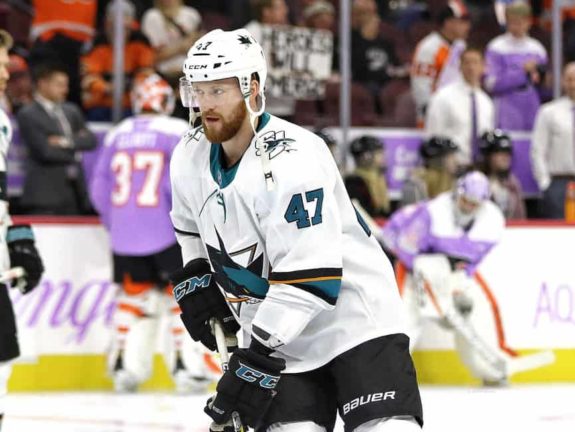 Even with the ups and downs of Ryan and Martin, the Burns pairing always seems to be about Burns. Burns averaged over 20 minutes of even strength ice time per game. Ryan was about four minutes less, Martin nearly six minutes less. This meant Burns was frequently on the ice with other partners over the course of a game. Sometimes Vlasic, sometimes Brenden Dillon. This occurred frequently in third periods, when DeBoer would often go to a five-defenseman rotation (usually sitting Ryan, DeMelo or Martin).
I'm not sure this helped. Burns doesn't adapt to others easily and it's not easy to adapt to Burns. It reached its peak in the double overtime game against Vegas (Game 2 of the series), where Burns played nearly 37 minutes, and his partner Martin played just over 10.
Burns played every game, while leading the team in ice time most nights. During the regular season, he was third in the league in ice time. Burns did not finish the season healthy. DeBoer, as coaches often are, was vague about specifics, saying Burns had a "neck/back thing."
Even with all Burns defensive struggles, it's important to mention an underrated aspect of his game – his work on the penalty kill. It's been a bright spot in previous seasons and was again this season. He was fourth on the team in short-handed minutes. In roughly 120 minutes worth of time on the penalty kill, Burns was minus-five, an outstanding result.
On the power play front, Burns seems miscast as the unit's quarterback, but it was productive (though the unit missed Joe Thornton in a big way). Burns was a force when the Sharks were cleanly into the offensive zone. In the latter part of the season, DeBoer made an interesting choice with Burns. When the top unit would leave the ice, DeBoer often had Burns stay on the ice and play with the second unit. It wasn't overly successful, but going forward, the idea has merit.
Given the importance of Burns to the team, it's troubling to see him finish minus-16, even if it is a substantial improvement from the mid-season trough of minus-24. Of the league's 25 players on the ice for the most even-strength goals allowed, Burns is one of just two who came from a playoff team. For the Sharks to get beyond where they finished this season, they'll need something closer to the Norris-winning version of Burns (when he was plus-19), and they'll need him healthy during the playoffs.
Sharks Defense: The Third Pair
The combination of Brenden Dillon (5G, 17A, minus-7) and Dylan DeMelo (0G, 20A, minus-1) formed the Sharks third pairing, just as Budweiser decided to make "Dilly-Dilly" the catchphrase of their new advertising campaign. Timing is everything, right?
The pair played most of the season together, DeBoer settling on DeMelo as Dillon's partner over Tim Heed. DeMelo and Dillon aren't great players, but they play well together and they improved over the course of the season. DeMelo was the primary beneficiary of Vegas' selection of David Schlemko in the expansion draft, which opened up a spot on the blue line.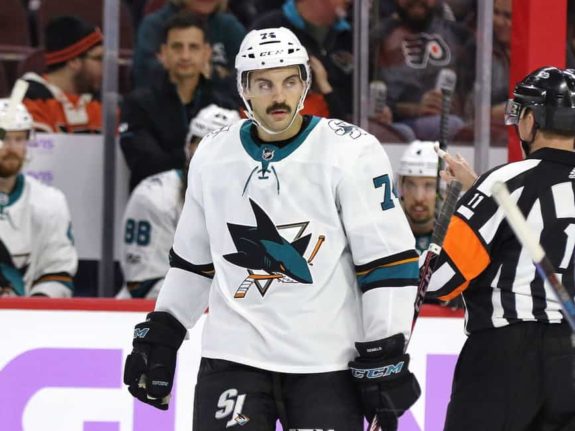 DeMelo needed to show he deserved to be an NHL starter, and he passed the test. He played 63 games, nailing down the starting job in December. He still had consistency issues, though. Several Sharks had a difficult February following the loss of Joe Thornton and strangely, DeMelo was near the top of the list. He was minus-nine for the month, a career worst. But March turned out to be a career best for DeMelo, with 10 points (he only has 32 for his entire career) and a plus-five rating.
Dillon hit a career high in points and assists. He tied his career high from last season with 81 games played. He looked lighter, faster and more effective than in prior seasons. All the more reason his minus-seven rating is deceiving. Part of the explanation is DeBoer went with just five defenseman at times, leaving Dillon to play with less-familiar partners.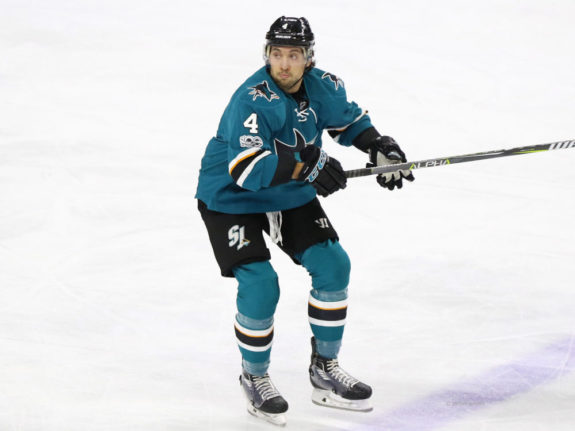 In the Sharks' ten playoff games, the pair was more than a little effective. DeMelo was tied for a team best at plus-five, Dillon was plus-four. DeMelo averaged over 15 minutes of ice time per game, Dillon over 17. And while DeMelo had only one point, Dillon had four.
Late in the regular season, Dillon posted a second career Gordie Howe hat trick (against Calgary on Mar. 24). He earned the third star that evening, but didn't take the usual spin around home ice accorded to the stars of the game. The fight came with less than five minutes in the game, meaning Dillon was in the locker room when the game ended, and, given it was a blowout win, he may have been in street clothes by then.
The Rest of the Sharks Blue Line
The player DeMelo beat out for the job opposite Dillon was Heed (3G, 8A, even plus/minus), who played in 29 games. To the surprise of many, he wasn't able to win the job over DeMelo. Heed, a former forward, may not have had quite the chemistry and defensive instincts of DeMelo. What he did show were a powerful shot and good offensive instincts. Many thought he was a good fit on the second power play unit – his ticket to staying in the lineup.
He played 18 games in the season's first two months, but his phase-out began in earnest in December, with only six appearances. He only played three games in January, two in February and none over the rest of the season. Heed wound up playing 14 games with the Sharks AHL affiliate, the San Jose Barracuda, including all four playoff games.
Heed did get solid ice time when he played (at least until February), finishing the season with over 15 minutes per game.
I'll note two departures on Sharks the blue line, both happened in June 2017. As mentioned earlier, Schlemko went in the expansion draft to Vegas (who promptly traded him to Montreal). He played one season for San Jose. The Sharks traded Mirco Mueller, the team's first-round pick in 2013, to the New Jersey Devils for draft picks. Mueller never did get his NHL game together in San Jose; the parting was the right call for both the team and the player.
Results and Expectations
Playing low scoring games and winning special teams battles are key to the Sharks success, and their defensive group is a huge part of this. San Jose has a lot of cap space invested in the defensive group, about $25 million on the six starters. It's not a young group, either. Vlasic and Braun are 31, Burns 33 and Martin 37. One expects this was Martin's last season in San Jose. The play at the end of the overtime loss against Vegas probably meant Martin's trade value, sketchy at best, might have gone away.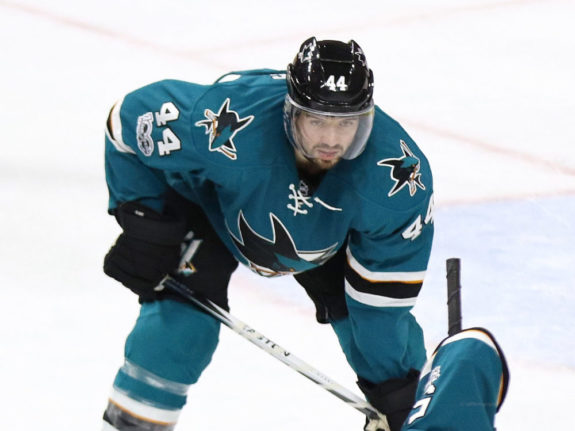 Ryan is the youngest of the group, he'll turn 25 in June. DeMelo turned 25 on May 1. Heed is 27. Measured by games played, they are all early in their career. Measured by age, they've passed the prospect stage. They each had a 2017-18 season which looked like a building block in their respective careers. Going forward, they'll need to deliver consistency at the NHL level – their development stages are over.
For Braun and Vlasic, it was more of the same excellence Sharks fans are accustomed to. For Dillon and DeMelo, they formed a well-above-average third pairing. But alas, it always comes back to Burns, and, for a team which needs to play low scoring games, Burns wasn't good enough defensively. To be a really good team, the Sharks can't afford for their top-paid defenseman to struggle defensively as much as he did this season.
ZEKE is a native of the DC area where he witnessed the birth of the Capitals franchise. After graduating from Cornell University, which had seen hockey glory before he arrived, he moved west to San Jose. There he witnessed the birth of the Sharks franchise. His wait to witness a Championship from any of these teams finally ended in 2018.