Lineup changes can make or break a playoff series when things aren't going right. It was subtle, but a lineup change was made last night for the San Jose Sharks that helped give them their best win of the Western Conference Semi-Final series against the Vegas Golden Knights.
Rookie defenseman, Joakim Ryan, made his Stanley Cup Playoffs debut in a 4-0 win against the Golden Knights. Ryan played only 11:55 in his first game since March 16 against the Calgary Flames, but it would be hard to find a bad shift on his game tape.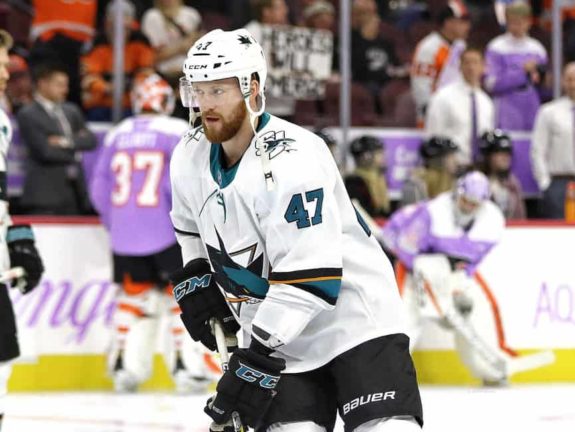 Related: Sharks Blue Line Comes up Big in Game 4
Why Did Joakim Ryan Draw into the Lineup?
Paul Martin reclaimed his place in the lineup after Ryan was injured against the Flames. It's unlikely Ryan would have been removed from his spot next to Brent Burns if he had stayed healthy. The Sharks' organizational depth among left-shooting defensemen is thin at the moment. There simply wasn't one available to throw in the lineup after Ryan went down and Martin was called up from the San Jose Barracuda to play alongside Burns as he had done for most of the last two years.
Ryan has been patiently waiting for his chance to show that the injury he suffered hasn't affected his abilities and Martin has not been a bright spot for the Sharks in this series. He has looked a step behind and his lack of speed was not an issue against the slower Anaheim Ducks but the Knights are one of the fastest teams in the NHL. The last straw for Peter DeBoer was likely William Karlsson's OT winner in Game 3.
James Neal picked up the puck and started a 2-on-2 (becoming a 3-on-3). Martin was caught in no man's land at the red line and made the mistake of following Neal to the right side instead of staying on his left side to let the 2-on-2 play out. On an even man rush, a defenseman is taught to stay on their side until they cross the blue line. Once they are in the defensive zone, they can then follow the puck carrier and allow their partner to pick up the other man.
Martin made a bad play and his lack of speed didn't give him the ability to recover. Instead, Burns had to come all the way across the ice to try and stop a streaking Karlsson with nothing but ice in front of him. A perfect top-shelf shot behind Martin Jones and the game was over.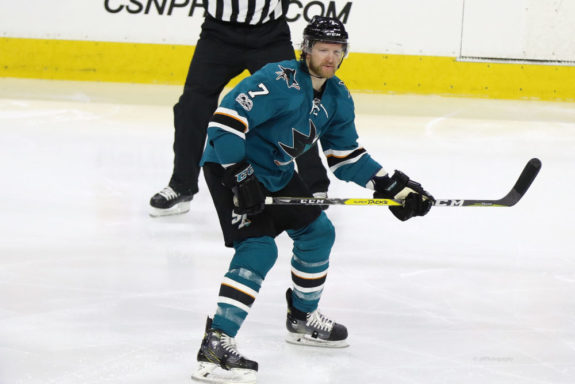 Mistakes happen in hockey and players aren't usually benched or taken out of the lineup for one mistake. This mistake was the cherry on top of three bad games for Martin against the Golden Knights. Enter, Joakim Ryan. Ryan is much faster, mobile, and fresher than Martin. A change had to be made and swapping the two was the obvious decision.
How Did Ryan Fare in Game 4?
Overall, Ryan was strong in his first game in six weeks. He played about four minutes less than his season average, but that is expected as he eases back into game shape. He was paired with Burns and showed he is capable of being the "Wookie Whisperer" in this series. His best play was a perfect poke check on William Carrier off a bad pinch by Burns. Ryan has the speed to get back and cover for Burns when he makes his high risk plays in the offensive zone.
Ryan was calm and poised on each shift and looked nothing like a rookie making his Stanley Cup Playoffs debut against a quick-strike Vegas team. He's older for a rookie at 24-years-old and has three years of professional experience. It's not surprising that he seems to be above his rookie peers in the calmness department. He executed his breakouts, didn't get caught up ice, and didn't allow Vegas to walk all over him in the defensive zone.
Related: San Jose Sharks Pull Even
It's hard not to draw parallels between Ryan's game and a young Paul Martin. Their similarities are what created such an easy transition for Burns this year when Ryan stepped in as his new partner. Martin may not be getting any younger, but luckily for the Sharks, they have the younger version in Ryan.
Ryan is expected to play in Game 5 on Friday night in Las Vegas. He should see an increase in minutes as he adjusts to game speed.
Mac has been playing hockey since he was four years old and as he grew older he discovered a passion for sharing this great sport through writing. Growing up in California, hockey always took a backseat to other sports, but that never stopped him from learning more about hockey. His primary focus will be covering the San Jose Sharks.