Let the debates begin. When two superstars are drafted number one and two overall, there will be comparisons for years. This is going to be the case throughout the careers of Auston Matthews and Patrik Laine. Both are franchise players that have helped lead the turnaround of their franchises since being drafted back in 2016.
Matthews is the all-around first-line center who can produce offense, and Laine is the elite goal-scoring winger with a very heavy shot. Laine is easily top-five in the NHL as far as his one-timer from the top of the circle goes. He has one of the most dangerous shots in the game. Laine also loves playing in Winnipeg and is still just a kid at heart.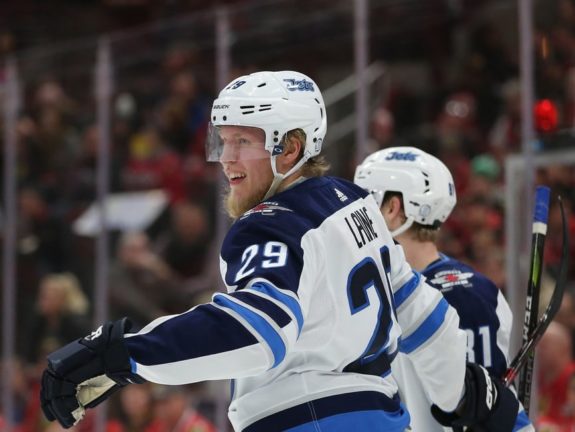 Some people on social media were quick to point of that Laine has gotten to Round 2 of the playoffs before Matthews and thus is the better player. Don't worry, Leafs fans; Auston Matthews was and is a perfect fit in Toronto. He is still the better pick for several reasons.
Cup-Winning Teams Need an Elite Center
If you look at the last several Stanley Cup-winning teams, they all have a true elite number-one center. In recent memory, they include Sidney Crosby, Jonathan Toews, Anze Kopitar, Patrice Bergeron, and Pavel Datsyuk.
The Maple Leafs had to address that position and did a great job of it by selecting Matthews. Matthews has a world-class release on his wrist shot and plays a full 200-foot game. He is elite at stripping the puck from his opponents and is very sound positionally in his own zone.
He just has a knack for being in the right spot at the right time. Matthews possesses a strong hockey IQ and has been one of the best players in the game since being drafted by the Leafs. Matthews is a player known to put a lot of pressure on himself in his quest to be great. Morgan Reilly addressed that after the Leafs' Game 3 win against Boston during the first round of the playoffs this season.
"He's a guy who puts a lot of pressure on himself to be great. And when he goes out and plays well, he's one of the best players in the world."
This postseason, he ran into a very good Boston Bruins team and was shut down for most of the series besides Game 3 in Toronto. Matthews missed games this year with a concussion, a back injury and a shoulder injury. He was certainly not 100 percent for this Bruins series.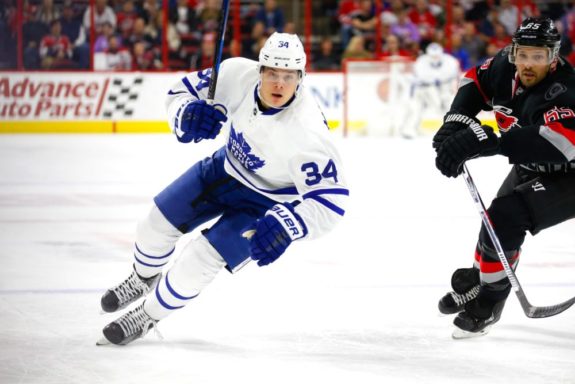 Matthews is only 20 years old still and has handled the pressure of playing in the hockey capital of the world extremely well. He is always calm, cool and collected in his interviews after games. It's evident that he does not get too high after a win or too low after a loss. He followed a 40-goal rookie campaign (Leafs rookie record) with 34 goals this season in only 62 games. Add that type of production with what he does away from the puck and you have a truly special player that the Leafs are so fortunate to have in the future. So why do some fans think Laine is better?
Laine Can Score Like Ovechkin
To me, Patrik Laine is the modern-day Alex Ovechkin. He is young, energetic and has such a gift for scoring goals. Laine is spectacular and is producing offense at nearly a point-per-game pace in his first playoff run this spring. Laine has a very deceptive release on his shot, which makes him so lethal on the ice. His head coach, Paul Maurice, wants to see a complete game added to the arsenal of his young sniper.
"The overall game Patty will play will become far more important than whether it's 40, 50 or whatever that number (of goals) ends up being."
https://www.youtube.com/watch?v=FbyxDykR1oQ
Yes, Patrik Laine has reached Round 2 of the Stanley Cup Playoffs before Matthews. However, that is the product of a better team around him than Matthews has. The Winnipeg Jets were second in the NHL this year with 114 points and have an extremely talented group. The Jets have size, depth, skill and an elite goaltender in Connor Hellebuyck. I still firmly believe that Matthews will be the better NHL player and carries more value to the Leafs because of the position he plays than Laine does on the wing. However, only time will truly tell.
Matthews Has a Lot of Kopitar in His Game
Matthews reminds me of a young Anze Kopitar. A two-way centre who can score, shoot the puck, is tough to knock off the puck, has good size and is very responsible defensively. The kid is not even close to entering his prime. I expect the Maple Leafs to take the next step forward this summer and give him the captaincy. Despite rumors, there are no problems between Auston Matthews and head coach Mike Babcock.
Auston Matthews said the reports that Mike Babcock "lost him" in the playoffs are totally untrue, wasn't pleased when he heard that in the media. Said his relationship with Babcock is good, but media will speculate as they choose.

— Kristen Shilton (@kristen_shilton) April 27, 2018
The two have a good coach-to-player relationship and will be in Toronto together for the foreseeable future.
Through Two Seasons: By The Numbers
Laine has played in 155 games and has 80 goals, 54 assists and 134 points. Matthews has played in 144 games and has registered 74 goals, 58 assists and 132 points. The numbers are obviously extremely close, with Matthews being a plus-27 to Laine's plus-15. Matthews will continue to get better as well as he is trying to become the best player in the world. I am going to make a bold prediction and say that these two will meet someday for the Stanley Cup. What a treat that would be.