When the Detroit Red Wings traded Petr Mrazek, the organization said goodbye to the player who was once deemed its goaltender of the future. The former fifth-round draft pick had shown promise of becoming an elite NHL starter but failed to achieve any sort of consistency.
Now, Detroit faces a future without an heir to man its crease. And that couldn't have come at a worse time.
Incumbent starter Jimmy Howard is 34 years old and will be entering the final year of his contract this fall. Backup Jared Coreau and third-stringer Tom McCollum are both minor-league veterans destined for unrestricted free agency this summer. Next man up, Matej Machovsky, elected to return to the Czech Republic rather than serve as the emergency goalie for the Grand Rapids Griffins or compete with the Toledo Walleye in the ECHL playoffs, and will not be re-signed.
Related: Red Wings Final Grades – Defense & Goalies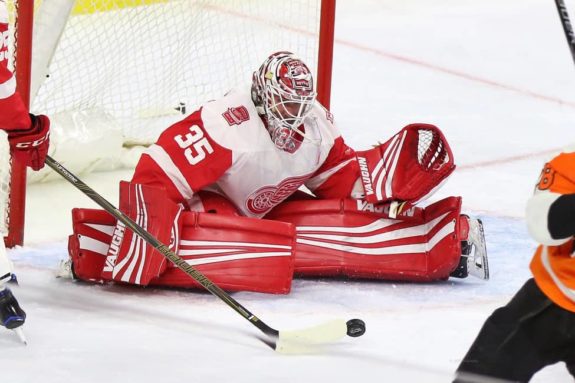 Simply put: Apart from Howard, there are no NHL-ready goalies or organizational depth in Detroit's system.
However, there are two goaltenders in the Red Wings' prospect pipeline who could turn into high-quality netminders in time: Filip Larsson and Keith Petruzzelli. But before one is anointed as Detroit's future in net, it should be noted that these two goalies still have quite a bit of development in front of them, despite their impressive backgrounds.
NHL Goalies Back in Their College Prime
Yes, Larsson and Petruzzelli starred in the USHL, but college hockey is a whole different animal. When you're watching those two netminders or keeping track of their stats, make sure you're aware of how other NHLers fared at that level.
Below are the stats of high-quality NHL goalies who also played college hockey. When tracking Larsson, the freshman statistics below are good comparables. And for Petruzzelli, those same netminders (minus himself) are shown again with their sophomore data.
Freshman NCAA Goaltenders
| | | | | | |
| --- | --- | --- | --- | --- | --- |
| Goalie | Year | GP | Record | GAA | SV% |
| Jimmy Howard | 2002-03 | 21 | 14-6-0 | 2.45 | .916 |
| Keith Kinkaid | 2009-10 | 25 | 12-8-3 | 2.48 | .912 |
| Connor Hellebuyck | 2012-13 | 24 | 20-3-0 | 1.37 | .952 |
| Jon Gillies | 2012-13 | 35 | 17-12-6 | 2.08 | .931 |
| Thatcher Demko | 2013-14 | 24 | 16-5-3 | 2.24 | .919 |
| Keith Petruzzelli | 2017-18 | 17 | 5-6-2 | 2.88 | .892 |
Sophomore NCAA Goaltenders
| | | | | | |
| --- | --- | --- | --- | --- | --- |
| Goalie | Year | GP | Record | GAA | SV% |
| Jimmy Howard | 2003-04 | 22 | 14-4-3 | 1.19 | .956 |
| Keith Kinkaid | 2010-11 | 38 | 25-10-3 | 1.99 | .920 |
| Connor Hellebuyck | 2013-14 | 29 | 18-9-2 | 1.79 | .941 |
| Jon Gillies | 2013-14 | 34 | 19-9-5 | 2.16 | .931 |
| Thatcher Demko | 2014-15 | 35 | 19-13-3 | 2.19 | .925 |
For Demko, Gillies, Hellebuyck, Howard, and Kinkaid, the development did not stop there. Most played another season or two at the NCAA level before spending time in the AHL. None made the jump directly to the NHL. For Petruzzelli and Larsson, there will likely be no exception.
Related: Red Wings Call-Up of Todd Nelson Overdue
Petruzzelli & Larsson's Post-Draft Progress
It's easy to proclaim Petruzzelli and/or Larsson as Detroit's goaltender of the future, but the two still have at least four years of development ahead of them. Anything can happen in that time. And, like we've seen with Detroit's previous goaltending prospects, high expectations usually aren't met.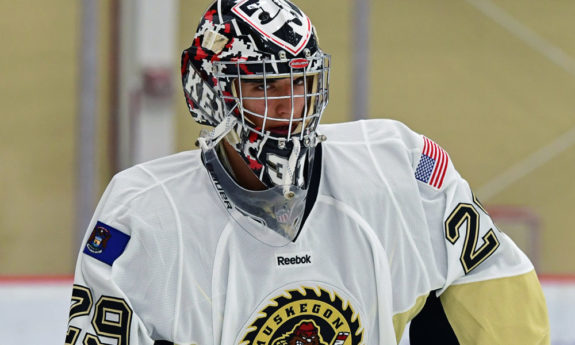 For both goalies, having a reasonable perspective on their level of play would be beneficial. Success in the USHL doesn't always translate to the NCAA ranks. Then, there's still the transition from the college game to the AHL and another level up to the NHL. Give Petruzzelli and Larsson a chance to solidify themselves at their respective universities before assuming that they'll start in Hockeytown for a decade.
Related: Time to Upgrade Wings' Goalie Pipeline
The sample of NHL netminders above shows, at the very least, that Petruzzelli has some ground to make up heading into his sophomore campaign. Every goalie develops differently, so there's still the possibility that he continues to grow over the next few seasons. Just don't expect the young netminder to be standing in Detroit's crease anytime soon.
The foundation is there, though. We just need patience.
In a recent conversation with MLive's Ansar Khan, Red Wings assistant general manager Ryan Martin shared his evaluation of Petruzzelli and the young netminder's tools:
He's raw in a good way, has had little positional coaching. You can't teach size (he's 6-5, 185), athleticism. He has good feet.
Martin had similar notes about Larsson:
A year and a half ago he was still trying to find his way. Then his name popped on USHL draft lists. He took a less traditional route for European goaltenders. It gives him time to develop on North American ice.
Translation: Both goalies are raw, but have potential. Give them time to work out the kinks in their game.
Forgot About Fulcher?
Though he was not drafted by the Red Wings, goaltender Kaden Fulcher could have a future with the organization. His efforts to lead Hamilton to an OHL Championship and Memorial Cup berth certainly help that notion.
Red Wings' goalie prospect Kaden Fulcher reaches Memorial Cup https://t.co/nlbvThGeCQ

— MLive Sports (@MLiveSports) May 15, 2018
Hockeybuzz's Bob Duff spoke with Red Wings director of player development, Shawn Horcoff, about Fulcher's potential:
We like his size and athleticism. He was a little bit raw but he's a kid that wants to work and puts in the work. Goalies are more of a long-term project. You get these kids that are young, it takes a while to hone their craft. They really have to put the work in to be ready for the pro game.
Duff also noted that the Red Wings have not decided on how to proceed with Fulcher beyond this year. He can be sent back to the OHL for another season or turn pro and join either Grand Rapids or Toledo in the fall, depending on Detroit's depth chart and how training camp goes.
With success in the Memorial Cup tournament, another strong development camp, and a solid showing at Detroit's training camp, Fulcher could crash the goaltending party that was originally hosted for Petruzzelli and Larsson. Only time will tell.
Which goalie will have the best Detroit Red Wings career? Comment below with your pick.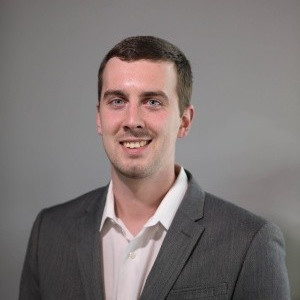 Tony Wolak is based in the Washington D.C. area and covers the Detroit Red Wings for THW. As a former junior and college hockey player, Tony has a unique perspective on Red Wings topics.