If I asked you to name all of the current defensemen on the New Jersey Devils, how many would you name before you reached Mark Fayne? Five? Six? It's easy to overlook the 25-year-old Fayne, he's not much of an offensive threat, he doesn't throw body-crunching hits and the fifth round draft pick from 2005 only has 31 points (8g-31a) in 139 games of NHL regular season experience. Fans I've spoken to usually say, 'The only time I notice him is when he takes a penalty.' But that's a good thing — that means he's doing his job (and doing it well when he's not in the sin bin) and helping the team be successful.
In the Devils 16 playoff games to date, Fayne has blocked 19 shots and has only one assist. To his teammates, he does not go unnoticed and he has become one of the unsung heroes on a team that could be on the verge of something special as they now sit six wins from the franchise's fourth Stanley Cup. "This has been amazing, from every aspect," said the soft-spoken Fayne after his team's 4-1 win in Game 4 of the Eastern Conference Finals. "From the first (playoff) game, seeing our fans down in Florida, and our fans here at home. Just getting this far, seeing us fight through adversity, seeing Marty (Brodeur) come up huge. Patty (Elias) and those guys, the leadership that they've shown — it's been great."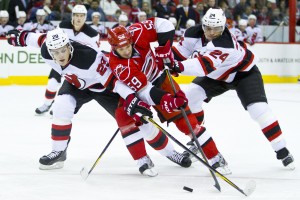 Fayne has played in all 97 of New Jersey's games (regular and postseason) and in his first playoffs he has been gaining valuable experience as well as confidence. Every night you can find him paired with Andy Greene — the duo have been together the majority of this season — and as most D-partners probably should do, they spend as much time together off the ice as they do on it. "We started last year when I first got called up and we were partners for awhile and then I was moved with (Henrik) Tallinder. But I think we had a good connection; he's real great helping me off the ice too with different things. We're roommates on the road, so we talk about a lot of stuff in the hotel rooms. He's a great player and has been really helpful with teaching me different aspects of the game, having a guy like that has been awesome to mentor me."
But it's not only Greene that has helped Fayne develop and mature into the player that he is becoming, credit is also given by the 6'3″ kid from New Hampshire to Tallinder and the Devils' coaches — notably two legends of the blue line — Larry Robinson and Scott Stevens. "All of our defensemen have been helpful to my development," explained the Providence College product. "Tallinder too (while he's been hurt), he watches the game from a different angle. After games he comes down and has a different aspect on things; it's definitely helpful coming from players and not just coaches all the time."
Even a player as young and inexperienced as Fayne didn't need the coaching staff to tell him how much of a must-win Game 4 was for New Jersey. "I think it was a must-win for us. (If we lose) we're down 3-1 going back into their place, a tough building to play in" he admitted after his team evened up the best-of-seven series. "I think everybody knew it was a must win; we had that mindset from the get-go and I think we showed that with our first period tonight. Everybody stuck to the game plan, but our coaches really didn't have to say too much, because, again, we have guys like Marty and Patty in the room who set the vibe and everyone else kind of follows along."
Fayne's contribution may not always show up on the scoresheet but his value (and all of the defensemen for that matter) to the team's success is definitely appreciated and noticed inside the locker room. "I can't say enough about the defensemen playing in front of me this playoff series and all year," said Brodeur after winning his 109th postseason game. "They've been battling really hard and Greeney and Fayner are a great example. They're getting some important ice-time and they're getting the job done. It's a big value to our team; people maybe don't recognize them as much as other defensemen in the league, but we're really comfortable having them in front of me and the net."
As much as Brodeur appreciates Fayne and the Devils blueliners, Fayne also appreciates Brodeur too. "One of Marty's biggest assets is how well he moves the puck," said Fayne, who was 8-years-old when the 40-year-old Brodeur won his first Stanley Cup in 1995. "It's amazing, he's a third defenseman out there for us, when I come back for the puck it's great to know that he's going to pass it to me or someone else, right on my tape or set me up where I have room (to make a play)."
A sign that others are taking notice of Fayne was evident while watching Game 2 last week: NBC's analyst Pierre McGuire went from calling him just plain old 'Mark Fayne' to 'the Providence College product Mark Fayne.' At this rate, one day he may just be a Devil that you do know.
Dan Rice can be reached via Twitter: @DRdiablo321 or via email: drdiablo321@yahoo.com