July 1st is creeping closer and everyone is wondering where Alex Semin's heart lies. It's hard to read Semin, who struggles with the English language and has never been a media-friendly player. What we have heard from his camp has come through his agent Mark Gandler, who told ESPN The Magazine, "Alex doesn't fit into the system, obviously. It just doesn't make any sense to him. He plays, he did the best he could under the circumstances and he earned the right to be a free agent."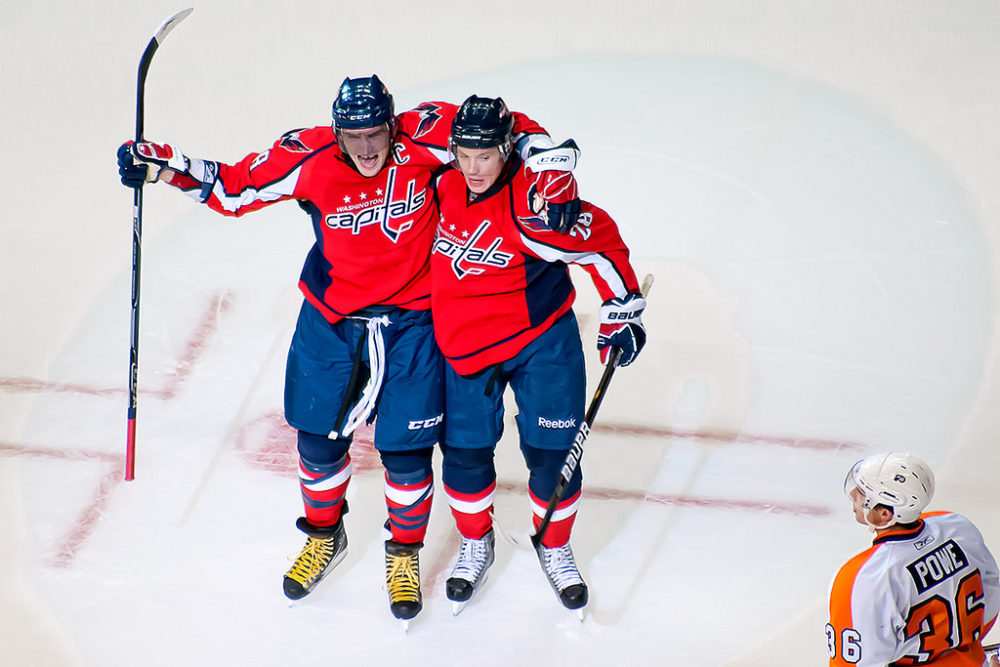 The facts are there's $19.2 M in cap space to sign 11 players and Semin's contract would absorb 40% of that space. That's before you even factor in Mike Green, Dennis Wideman or Mike Knuble. Some have speculated that Semin is at odds with the defensively responsible brand of hockey Washington is cultivating. And it's true Semin had not been granted the kind of long-term commitment Washington's other marquee players have, like Ovechkin's 13-year contract or Backstrom's 10-year deal.
A Brief History
The relationship between the Washington Capitals and Alexander Semin has not been without its bumps in the road. For instance during the '04-'05 NHL lockout, Semin joined Lada Togliatti of the Russian Super League (RSL), which wouldn't have been an issue if the Capitals hadn't already committed him to report to their then-AHL affiliate the Portland Pirates. Ovechkin too went to play in the RSL, but without controversy since number 8 had been deemed fit to play NHL hockey the next season, whereas Semin was still being groomed for NHL play.
Semin's time in Russia during the lockout obligated him to serve two years in the Russian Armed Forces. This Russian conscription caused him to miss the next season of NHL hockey as he stuck with Lada Togliatti while serving his military duties. The Washington Capitals organization was obviously not happy with this situation and began to seek legal action to get their star player back with the team. Capitals GM George McPhee filed a formal complaint against Semin and his agent Gandler. The Capitals were able to issue a temporary restraining order, preventing Semin's agent Gandler and his advisors from representing the player in any contract signings or re-negotiations with teams other than the Capitals. It seemed as though the situation was going to resolve itself when the Lada Togliatti could no longer afford to hold onto Semin's hefty contract and released him from the club. However, in a surprise move Semin then signed with another RSL club Mytischi Khimik. The Washington Capitals exhausted their efforts to get Semin back in the NHL and finally came to an agreement with Semin and his agent that he would be eligible to join the team upon the start of the '06-'07 season.
Once eligible, Semin was signed to a two year deal with the Capitals, the longest deal he has received in his six years with the club. Semin did repay the organization for their patience by opening up the '06-'07 season with the Capitals' first goal, followed by a natural hat trick in the next game. Now six seasons later Semin is being ogled as one of the year's hottest free agents and there are many pondering what would keep Semin with the franchise.
The Numbers
In a season where the Caps' captain and go-to point producer Ovechkin posted career lows and another leading goal-scorer Nicklas Backstrom missed half the season due to a concussion, Semin did his part. The Capitals had their lowest scoring season since the lockout and while they finished 7th overall in the East they ended up in 10th for goals for. On a team that is now widely made up of sandpaper grinders, they still need players like Backstrom, Ovechkin and Semin to carry the scoring where their other roster players fail to. This season he finished second in points, goals and assists and recorded his 6th consecutive season of 20 plus goals. The bottom line is Semin is just one of the Caps three scorers, you take him out of the equation and you're missing out on a lot of offense, even if you are building a more defensive model.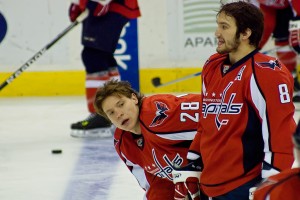 The Intangibles
Part of the answer could lie in his best friend, roommate, captain and countryman Alex Ovechkin. Semin and Ovechkin grew up playing against each other in the Russian Super League and have since played together for six seasons with the Washington Capitals and won three medals for Russia in international play, including last week's gold medal in the IIHF World Championships. Ovechkin and Semin were shipped in halfway through the tournament after being eliminated from the Stanley Cup playoffs. The two combined for nine points in just three games and netted two points apiece in the Gold Medal game. These two just don't score together, they do everything together, which leads me to believe that if the choice is Semin's to make, he might be back in red, white, and blue next year. Here's a video diary of the Semin/Ovechkin bromance, enjoy: