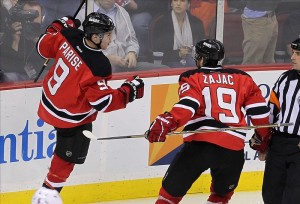 The New Jersey Devils evened their best-of-seven Eastern Conference Finals matchup with the Rangers at two games apiece on Monday, but that was only part of the story. In the final twenty minutes of the contest, as the Rangers found themselves on the wrong end of a stellar goaltending performance and unable to get anything going offensively, things began to get ugly.
The game had already featured one fight, as Adam Henrique and Ryan McDonagh dropped the gloves in the first period, and as the game progressed, it got increasingly chippy, finally culminating in a wild third period that featured 12 penalties called and an apparently unprovoked punch thrown at Devils goaltender Martin Brodeur by former Devil Mike Rupp.
"He just kind of turned around, I guess he was a little pumped up and wanted to hit somebody and I was the first target," said Brodeur. "It's unfortunate that somebody has a right to go out and sucker you like that, but we got a four-minute penalty and it killed time for us to win the game."
Devils coach Pete DeBoer and Rangers coach John Tortorella, thankfully separated by the team's benches, began to scream at each other as Rupp and Stu Bickel each received misconduct penalties in addition to a slew of two minute penalties. DeBoer appeared angry because of Tortorella's putting Bickel, Rupp and Steve Eminger on the ice with the apparent intent to agitate New Jersey. In the post game press conference, both Tortorella and DeBoer refused to comment on the exchange.
"This isn't about John and I," DeBoer said, "this is about the guys on the ice, so I don't have anything to say about that."
New Jersey's Ilya Kovalchuk may have summed the situation up best after the game:
"You know, it's hockey, not chess. We're allowed to punch each other sometimes…it's hockey, it's a man's game."
Prior to the pandemonium in the waning minutes, there was a hockey game played, one that the Devils controlled from start to finish. Their strategy of going hard on the forecheck and firing shots at Rangers goalie Henrik Lundqvist didn't change, but it initially appeared that they were in for another frustrating night of missed chances as Lundqvist robbed them of scoring opportunities.
"I thought we put some pressure on early and it looked like it was going to be more of the same from the game before," DeBoer said in the post game press conference. "We got some quality chances early, couldn't get one by him, but obviously the first one was a big one. It lifted a weight off us and I thought we played a little bit looser from then on."
If the initial goal for the Devils, netted by Bryce Salvador, gave them a little confidence, the second score by Travis Zajac just a few minutes later was an affirmation that their game plan can lead to wins if they work at it. Whether they exorcised the specter of Lundqvist's occasional invincibility remains to be seen in Game 5.
After all the controversy is stripped away, what's left is a solid, dominating performance in a must-win game for New Jersey. The series goes back to Madison Square Garden knotted at two, and it's now a best-of-three for a trip to the Stanley Cup Finals.