There is no question the San Jose Sharks would like to see more production out of star winger Patrick Marleau. The longest tenured Shark has just two points (one of which being an empty net goal) during San Jose's current 7-0-2 point streak. However, a deeper look into the analytics and you could argue Marleau has been more valuable during this point streak than during any other portion of the season.
Overall, Marleau's even strength game this season has been disappointing. A 41.8% goals-for and 48.3% Corsi-for certainly aren't numbers to write home about. Particularly when you compare them to fellow star teammates Joe Thornton and Joe Pavelski whom lead the club with Corsis over 55 and goals for around 70. Marleau's standard player card plus/minus of minus-14 also sticks out like a sore thumb. His impact for the first half of the season has been minimal at even strength. Over this point streak though, Marleau's underlying numbers are much better.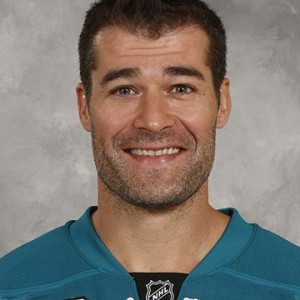 Despite just the two points over the last nine, Marleau has been a positive Corsi player at even strength. If you download this table from war-on-ice.com, it shows Marleau is actually slightly over 50% in shot attempts. Marleau's goal production is nearly the exact same. The Sharks have scored four even-strength goals with Marleau on the ice and given up four goals for a 50% rating. Marleau's shot attempt numbers are even better if you throw out the game against Calgary where the entire team was terrible in terms of possession. It was a back-to-back situation on the road and Marleau was minus-9 in shot attempt differential. Over the other eight games of this point streak, Marleau's Corsi-for turns out to be plus-10 or 52.4%.
Marleau may not be scoring, but his line with Joel Ward and Matt Nieto are playing a good amount of time in the offensive zone. By the eye test they aren't giving up much in the way of opportunities for the other team which is a significant turnaround from earlier in the season. Moving back to his natural center position for most of this season isn't an easy transition. Marleau hasn't played consistently in the middle for the majority of the past six or seven seasons. Lately though he has been making it work. In San Jose's 3-2 overtime loss to the Kings on Sunday, Marleau was arguably the Sharks best player. He finished the game tied for the team high in shots with four, was 75% in the face-off circle and generally won a majority of his one-on-one corner battles.
Marleau Drawing Defense Away From Couture & Donskoi
Marleau playing effective in the middle without a fellow star player on either of his wings is huge for the Sharks scoring depth. The 36-year old is still often drawing top-four defense matchups from the other team which has opened things up for Logan Couture to see mismatches as the third line center. Over the past seven games, Couture is plus-17 in Corsi differential, a Corsi-for percentage of 56.1%. No. 12 may be cold offensively, but No. 39 has been heating up with six points in his last eight games and four in his last five. Just like a talented receiver in football, Marleau is drawing defensive coverage away from Couture allowing the 26-year old to flourish with all the goals and assists.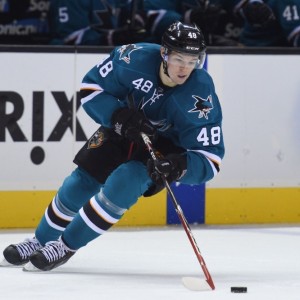 Not only does Marleau's move to the middle help create mismatches for Couture, but it allows both Tomas Hertl and Joonas Donskoi to thrive. For much of the season Hertl had been the third line center, playing with linemates such as Donskoi, Matt Nieto, Melker Karlsson and Tommy Wingels. While Hertl played well for significant stretches, a third line with Hertl as the best player simply wasn't producing enough offense. Likewise with Donskoi, he was either playing next to Hertl or in a top-six role on the wing. Donskoi also had some strong stretches in that top-six role, but had to face tougher matchups, limiting his effectiveness.
With the three marquee centers spread out on different lines, both Hertl and Donskoi's point totals have unsurprisingly increased. Hertl now has fewer defensive responsibilities on the wing with two of the best player's in the world on his line. The move to the top line has seen Hertl pick up nine points in nine games after tallying just 15 in his first 37 games. Donskoi meanwhile has scored eight points in his last nine games after registering just 13 in his first 33 games.
If you look at goals and assists in recent games and overall plus/minus, Marleau may look like he's struggling. However, even though he hasn't found the back of the net much lately, he's opening up space for his Sharks teammates, many of whom are thriving in terms of offensive production. It may not be obvious, but Mr. Shark is still making a positive impact on Team Teal.