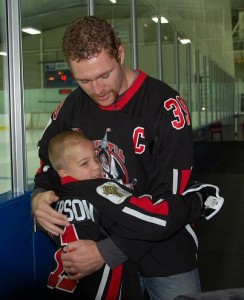 Boys and girls of all ages are passionate about hockey in Canada. Whether they are watching a game on television or lacing up their skates to play a game, there is little doubt that it is the "unofficial" national sport in this country. By playing hockey with their local teams, they are not only developing their skills on the ice, they are also making new friends and learning the benefits of teamwork – lessons and friendships that will last a lifetime.
Unfortunately, it was a different experience for Ottawa area children with special needs. The opportunity to share in the joy of playing hockey did not exist and they were forced to watch from the sidelines while their brothers and sisters played. That all changed three years ago when Jim and Shana Perkins founded the Capital City Condors, a hockey program for children with physical or learning disabilities. Thanks to Jim and Shana, a wonderful group of children finally had a team to call their own.
In their first season, Jim and Shana welcomed three children into the Capital City Condors family. Three years later, through the efforts of their tremendous volunteers and sponsors the program has grown to forty players with a waiting list that continues to grow. One of the dedicated supporters of the Capital City Condors program spoke with The Hockey Writers this week – Ottawa Senators defenseman Matt Carkner.
"Everywhere I have been playing hockey it has always been a goal for me to find a good cause in the community to support," Carkner explained. "Last year, I thought I was going to be in Binghamton and I was involved in some projects down there. When I made the team in Ottawa, I didn't know what I was going to do. I talked with my agent about it and he mentioned Jim Perkins and the Condors program."
"Once I got in contact with Jim, it became a great relationship and I was glad to help out the kids. It's great to be a part of their team because they definitely put a smile on your face when you are out there skating with them – they love the game and it's great to see that they are given the opportunity to play."
Growing up, Carkner's parents taught him the importance of being involved with his community, as well as the importance of giving back and helping others. A proud father of two, Matt and his wife Kary are making sure they teach that same lesson to their children. Working with the Capital City Condors provides the perfect opportunity to lead by example.
"We have been really fortunate to have two healthy kids and it's cool to get them involved too, to interact with the other kids. It's a lot of fun for them and hopefully, they can see how good it is to give back and help out in your community."
"My dad and my brother are both part of the Lions Club in Winchester, Ontario and they are always willing to lend a helping hand when they can, whether it is just helping people move something or tending the canteen at the local arena. Dad always taught me to give back – it was a big part of my childhood, giving back wherever I could."
When I spoke with Jim Perkins in December for The Hockey Writers, we discussed how playing for the Condors helps the children that participate in the program. While some of the kids will improve as hockey players, the ultimate goal is about having fun, having something to call their own and discovering a newfound confidence off the ice. During his time working with the team, Carkner has seen for himself the positive benefits of playing for the Condors and the difference it is making in the lives of the participants.
"Yeah, you see that little bit of swagger you get when you are part of a hockey team, when you are part of something special," he said. "When they're all in their matching jerseys, I think they feel very special to be out there on the ice together as a hockey team. Every time I have gone out to see them they have been really, really excited and happy to be out on the ice. They definitely feel a little more confident and proud to be a part of something."
Although he has a busy schedule with the Senators, Carkner sets aside time to visit with the children at their practises, offering encouragement and sharing in their love of the game. His involvement helps to raise awareness of the Condors program but it is not just about lending his name to the organization, Carkner has supported the team by donating some much-needed equipment as well.
"It's nice to be able to help out," said Carkner. "I brought in some gloves, skates and sticks in the first year and this season we got them all matching hockey bags with the Condors logo on it. I also got them some tracksuits. Now when they go out on the road, they'll look like a team – they were pretty excited about that!"
In January, he surprised the Condors with a special opportunity. After the Senators finished an afternoon practise, the children joined him on the ice at Scotiabank Place. There were smiles on every face as the Condors skated on the same ice as their hockey heroes.
"The kids sure love to be out on the ice that's for sure," Carkner said with a laugh. "I was trying to raise some awareness about the Aviva Challenge and I organized it through the Senators PR department. The kids all got to come out to Scotiabank Place and skate around and some of them got to be on TV. Bobby Butler and Brian Lee stayed out with me too and they were just great with the kids. The children were really accepted by the whole team and the Senators organization thinks the project is great."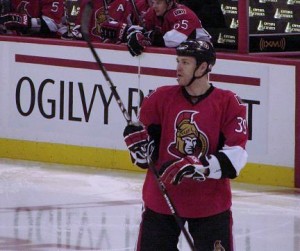 Before joining the Senators at the start of the 2009-2010 season, Carkner spent eight seasons in the AHL with the Cleveland Barons, Wilkes-Barre/Scranton Penguins and the Binghamton Senators. His hard work and dedication paid off, he has been a regular on the Senators blue line since earning a roster spot at the 2009 training camp. His perseverance and willingness to follow his dream is an inspiration to every young hockey player and it is an important message he can share with his friends on the Condors.
"For me, my dream was definitely to be in the NHL and there was some disappointment for a few years when I didn't make it right away, but I got over that and just enjoyed the game – I love hockey. I knew deep down that I was doing the right thing and I was doing all that I could to make it. I kept working hard and when it did happen it was kind of like a dream come true."
"It was a little overwhelming when I made the team. I couldn't believe all the good things that were happening to me. I'm sure for the Condors kids, someday they will have that kind of feeling too. They will be amazed at what they were able to do, considering that before they were not even able to play or get involved with sports. So, that's definitely a message that I want to send. Go after your dreams it doesn't really matter what kind of obstacles are in your way."
While the NHL season has not gone as planned for Carkner and the Senators, they continue to work hard, playing the role of spoiler as the playoffs draw closer. Due to injuries and trades, the Senators have relied heavily on players from Binghamton and the young call-ups have made the most of their opportunity to shine at the NHL level.
"It's good for the young guys to get this chance," Carkner said. "In my career, I was kind of waiting a long time just to get a shot to show people what I could do. I think everyone that has been called up has shown a glimpse of what they can do and it's all been positive – guys like Bobby Butler, he keeps putting the puck in the net and Condra as well."
"There is a lot of great talent in the minors, the AHL is a great development league and we are seeing that. Obviously, there is a new energy and a lot less pressure on our team right now. Knowing that we are not in the playoffs, the guys can just play and show what they can do. I'm glad that they're making the best of this opportunity."
Unfortunately, Carkner's season has most likely come to an end after having arthroscopic surgery on his injured knee last week. Being on the sidelines is something new for the rugged defenseman (he played in 81 games last season), but the timeline for recovery is approximately four weeks and with the season winding down, the focus shifts to recovery and returning to the team at 100% next season.
"I never like watching my team play, I'm dying to get out there and be part of the team and help them whatever way I can. For me, it's frustrating knowing I can't get out there on the ice, I can't improve on my game. It's one of those things though, I had to get it done and now I'm getting ready for next season."
Whether he returns to the Senators lineup at the end of this season or he has to wait until training camp, one thing is certain – when Matt steps onto the ice again at Scotiabank Place, there will be a group of young friends proudly wearing their Capital City Condors jerseys ready to cheer him on!
Visit the Capital City Condors website for more information on the team.