Auston Matthews hasn't scored in five contests and last seven in total if you count his two games out with a wrist injury. At the same time, his 18 goals still lead the league as he's on pace for 41 tallies through just 53 games. That should paint a pretty good picture of just how dominant the Toronto Maple Leafs' star has been through the first half of the season.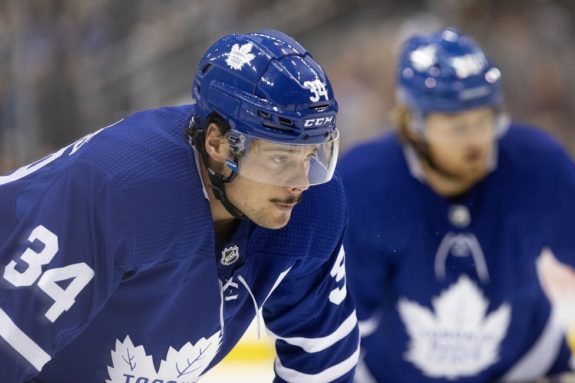 Matthews' goal-scoring has been more than just dominant, though – it's been historic. His 18 goals through the first 18 games of the season are something that's only been done by a handful of players (including the greats like Wayne Gretzky and Mario Lemieux), and he's the first to accomplish the feat since Simon Gagne and Daniel Alfredsson did it in 2005-06 (there's your obscure hockey trivia for today).
The drive for 50 in 50 may be over, but the more you dig into the numbers the more absurd Matthews' campaign looks.
Matthews Is the Maple Leafs' Best Goal Scorer Ever
The Toronto Maple Leafs have a rich history, spanning over 100 years since the franchise was founded in 1917 as the Arenas. Even with a century of history behind him, Matthews may be the most impressive goal scorer to don the blue and white.
Related: Maple Leafs: Dubas Vindicates His Vision With 100th Win
While Matthews is on pace for 41 goals through 53 games this season (the most he can now play after missing three due to injury), we can provide a better illustration of how good he's been with an 82-game projection. If we extrapolate his scoring rate of 0.78 goals per game over 82, we arrive at a pretty insane number: 64 goals. Compare that to the best scoring seasons in Maple Leafs history and, well, Matthews is clearly in a league of his own.

This is, of course, a very optimistic projection as we are giving Matthews the benefit of the doubt in terms of both health and consistency. It's very likely that over an 82-game season he would miss more time due to injury (his wrist seems to be a nagging issue) and his scoring would probably slow down at least a bit, but it's fun to project anyways. And it certainly puts into perspective just how impressive he's been so far.
Let's take it one step further, though. Hockey Reference offers adjusted stats which attempt to equalize the playing field for skaters regardless of which era they played in. The calculations may not be perfect but they help us compare players across decades more easily.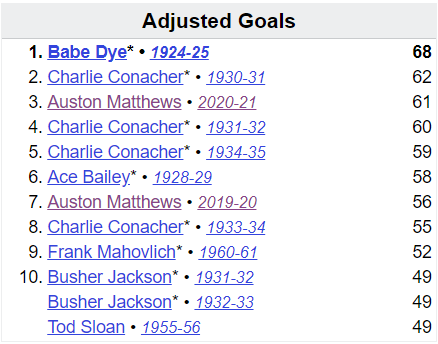 Despite the recent slump, Matthews is currently on pace for the third-best goal-scoring season in Maple Leafs history when you adjust for era. On top of that his 2019-20 campaign was the seventh-best ever, putting the star centreman in elite company along with Charlie Conacher on the Leafs' leaderboards. If we assume that Matthews is able to keep this level of goal scoring up (and we have no reason to think otherwise), then there's a good chance that his name occupies the majority of this top-10 list before his career is over.
Related: 5 Reasons Why the Maple Leafs Won't Be Making a Trade
It's truly mindboggling to think that the Maple Leafs have not had a scorer this prolific since the 1930s, which makes Matthews' emergence all the more captivating.
Matthews' Goal Scoring Is the Best We've Seen in a Decade
Beyond the Maple Leafs franchise, Matthews' goal scoring this year is the best we've seen in about a decade across the entire league. In fact, depending on how you look at it, it's arguably one of the best seasons we've seen in the last 25 years!
Related: Maple Leafs' 3 Unsung Heroes in 2020-21
By Hockey-Reference's adjusted numbers, Matthews' 61-goal pace is the best we've seen since Alex Ovechkin's mark of 62 in 2012-13. Over the past 20 years, only three players have surpassed Matthews' current rate: Ovechkin (2012-13, 2007-08), Steven Stamkos (2011-12), and Pavel Bure (2000-01).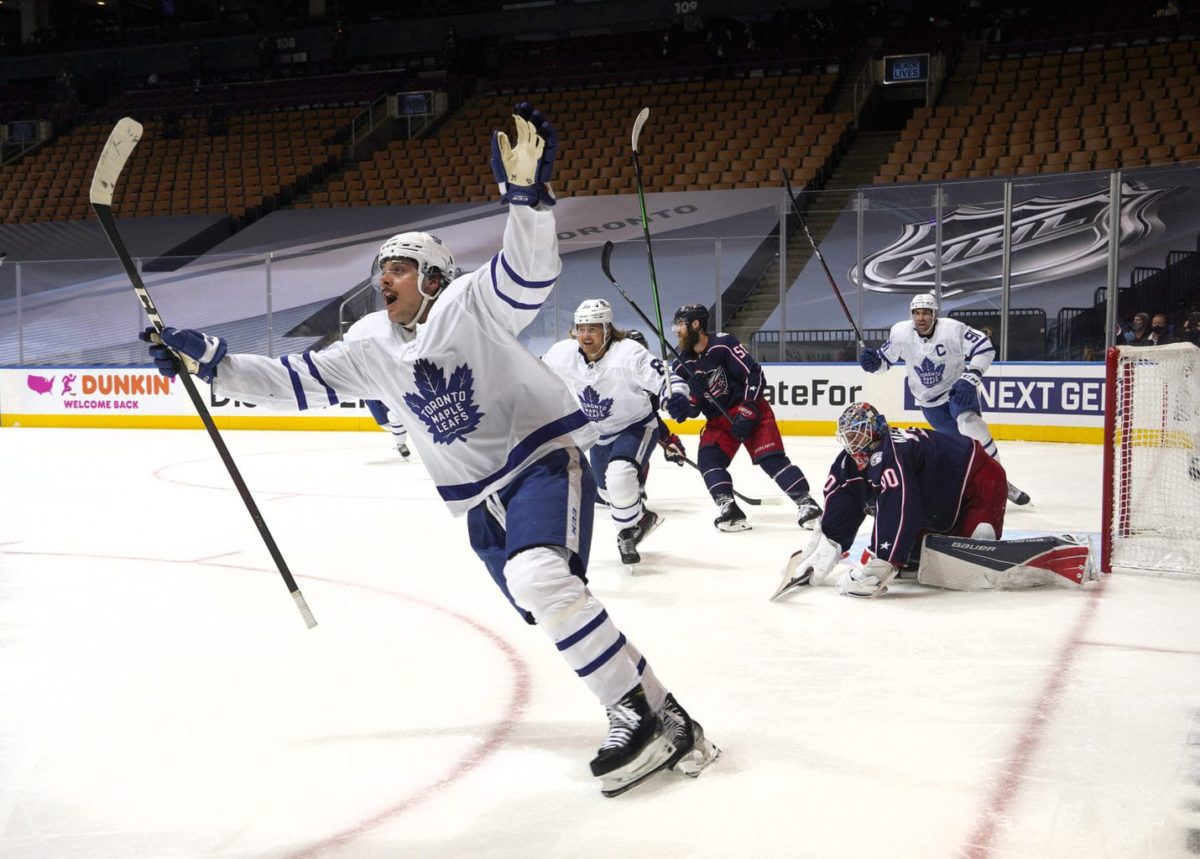 If we leave the numbers unadjusted, the Leafs' star looks even more sensational. His 64-goal pace over 82 games would give him the best goal-scoring performance since Ovechkin buried 65 in 2007-08. Other than the Great Eight, we would have to go back all the way to 1995-96 when Lemieux potted 69 to find another superlative to Matthews' season. When your only comparables are Ovechkin and Lemieux, it's safe to say you've reached a pretty exclusive echelon.
Matthews Could Win the Richard and Hart
It's looking like less of a lock now, but even with his current slump Matthews still leads the goal-scoring race by three over Tyler Toffoli and Connor McDavid, with the Edmonton Oilers' star probably providing the biggest threat down the stretch. If Matthews is able to catch fire again and stay healthy, he'll nab his first Maurice "Rocket" Richard Trophy as the NHL's top goalscorer – he'd be the first in Maple Leafs history to take home the trophy, and it'd be the first time a Leaf has led the league in goals since Gaye Stewart in 1945-46.
Related: Maple Leafs' Fourth Line Is Redefining the Label
While a Richard Trophy would be fantastic on its own, a Hart Memorial Trophy as the league's most valuable player would probably cement Matthews as one of the greatest Leafs ever at just 23 years of age. Since the Rocket Richard was instituted in 1998-99, only Ovechkin and Corey Perry have won both the Hart and Richard in the same season. Prior to the Richard's introduction, only 11 players in NHL history won the Hart while leading the league in goals. While he may have some catching up to do, Matthews' name is in the Hart conversation this season, and for good reason.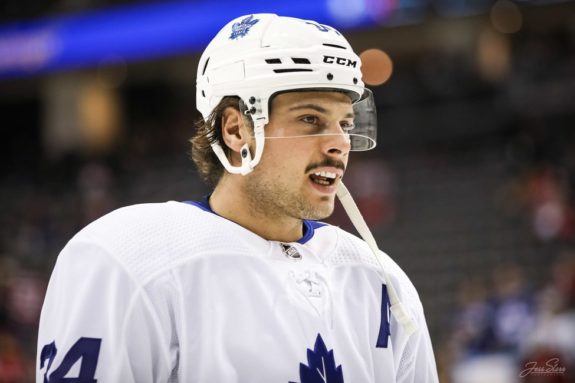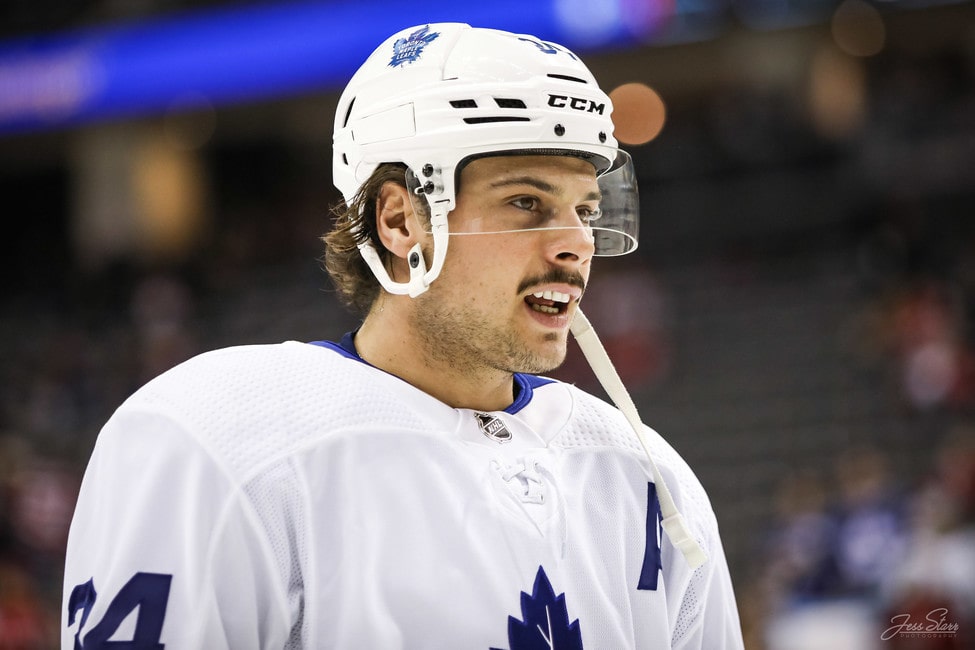 Using Evolving Hockey's Goals Above Replacement (GAR) model, Matthews' 6.9 GAR ranks 11th in the league, trailing familiar names like McDavid (10.1), teammate Mitch Marner (8.6), and Leon Draisaitl (8). Unsurprisingly, these players are all among the NHL's top scorers, though sixth-placed Matthews has some catching up to do against McDavid's 43 points. For the analytically inclined, Matthews comes out even better by expected GAR (xGAR), ranking first in the league, and suggesting that even more production may be coming his way.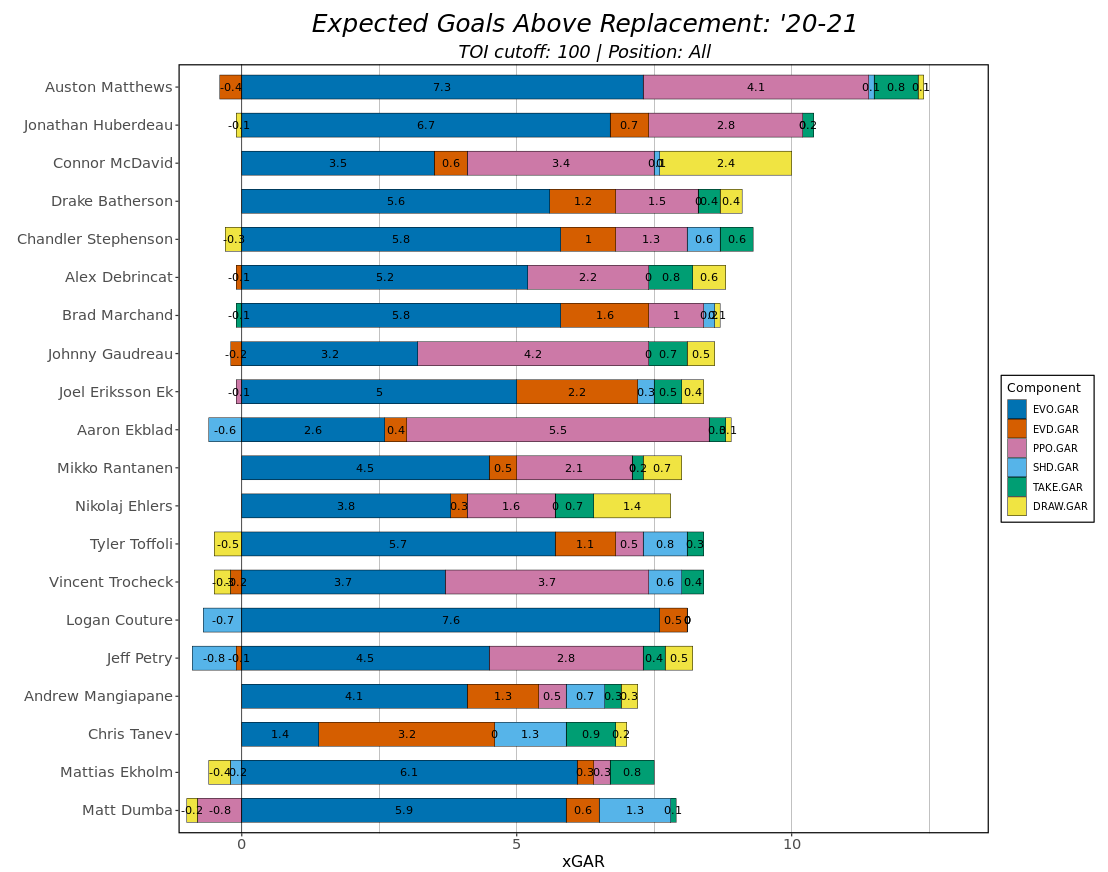 With his generational goalscoring ability and significantly improved defensive game, Matthews has rounded himself out to become one of the top-five players in the NHL. If he is able to keep up the pace and lead the Maple Leafs to a North Division title, he'll have quite the case for the Hart by season's end.
It's pretty astonishing to think that the Leafs' sniper is just entering his prime. Rest assured there'll be a ton of goals – and hardware – in his future.
Stats from Hockey-Reference.com and Evolving-Hockey.com
---
---