While the hunt for a new head coach continues in Raleigh, perhaps now is a good time to take a quick look at a recent front office hire who will be helping to select that new coach, Assistant General Manager Mike Vellucci.
As a Player
Drafted 131st Overall in the 1984 NHL Entry Draft by the Hartford Whalers, Mike Vellucci's NHL career was rather short-lived, to put it mildly. Vellucci appeared in only two games for the Whalers, spending the rest of his playing career bouncing around various minor leagues and a short stint in the United Kingdom before finally hanging up his skates in 1995.
Beginning his Coaching Career
Mike Vellucci was named head coach of the Compuware Ambassadors in 1995. As the head coach of the NAHL affiliate of the Detroit Whalers (eventually becoming the Plymouth Whalers) of the OHL, Vellucci experienced tremendous success, finishing with one championship and a record of 145 wins, 54 losses and 15 ties or OT losses in four seasons. His success with the NAHL club as well as his long-standing relationship with Peter Karmanos Jr  would lead to his promotion in 2000 as President of the Plymouth Whalers of the OHL, eventually being appointed GM and Head Coach of the team in 2001.
President, GM and Head Coach of the Plymouth Whalers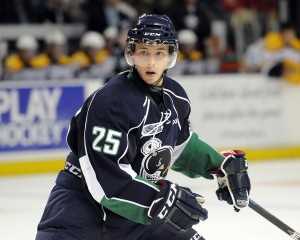 Vellucci went on to have remarkable success with the Whalers, coaching such names as James Wisniewski, James Neal and Tyler Seguin, as well has current Hurricanes Brett Bellemore and Justin Peters.  He won the Matt Leydon Trophy as OHL Coach of the Year twice during his tenure (2006-07, 2012-13) and won one OHL championship, amassing a record of 468 wins, 268 losses and 90 ties or OT losses. Vellucci's teams only posted a losing record once during his 17 year career as a head coach, ironically his last season before being offered the position of Assistant General Manager of the Carolina Hurricanes.
Beyond the Numbers
But what do we know about Mike Vellucci outside of the numbers?   Surprisingly little, for a person who has been such a prominent figure in Major Junior hockey for so long.  We know he likes his teas to play a fast, gritty and intelligent brand of hockey, he has a solid track record in getting the most out of young players, and his twitter account indicates a strong loyalty to those who have played for him.
Congrats to @jameswisniewski on setting single season record points by defenseman on the Bluejackets 47pts#whaleralum

— mike vellucci (@mike_vellucci) April 5, 2014
Congrats to @TheBigCzech23 on another call up. We are up to 18 former whalers playing in the NHL. It's tough to pick which alumni to watch

— mike vellucci (@mike_vellucci) March 11, 2014
The big question that needs to be asked, however, is will Mike Vellucci bring a new perspective to the Hurricanes front office? I would suggest that the answer to that is both yes and no.   As far as drafting and scouting is concerned, based on his ongoing relationship with ownership and Hurricanes President Jim Rutherford as well as the players the sheer number of former Whalers drafted by the Canes over the years, one would suspect that Vellucci has had a certain level of influence over Hurricanes drafts for a long time now. Where Vellucci brings a breath of fresh air, though, is in prospect development.  The Hurricanes have done a poor job of developing and managing their prospects for a number of years and it is my hope that Vellucci's experience in the OHL will help to fix this problem that has seemingly vexed 'Canes management.
Regardless, it is clear that Vellucci has been a tremendously successful Head Coach/General Manager at the Major Junior level, and we can only hope he brings a similar level of consistency and success with him to the big leagues.
Thanks for reading!