The Metropolitan Riveters will look a little different than when we last saw them once they hit the ice in Lake Placid. Not just because of the new uniforms though. New goalies, half of the defense is new to the team and league. A couple of former adversaries have made the switch and now 'Rep the Rivs' and an old friend returns. Last season this franchise was one goal away from advancing to the Isobel Cup Final for the second time in franchise history. Now they have reloaded, and with scoring threats throughout the lineup, the Riveters could be a major player during the 2021 NWHL season.
Last Season: 10-11-3 (Third Place), lost in semifinal.
Franchise All-Time Regular Season Record: 38-46-8
Franchise All-Time Playoff Record: 3-4-1
Championships: 1 (2018)
2021 Roster
Returning Players: Leila Kilduff (D), Rebecca Morse (D), Kiira Dosdall-Arena (D), Kendall Cornine (F), Cailey Hutchison (F), Madison Packer (F), Brooke Avery (F), Tatiana Shatalova (F), Mallory Rushton (F), Jayne Lewis (F), Kate Leary (F)
New Faces: Sonjia Shelly (G), Tera Hofmann (G), Samantha Fieseler (D), Sammy Kolowrat (D), Bridgette Prentiss (D), Saroya Tinker (D), Allie Olnowich (D), Theresa Knutson (F), Emily Janiga (F), Paige Voight (F), Kelly Babstock (F), Rebecca Russo (F)
Related: Riveters Connections to Lake Placid
*As of press time no Riveters players have officially opted out, which the NWHL gave the players who do not or cannot go to Lake Placid as an option – with full pay.
Player to Watch
It will be interesting to see how coach Ivo Mocek deploys Babstock and how often he relies on her line to create offense during the upcoming Riveters season. If this were a normal season she likely would be skating with the Toronto Six, who she signed with this summer. But a lot has changed since then including her being acquired via trade on Oct. 15 and you can bet many of the Riveters (and their fanbase) are happy to have her on their side after so many battles against her when she was with the Whale and Beauts.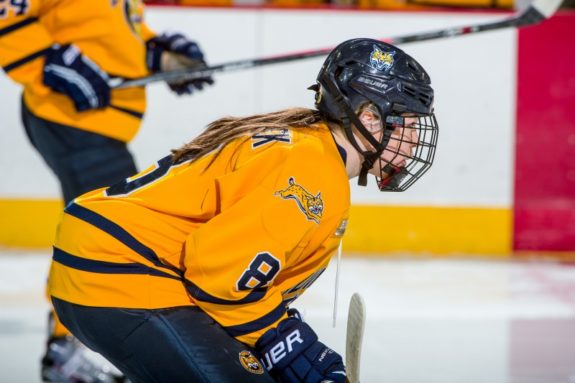 "Babstock, my linemate – I am happy she is on my side if I'm being completely honest," Russo told THW via phone. "I was always afraid of her! Let me tell you, she does not lose many face-offs, and that is a great thing to be on a line with her."
Another interesting dynamic is that there are a lot of younger players in the league who have yet to play against Babstock. You can pre scout and get tips from other players all you want, but it's no substitute for actually playing against said player, right? She is a difference-maker, a player that makes you cover every inch of the ice when you are defending her, and has no fear, no problem crashing the front of the net to get those gritty goals that are often difference makers in close games.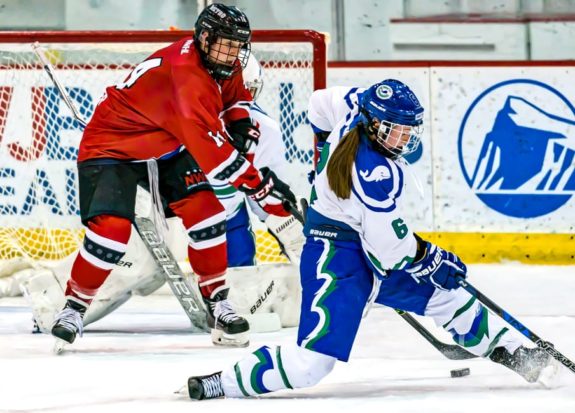 Her last appearance in the NWHL was during the 2019 Isobel Cup Final, an overtime loss to the Minnesota Whitecaps. Despite not being in the league last season Babstock's 60 career points are tied for third all-time in NWHL, trailing only Jillian Dempsey (98) and Packer (85).
Russo Returns
"I took last season off so I could move back home to Connecticut to be with my mom after she was diagnosed with breast cancer. I spent the year there taking care of her, driving her to chemo treatments and radiation up until covid started," Russo said, explaining her absence from the game she loves last season. "Today she is cancer-free which is incredible, and I will be showing my love for her through my baby pink laces on my skates. I'm playing this season for her. She's a fighter and I wouldn't be here today or who I am today without her. She'll be with me in the bubble through those laces and I'm excited to show them off and play some great hockey for her."
Russo missed Mocek's first season behind the Rivs bench but heard only good things from her friends about how he was able to reverse the culture after one horrific season under Randy Velischek.
"My last season in the NWHL, which was 2018-19, I think got away a little bit from what the Riveters were all about. Not being on the team last season and being here now I can see the culture that coach Ivo (Mocek) brought into this team," Russo explained.
"The Riveters organization is very special. I know that any girl on any NWHL team would probably say the same (about their team), but the Riveters culture is something special. The people that we bring in, are on this team – everyone is the heart and soul of the Riveters."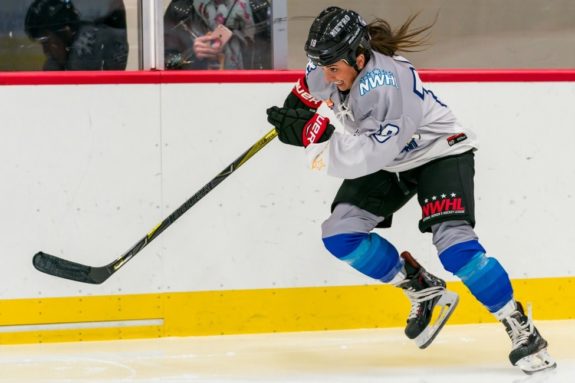 "When I had the opportunity to sign again, my best friend Packer said, 'he's so similar to (former coach) Chad (Wiseman), you're going to love him'. And I do. He's an incredible person, which is most important," said the returning Riveter.
"On the ice, he has been amazing. I love his system, I love the way he coaches (we had a little intrasquad scrimmage recently), and I love his passion for the game; his heart, and his dedication. He knows his stuff and loves hockey."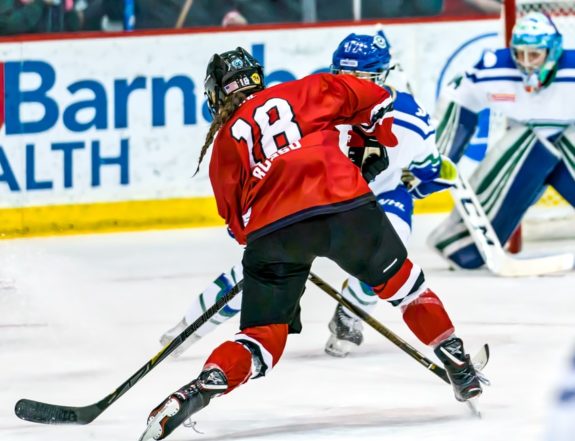 "He does live a few blocks away from me in NYC, so we have been carpooling together to the rink, which has allowed me to get to know him on a personal level. I'm really happy he's my coach."
With Russo and Babstock paired together on a line and Cornine and Packer expected to be on another line, the Rivs should have no issues scoring goals. Last season they finished fourth (out of five teams) in total goals scored.
Outlook
"Our intensity has grown as we've gotten closer to leaving for Lake Placid, but to be honest our practices have been pretty intense from the first day on the ice together back in October," Russo told us. "We've been lucky that we picked up an extra day of practice on the weekends – and it has been incredible for our team. I'm so happy to be back, happy to be going into this bubble and to be making history. I'm excited!"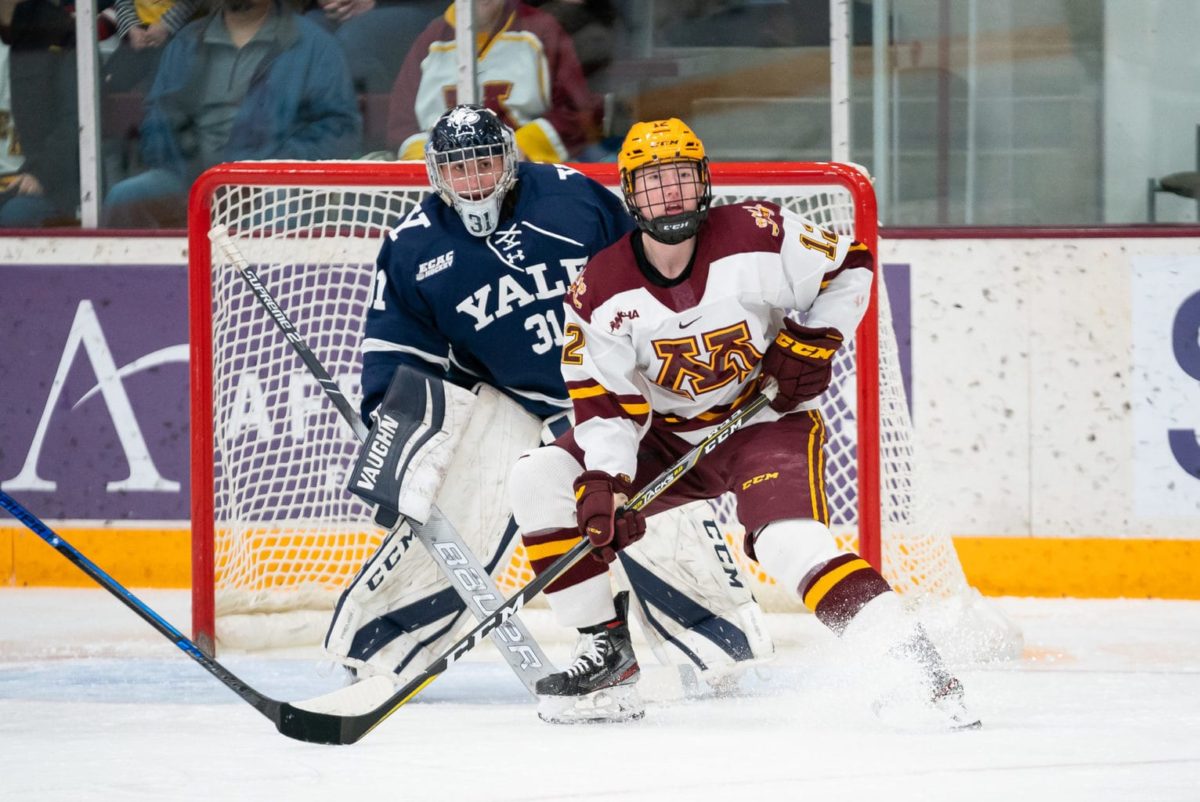 The Riveters could be a major X-Factor in Lake Placid. If they get some solid goaltending from the duo of Hofmann and Shelly, timely offense, and play structured team defense as they did last season – they will give other teams fits and just might be the team that is able to pick off a team like Boston or Minnesota before the Isobel Cup Final. Remember, last season they were tied 0-0 with the Whitecaps heading into overtime in a game that saw the winner advance as an Isobel Cup Finalist.
Dan Rice is in his 9th year of reporting for THW & has covered NJ Devils home games for 15+ years at various websites. He began his journey working for legendary broadcaster/writer Stan Fischler from 2002-04 & completed an internship at the ECHL; he also has been writing features for the NWHL (nwhl.zone) website since 2016.