Finally, the Toronto Maple Leafs got a strong game from goalie Frederik Andersen. Andersen stood up to almost everything the Jets threw at him to carry his team to a 3-1 victory over the outplayed and undermanned Winnipeg team.
Related: Maple Leafs News & Rumors: Warsofsky, Marleau, Andersen & Kuemper
Perhaps to clear his head, head coach Sheldon Keefe didn't even dress Andersen for Saturday's 3-2 victory over the Ottawa Senators; instead, the Danish goalie took a night in the press box after two shaky starts to open the Maple Leafs' schedule.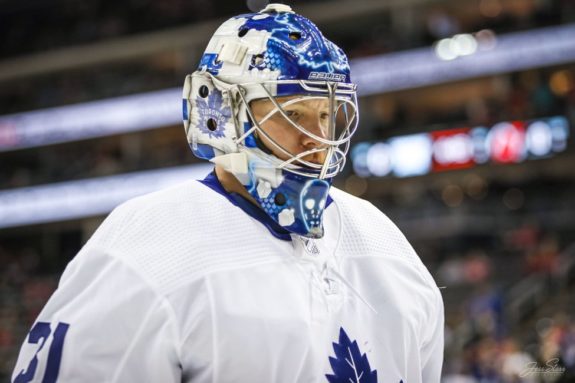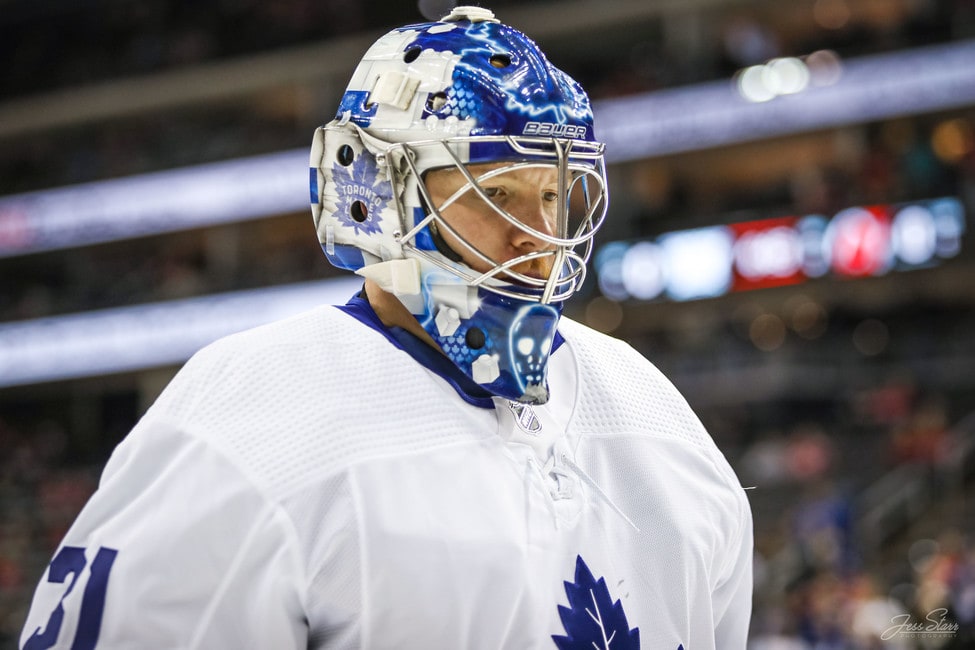 After this game, Andersen's teammate John Tavares noted, "Freddie's one of the best in the league. We've got so much faith in him. We were a much more connected, solid team over the last couple games."
Tavares added, "We've got many areas to clean up, but we know the big saves he's going to make. We only want to make it easier and better for him."
In this edition of Maple Leafs News & Rumors, I'll share some of the highlights of the team's second win in a row as well as share news coming out of the organization.
Item One: Frederik Andersen Takes a Step Toward Job Security
There's no other way to say it except that Andersen's job security was ebbing after the combination of his two poor starts and backup goalie Jack Campbell's solid outing against the Senators Saturday night. Before his stellar game, Andersen's 2020-21 record was a goals-against-average of 4.47 and a save percentage of .839 after his two starts. By the end of the game, he'd improved that average to a goals-against-average of 3.33. That's still not great, but it's tons better.
There's no doubt Andersen took a step in the right direction against the Jets on Monday night. Although Winnipeg was playing without star Patrik Laine, the team still boasts some of the NHL's top forwards in Mark Scheifele, Blake Wheeler, and Kyle Connor. In fact, it was Connor who scored the Jets' only goal. Andersen stopped everything else that was making its way toward the back of his net.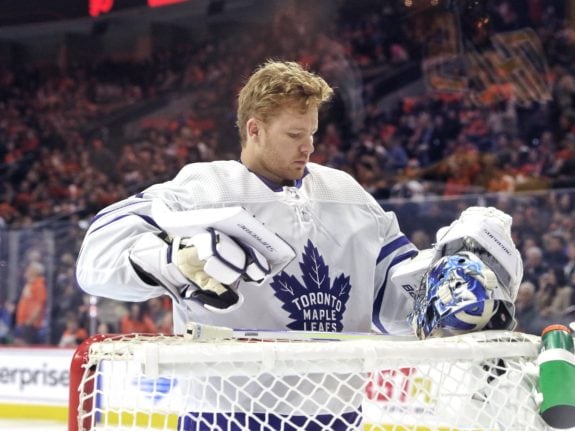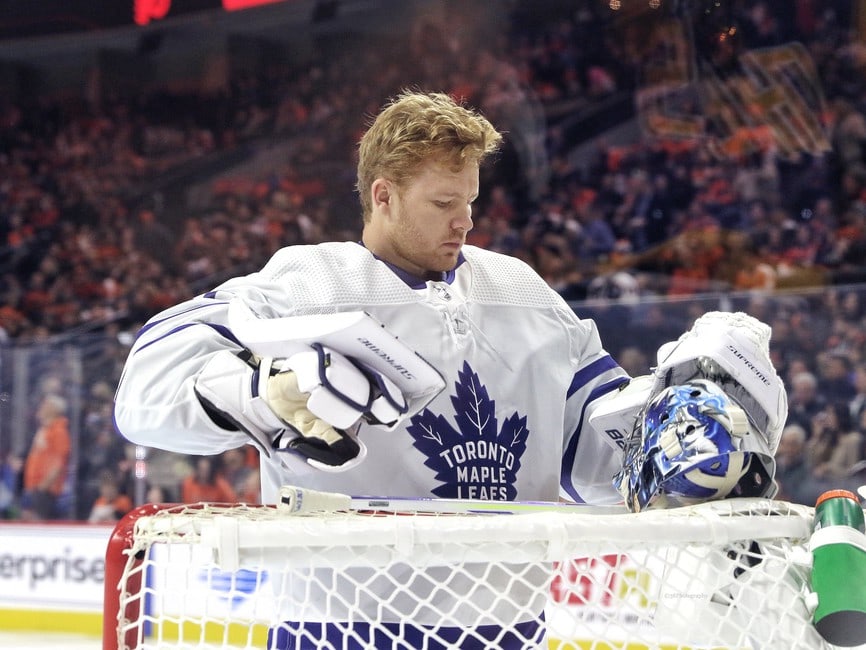 Andersen stopped 27 shots in the 3-1 victory. It was clearly his best performance of the season after letting in nine goals in his first two games. Such a performance should boost his confidence as the Maple Leafs look forward to meeting Edmonton for two games starting on Wednesday in Toronto. 
Related: The Strangest Superstitions in NHL History
Andersen needs about three games in a row like this one to quiet his critics and prove he can handle the majority of the work in the Maple Leafs' net this season.
Item Two: Mitch Marner Continues His Two-Game Hot Streak
Mitch Marner scored twice to ensure the Maple Leafs' win. He got the game-winning goal in the second period and added an empty-net goal with time running down in the third. Marner's on a bit of a streak with five points (three goals and two assists) in his last two games.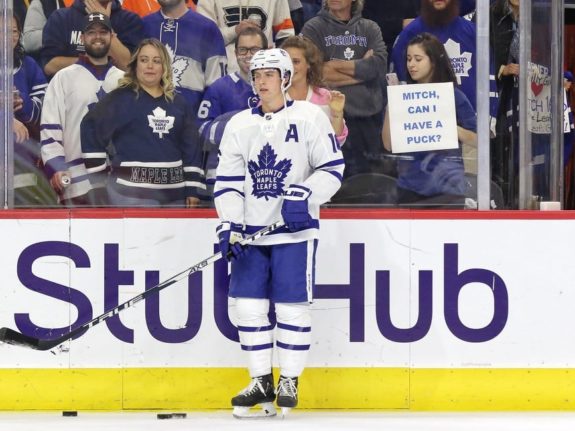 The other Maple Leafs' goal came from John Tavares, who scored the first goal of the game. William Nylander and Justin Holl had assists.
Item Three: Jason Spezza Clears Waivers
Jason Spezza isn't going anywhere. He cleared waivers on Monday afternoon and was back practicing with the team in the morning. The veteran forward has an assist in limited ice time over three games this season. However, he's been a demon in the faceoff circle. During his last game against the Senators, he won all 10 of his draws. 
Item Four: Justin Holl Is Playing Well
Originally, Justin Holl was credited with two assists on both Marner goals, but looking at the box score again just now it looks as if he's been downgraded to a single assist after the assist was removed from Marner's empty-netter at game's end. Nevertheless, the defenseman is playing well with partner Jake Muzzin.
The 28-year-old Holl clearly assisted on Marner's game-winner late in the second period. Although Holl only scored two goals and 16 assists (for 18 points in 68 games last season), he already has three assists in the first four games of the season.
Item Five: Good News, Nick Robertson "Only" Out Four Weeks
After Nick Robertson's MRI, it was announced that he'll be out about four weeks with his knee injury. It certainly looked worse than that, and in the long run that's good news for the team. Most feared the injury was far worse.
From what I've watched about Robertson, I'm guessing that when he heard it would be about four weeks, he was counting out 20 days (or so)? He probably already has Feb. 15 marked on his calendar for a return against the same Senators who sent him to the sidelines. The question is, will another of the young Maple Leafs take advantage of Robertson's absence to establish a place on the team?
What's Next for the Maple Leafs?
The Maple Leafs meet the Oilers starting Wednesday night. The Oilers haven't had a good start to the season and will look to match the high-powered offense that Toronto's been displaying recently. No doubt the Oilers will be hungry, but the Maple Leafs – and Andersen in particular – will be riding some momentum headed into the two-game home set against Connor McDavid, Leon Draisaitl, and cast.
Related: Maple Leafs News & Rumors: Chara, Nylander, Matthews & McDavid
Given the time McDavid and Auston Matthews spent together in Arizona picking each other's brains about hockey, it will be a great head-to-head match between two of the best players in the NHL.
---
---