If I was to ask Blackhawks fans who the 'Hawks leading scorers would be after the first five game of the playoffs would be the unanimous answers would be Jonathan Toews and Patrick Kane and they would be right but after those two there are some interesting names that occupy the 2nd slot. Toews and Kane currently lead the 'Hawks in scoring with four points each but the names following them at three points are names like Nick Leddy, Johnny Oduya and likely the most surprising  is Michael Frolik.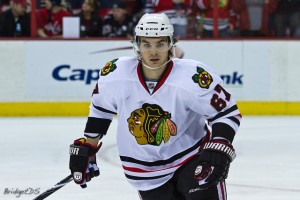 At the start of the series with the Coyotes Frolik found himself in the press box watching the game rooting for his teammates but after the suspension of rookie Andrew Shaw for hitting Coyotes goaltender Mike Smith, now he is a key player during the first round. In his three games of the series he has two goals, the game tying goal in game three and the game tying goal in game four, both were losses for the 'Hawks but with those goals a major burden has been lifted from Frolik.
Before he scored in game three Frolik's last goal was on December 15th, a 34 game goalless streak snapped. At times Frolik looked haunted on the ice at times during the season seemingly hitting the post with every shot or just not take shots entirely. With his lack of production the coaching staff was given no choice but to bench Frolik and go with rookies Jimmy Hayes and Andrew Shaw who stepped up a provided the production the 'Hawks were lacking.
When Frolik was acquired a little over a year ago he was expected to be a major contributor to the 'Hawks offense as a top six forward but struggled to find chemistry with linemates and was unable to find his scoring touch. However in the 'Hawks first playoff round against the Vancouver Canucks Frolik had a breakout series, tallying 5 points in the 7 game series and had a huge game tying goal in game six.
After his impressive performance in the first round of last years playoffs the 'Hawks signed him to a three year extension and many including myself though Frolik would have a giant season. He would end up scoring only 15 points and was a healthy scratch during the latter part of the season.
That however is behind him and now is part of the 'Hawks most consistent line with himself, Bryan Bickell and Dave Bolland. With Shaw returning to the 'Hawks lineup there is no talk of Frolik being one of those being taken out for him so Frolik will be part of this series until it is over.
I know myself and many other 'Hawks fans are excited and happy for Frolik and that we might have that player we were hoping to get last season but as history dictates that is no guarantee, especially for Michael Frolik