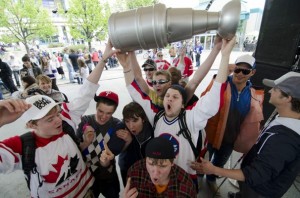 The Winnipeg Jets (version 2.0) just completed their long awaited dream season, returning to the city after an absence of big league hockey in Winnipeg for the previous 15 years and any reasonable person would have to consider it a success. Of course no one ever accused the average sports fan of being reasonable. In this case, however, most people in this city are probably satisfied with the team's performance this past season, since there's still the shine of a new NHL team surrounding the franchise. This glow will not last forever, however, so it's imperative the team continues to make the right decisions to prevent the natives from becoming restless.
Neither Mark Chipman, Kevin Chevaldayoff, Craig Heisinger nor the guys selling $11 hot dogs have asked me, but I'm going to offer up some advice on how the team might accomplish that. Here are 5 things that are a must or a no-no this summer for the guys running the team:
One: Do re-sign Ondrej Pavelec
This almost goes without explanation. Pavelec was easily the team's MVP this year and it will be important to start next season with him as a foundation for any improvement. Although he could be more consistent, he was good enough to steal the odd game and keep the Jets in others they had no business being in. Determine his market value, be prepared to pay a little beyond that, and sign him for the next several years to provide stability at the sport's most important position.
Two: Do not sign free agents for the sake of doing so
Just because the Jets have plenty of cap space (approximately $12M) doesn't mean they should go on a major spending spree. The team has to determine what their needs are, see who's available, and honestly assess whether any of them fit the bill. There is no point in signing someone who isn't exactly the player they want or doesn't necessarily address a specific need. Just because they have the money to spend, doesn't mean they have to spend it. They may determine they can't help the team enough acquiring any of the free agents on the market. Cheveldayoff and company may feel the players becoming free agents next year might better address their needs. They may decide not to enter the free agent market at all this off-season and that's okay.
Three: Do make an intelligent 1st round pick in June's NHL draft
This sounds beyond obvious but anyone who was around for NHL Jets version 1.0  (I put NHL in as a qualifier because any wisdom the Jets organization had in the WHA seemed to evaporate as soon as they joined the senior league), will know it's never a given a team makes a productive 1st pick (i.e. Ryan Stewart, Jimmy Mann, Sergei Bautin). The scouts and upper management need to do their homework and make a well thought out choice for a quality, functional player, since there likely won't be anyone available who'll have an immediate impact. Fortunately they did have a good 1st draft last year and there's no reason to believe they can't duplicate it in 2012.
Four: Do continue to keep a high profile in the city throughout the summer
Not that the people of Winnipeg are likely to forget about the team in the off-season, but it wouldn't hurt to make sure as many of the players as possible, remembering that they will be holidaying as well, are in the city and being seen as often as possible. Public relations is an important aspect of any professional team's success and being visible, especially in a positive manner, will ensure there's no serious lull in interest during the off months. The goal should be that every fan and non-fan alike knows the names of every player. Having constructive interactions with fans at various functions is a good way to present the kind of image you'd want the team to have. In this vein, the Jets would be wise to keep Dustin Byfuglien from piloting any boats this summer.
Five: Do encourage your prospects to be ready to get a good look come training camp and make sure they all do
The Jets made a number of interesting picks in the draft last year and already had a number of legitimate prospects in their system. Management needs to make sure everyone who's got potential to make the big club knows it and believes he's got a legitimate chance to stay in Winnipeg. Communication is big in any business and the Jets will have players willing to work that much harder if they feel everyone can make the club regardless of whether they're a 1st round draft choice or an acquisition from another team. They need to remember that just as someone they've acquired may be an eventual disappointment it's just as likely there will be a pleasant surprise or two within the team's system.
Five B: Do not attempt to move the team from Winnipeg
The last time someone made that move it didn't go very well (see the Phoenix Coyotes' death knell). Any attempt to relocate the franchise will be met with tens of thousands of unruly residents blocking your path out of town. Okay, so that's not going to happen, but I thought it wouldn't hurt to remind the organization moving will never be an option.
The Jets organization has been efficient and professional the past year and it's probable to continue next year. Most Jets fans are probably looking forward to winter and the 2012-13 season so much they'd almost be willing to forgo summer. Almost.