Training Camp Begins
Hockey fans across North America are rejoicing as training camps have finally started. It's a sign that hockey is almost officially here. Today, Minnesota Wild fans got an early taste of what they're in for this season.
A Beautiful Morning for Hockey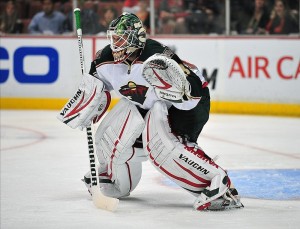 Saturday morning, thousands of fans gathered around the Xcel Energy Center for the first-ever Wild Breakaway Run, a 5K, 10K, or 1-mile run before heading inside to watch the first open practice of the season. To start off the practice, the 56 players invited to camp divided into two teams, Group B (Green Team) and Group C (White Team), and began the scrimmage.
Recently signed Darcy Kuemper started in goal for the White Team, and in my opinion, looked just a little rusty. I suppose this is to be expected after taking the summer off, but I've got my fingers crossed that Kuemper quickly gets back into form. Backstrom, who backed up for Team Green, looked focused and ready to earn his spot in camp. Instead of just having Josh Harding to compete with, the Finnish goaltender now has both Kuemper and Ilya Bryzgalov to deal with. Jonas Gustafsson, the fourth goalie in the game, played the second half for the Green Team and stopped everything. Gustafsson, however, is expected to start the year with the Iowa Wild.
Bryzgalov, who was recently invited by Wild GM Chuck Fletcher to training camp on a PTO, was quoted after the scrimmage saying "I just came here to help the team get through the camp." The 34-year old goaltender is a fan favorite around here and many are hoping he ends up staying in Minnesota for the season.
Apart from the goaltender situation, which I'm sure every Minnesotan is sick of hearing about, the team overall looked pretty solid. In other, not goalie-related news, Cody Almond rejoined the organization after two years overseas in the Swiss Elite League and scored a goal and an assist for the Green Team, who eventually ended up winning the scrimmage 5-2. Newly acquired Thomas Vanek and Michael Keranen showed off some impressive shootout moves, as well:

Obviously playing together for the first time is going to be a bit awkward, but the groups managed to score a combined 7 goals, which is a lot for a Minnesota Wild team. A short scrimmage doesn't provide much to go off of, but at least this means the preseason is close and that should be a better indicator of what the team is capable of. The Wild play their first preseason game in Winnipeg Monday night against the Winnipeg Jets.
Alli covers the Minnesota Wild and has been a contributing writer with THW since August 2014. She is currently a journalism and sports management student at the University of Minnesota. For all of your Minnesota Wild news and updates, follow her on twitter: @allibaker23