For the second time in three years, the Montreal Canadiens have failed to make the playoffs. Not only that, they are coming off one of the franchise's worst performances in recent years. Things were bound to change. The Canadiens are not sure if they are rebuilding or if they are a team to contend for a playoff spot. General manager Marc Bergevin and owner Geoff Molson insist there is a plan, but some of their moves say otherwise.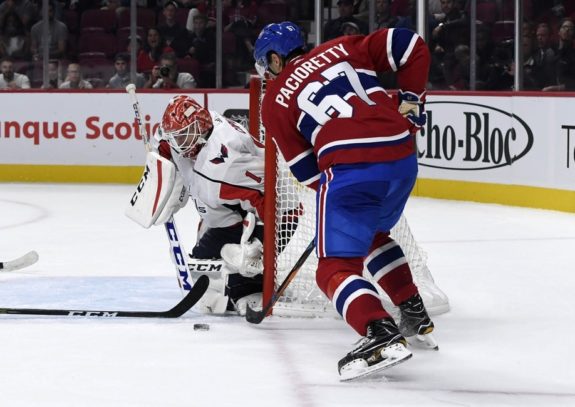 This is a team that just traded away former captain Max Pacioretty, and will be without Shea Weber until mid-December. They drafted Jesperi Kotkaniemi third overall in this past draft and the hope is that they have found their number one centre for the future.
The Canadiens are a captivating team in the sense that they have a lot of interesting young players, but there are still a lot of questions.Can Carey Price carry the team on his back? Can Jonathan Drouin emerge as the team's top forward? Who will step up as a leader in the dressing room?
2017-18 Record: 29-40-13, 71 Points (6th in Atlantic Division, 14th in Eastern Conference, 29th in NHL Standings)
Offseason Moves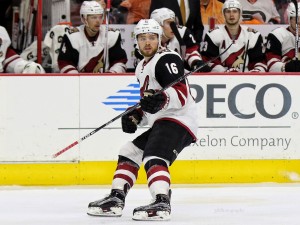 Key Roster Additions
Max Domi
Tomas Tatar
Nick Suzuki
Tomas Plekanec
Joel Armia
Matthew Peca
Hunter Shinkaruk
Key Roster Losses
Max Pacioretty
Alex Galchenyuk
Kerby Rychel
Daniel Carr
2018 NHL Entry Draft
Jesperi Kotkaniemi (1st round, 3rd overall)
Jesse Ylonen (2nd round, 35th overall)
Alexander Romanov (2nd round, 38th overall)
Jacob Olofsson (2nd round, 56th overall)
Cam Hills (3rd round, 66th overall)
Jordan Harris (3rd round, 71st overall)
Allan McShane (4th round, 97th overall)
Jack Gorniak(4th round, 123rd overall)
Cole Fonstad (5th round, 128th overall)
Samuel Houde (5th round, 133rd overall)
Brett Stapley (7th round, 190th overall)
Organizational Changes
The Canadiens made a lot of organizational moves in the offseason. They fired assistant coaches Jean-Jacques Daigneault and Dan Lacroix, and brought in Domnique Ducharme. Ducharme had spent most of his time in the Quebec Major Junior Hockey League with the Halifax Mooseheads, where he once coached Jonathan Drouin. Luke Richardson was also brought in, to help shore things up defensively and on the penalty killing.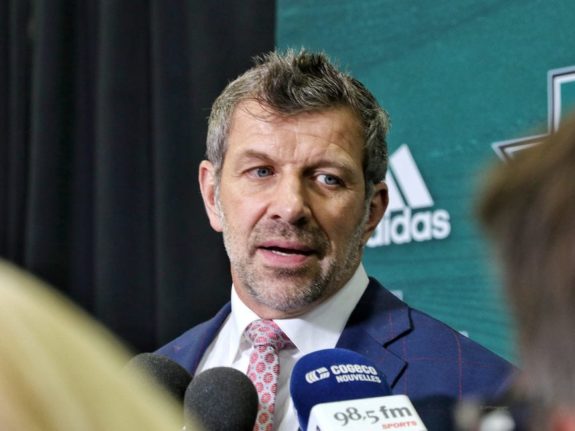 Bergevin did not stop there, cleaning house inside the farm system. Sylvain Lefebvre was fired after six seasons as the head coach of the their American Hockey League affiliate Laval Rocket. In comes Joël Bouchard to serve as his replacement, and former NHL player Alex Burrows will serve as an assistant.
Forwards
Projected Lines
Jonathan Drouin – Max Domi –Joel Armia
Paul Byron– Phillip Danault –Brendan Gallagher
Tomas Tatar –Tomas Plekanec – Arturi Lehkonen
Jacob De La Rose –Matthew Peca– Charles Hudon
Extras: Nikita Scherbak, Jesperi Kotkaniemi, Andrew Shaw (injured) & Nicolas Deslauriers (injured)
Brendan Gallagher
There is no questioning that Brendan Gallagher has become the heart and soul of the Canadiens. At age 26, Gallagher played all 82 games last year and put up career highs in goals (31) and points (54) last season. When the team went down with injuries to Price and Weber, there were very few players that played with the consistent energy each night that Gallagher did. The 147th player drafted in 2010 will play a huge part in the leadership corps moving forward.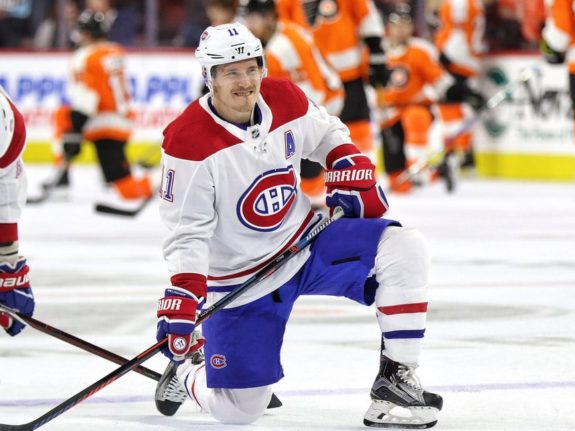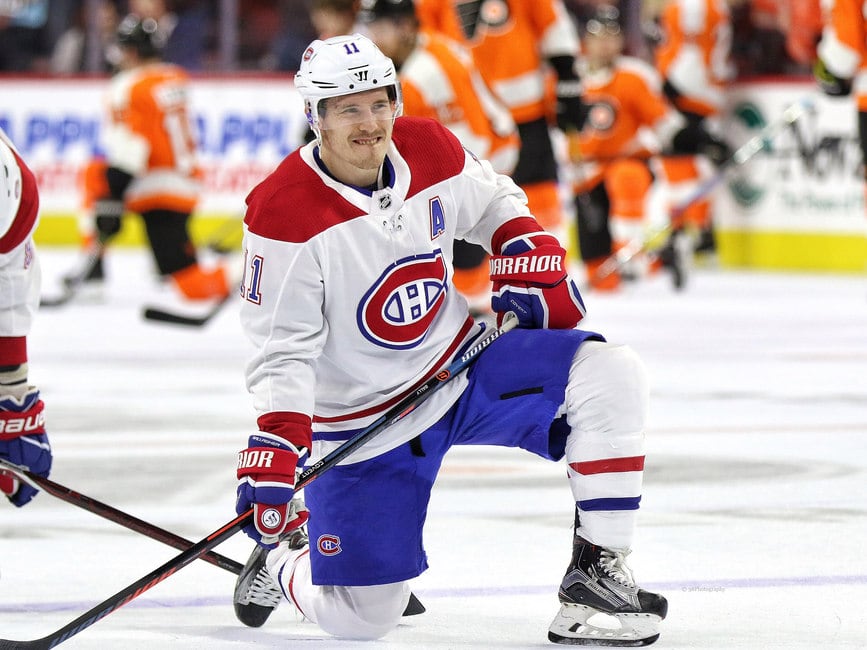 With Claude Julien coming out and saying he will not rush to name the team's captain, their is a ton of talk about Gallagher filling the position. Then comes the question with all the changes, who will play with Gallagher? The early choices are Phillip Danult and Paul Byron.
Gallagher has blossomed into a gritty two-way forward with a goal-scorers touch. He has shown time and time again that he is not afraid to go into the dirty areas, where he scores a majority of his goals.
Paul Byron
Paul Byron is steadily becoming one of the Canadiens' most reliable forwards. In his last two season as a Hab, he has scored 20 goals with a multitude of line mates.The 5-foot-9 speedster has been a steady forward for the Canadiens since being claimed off waivers. He plays at both ends of the ice and Claude Julien relies on him heavily, playing him 16:08 minutes a game. With amazing speed, Byron has become an effective penalty killer.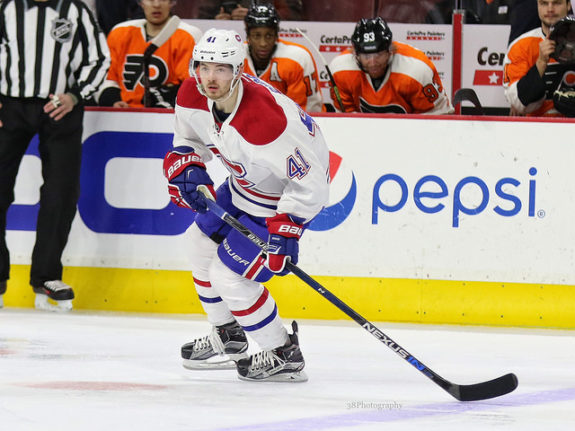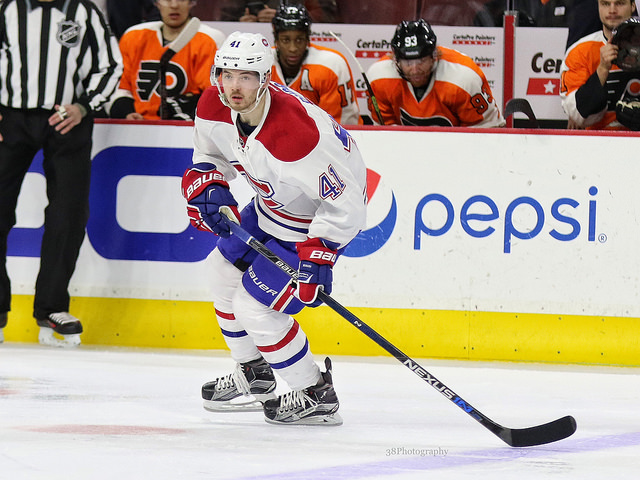 More impressively on April 18, he had surgery to repair a torn labrum in his right shoulder, something he had played with for two years. If Byron can score 20-goals in back-to-backs seasons with a shoulder injury, then what is the ceiling for him with a clean bill of health? Last year his play on 5-on-5 got better and was able to play in all 82 games. One of the Canadiens most versatile players, he should fit into the team as one its top six forwards.
Max Domi
Max Domi comes into a different situation then what he was faced with the Arizona Coyotes. The pressure in Montreal is always palpable, where as in Arizona things are more mundane when it comes to hockey. Even though his dad, Tie, grew up playing for the Toronto Maple Leafs, the media in Montreal is always more tenacious. After a forgettable preseason debut, in which he was ejected and suspended for a sucker punch, he will have to redeem himself going forward into this season. in the eyes of the fans and his teammates.
#Habs GM Marc Bergevin says Max Domi can play centre but he's looking at him as a winger #HabsIO

— Stu Cowan (@StuCowan1) June 16, 2018
After putting up 18 goals in his rookie campaign, the 5-foot-10 forward has failed to put up more then 10 goals in each of the last two seasons. If he does end up playing center, he will have to adjust on the fly. They tried to put Drouin there last season and that did not work out, and Domi is a very similar player to Drouin. They both have tremendous skill, a great hockey IQ, but both are undersized.
Domi has a gigantic task ahead of him, if he does end up playing down the middle. He will have to fight for every inch on the ice, with the likes of Patrick Bergeron, John Tavares and Steven Stamkos serving as some of the players he will match up against most frequently inside the division.
Defence
Projected Pairings
Victor Mete – Jeff Petry
Karl Alzner – Noah Juulsen
Mike Reilly – Jordie Benn
Extra: David Schelmko, Xavier Ouellet
*Injured: Shea Weber (out until mid-December)
Jeff Petry
Jeff Petry comes into this season as the top defenseman for the Canadiens, for the first quarter of the season at least. Last season, Petry did a fine job stepping in for Weber's absence. He put up career highs in goals 12 and points 42, and did a masterful job as the quarterback on the power play. He shines on special teams, where he amassed 23 of his points.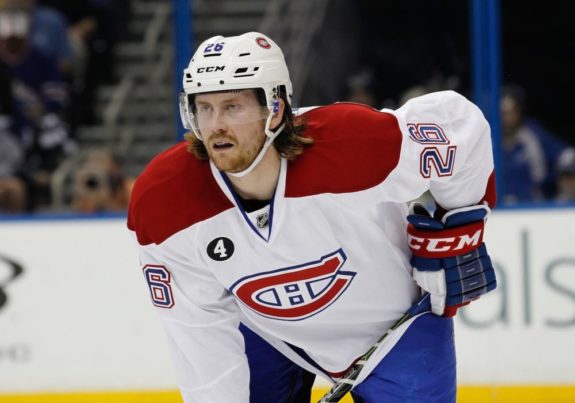 At age 30, Petry has three more years under contract, and with all the injuries last season, was the team's top defenseman. Despite the career highs on offense, he ended the season with an excruciating minus-30. Petry suffered for most of last year with Karl Alzner as his partner, and the result was the sixth worst plus/minus rating in the league. With Weber out for the first bit of the season, the thing Petry needs more then ever, is a better defensive partner.
Karl Alzner
The Montreal Canadiens gave Karl Alzner a huge five-year contract with an annual cap hit of $4.625 million, before last season. After losing Andrei Markov and Alexei Emelein, Bergevin needed to sign a veteran to be the stay-at-home defenseman, he believes the team desperately needs. Alzner has tremendous durability, as one of a few players to have not missed a single game over the last five seasons. There is no question that last year was one to forget for Alzner, who watched the team he spent nine seasons with put it togeather and win the Stanley Cup.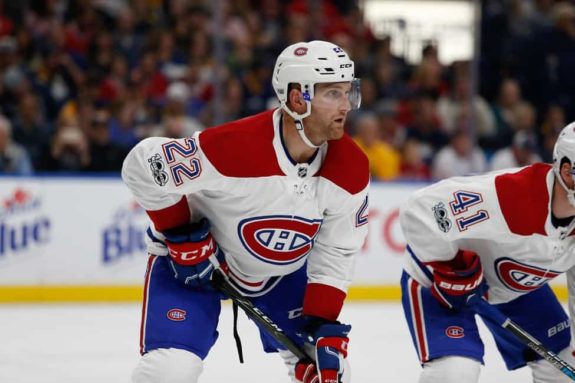 His one goal and 11 assists is not surprising, knowing the type of player he is. However, watching him try and keep up with the speed of the young players in the league was tough. He struggled to adjust to Julien's system and could not find a balance with any of his defense partners until late in the season when he got paired with and was able to mentor rookie Noah Juulsen. It is not fair to blame him solely on the team's demise last season, but he can be a huge catalyst to it rebounding this year, if he can turn things around.
Goaltending
Goaltending has to be the strongest position for the Canadiens. If Carey Price stays healthy he is a top goaltender in the league. Even though Price had his worst years statistically, he also only played in just 49 games due to an injury. Goalies today play around 60 games, and Price is confident he can be up for any task this year.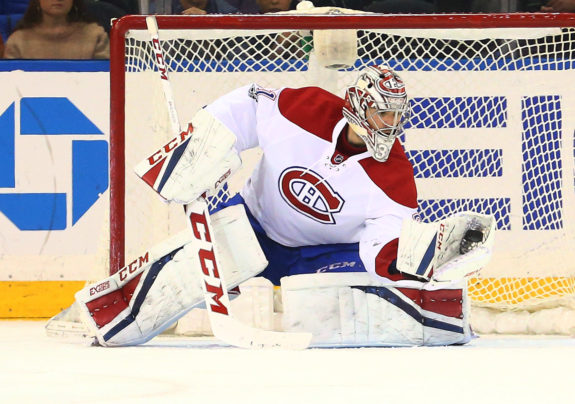 Last season the team defense in front of the goalie was very poor. If that continues then Price will have to stand on his head most games. Antti Niemi will serve as the team's backup to start the season with top prospects, Charlie Lindgren and Michael McNiven in the system. The defense should shore up once Shea Weber returns, but for the first few months it will be up to Price to keep his team in the majority of the games.
Breakout Player: Charles Hudon
Charles Hudon managed to be a bright spot in an otherwise dull season. In his rookie season, he managed to play in 72 games, scoring 10 goals and 30 points. He had a very low shooting percentage  (5.6%), showing that he just was not able to get any breaks and capitalize on his chances.
Hudon showed versatility last season, with the ability to play on any line. It is also worth noting that out of those 30 goals he was involved in, he had a primary point on 23 of them. With a contract near the league minimum, and the talent he possess, he could turn into an absolute steal for the Canadiens this season.
Player With Most to Prove: Jonathan Drouin
Last year, all the eyes were on Drouin. He was brought over from the Tampa Bay Lightning to not only be the team's top scoring option, but also one of the franchise's core players. The Canadiens paid a hefty price for Drouin by trading away top prospect in Mikhail Sergachev, and in the first year, the dividends did not pay out. In 77 games the Quebec-born forward put up 13 goals and 46 points.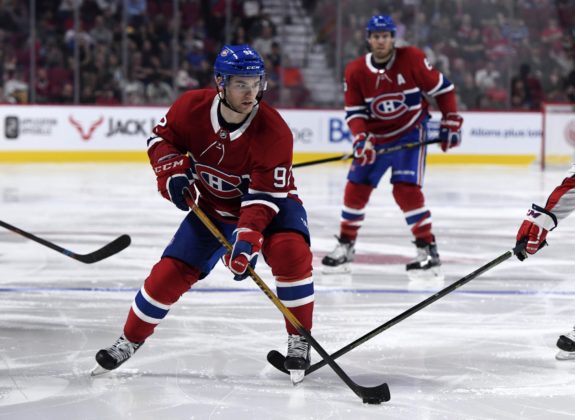 You could give Drouin a pass for his first season, because the team around him was horrible. He came into a new organization, with a new coach and teammates and was expected to do huge things right away. They tried Drouin at center, but he was getting exposed defensively, so they moved him back to the wing — unfortunately, the lack of stable linemates did not help. He did get better as the season went along, but he went from playing with Steven Stamkos and Nikita Kucherov to a plethora of Canadiens forwards. The hope is that he will have a bounce-back season this year, now that he is projected to play on the wing.
Season Outlook
In just 15 months this is a team that has traded away Alex Galchenyuk, Mikhail Sergachev and Max Pacioretty. Bergevin remains insistent that this team can contend for a playoff spot. However, it is clear the Canadiens do not have the ability to win games on their talent alone. They will have to grind out each game, making the most of their opportunities and getting terrific goaltending to be successful.
"If you look at our lineup, we already have a core of young players who are growing together, so that's why I'm not ready to say we're rebuilding," Bergevin said following the 2018 NHL Entry Draft. "Max Domi Brendan Gallagher, Jonathan Drouin, Artturi Lehkonen and Charles Hudon are all young and all have experience in the NHL."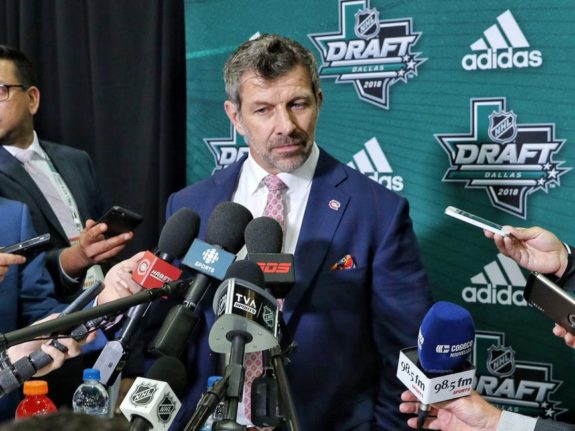 The Canadiens should see a slight improvement from last season, but will likely fail to make the playoffs. At some point, there needs to be some direction, and another missed postseason will likely lead to a lot of people losing their jobs. The Canadiens are an intriguing team this season, and will need a total effort each night to thrive this season. When you have reached the basement of the standings, the only way to go is up.
2018-19 Record Prediction: 36-34-12, 84 Points (5th in Atlantic Division, 10th in Eastern Conference, 20th in NHL)
Ever since I was young, I lived and breathed hockey. I am a proud graduate of the College of Sports Media and Centennial's Sports Journalism program. I spent two years covering the Oshawa Generals in the OHL before that I worked with CBC Sports and TSN.