If you're not familiar with the Highlander franchise, it revolves around the premise that "there can be only one," which applies almost perfectly to the situation the Montreal Canadiens find themselves in as the NHL's sole-surviving undefeated team.
Granted, the series is about a bunch of guys running around, trying to cut off each others' heads with swords, and obviously not all Habs games play out like that exactly. And the lead of the original cult classic? An American-born French actor trying (failing) to play a Scotsman. Real-life Scot Sean Connery, meanwhile, plays a guy with a Spanish last name (and Scottish accent; go figure).
Last Team Left This Year; First Canadiens Team Ever
So the analogy does fall apart after a certain point. I mean, it is pretty out there, after all. Very original stuff, in other words. And, in other, other words, again very much similar to these Habs who are officially in uncharted territory after becoming the first Canadiens team to go 5-0 to start a season last week.
Now 6-0 after Saturday's decisive 4-1 over the Detroit Red Wings, the Canadiens haven't just been winning, but winning impressively, without having to (overly) rely on reigining Hart Memorial Trophy-winner Carey Price, which had become the norm over the past few years.
For example, despite getting a go-ahead goal by Jeff Petry early in the third on Saturday, the Habs outshot the Wings 20-5 in the period (41-22 overall). That kind of stuff just didn't happen, minus of course Brendan Gallagher "accidentally" falling into the crease and getting a goal.
Regardless of how you feel about that specific marker, it cannot be denied that the Canadiens deserved to win their sixth this season based on team effort, from the net out. Before, they produced offense out of the breaks they were getting in transition after being pinned down in the defensive zone. Now they're seemingly always in transition and earning their breaks through an at-times relentless offensive assault.
Them's the Breaks
The keyword there is breaks, meaning luck. And, if you look at Montreal's PDO (save percentage plus shooting percentage), that luck quotient is right up there. However, heading into action on Sunday, the Wings and Winnipeg Jets were the only ones ahead of them, which goes to show, rather tragically based on the team names, what goes up must eventually come down.
I mean, Detroit's percentages already took a massive hit on Saturday with their second consecutive defeat. Who knows how long they'll be able to maintain their one-time dominance to open the season? And, with a team .943 save percentage so far, the only hope the surprising 4-1 Jets have at doing similarly? It apparently rests on the shoulders of starter Ondrej Pavelec (and No. 1B Michael Hutchinson).
When has that ever been a prolonged recipe for success?
How Long Will It Last?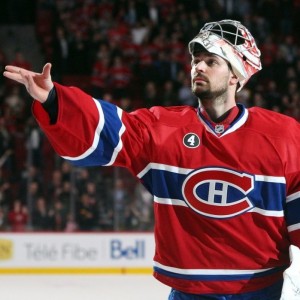 The Canadiens obviously have a lot going for them, notably Price and their current style of play, all of which might very well help the Habs stay atop the PDO leaderboard all year and disprove the notion of luck. However, the undefeated thing has to end eventually. That much is guaranteed. The only question is when.
If it's any consolation, what they've accomplished up to now is nothing short of spectacular. It's not as if the schedule makers did the Canadiens many favors early on. They were on the road for four games to start the season, with the first three coming against long-time rivals. And two of those were emotionally charged home openers—essentially games that could have gone either way.
Then they had to face one of the Eastern Conference's two finalists last year followed by one of the early favorites to win it all this year. Then came Detroit. Getting past their next opponents, the 4-1 St. Louis Blues will no doubt be tricky, with arguably their first theoretical "gimme" being the game after, against the Buffalo Sabres on the road. They then play the Maple Leafs again at home.
So, the Blues are probably their biggest immediate threat to end the streak, which is fitting as, to keep it going, the Habs are going to need to take it one game at a time. Regardless of how this next week turns out though, no one can take away from them this literally perfect start to the season.
That's perhaps another similarity between Highlander and the Habs. Even though they can't stay undefeated, they've still managed immortality in one way, in the record books. They've already made history. It's time to make everyone believers … or losers. That works too.