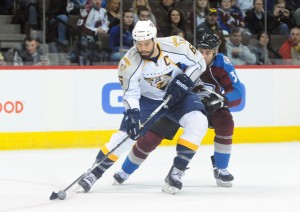 During the course the NHL season each team has a series of obstacles, turmoil and adversity it must overcome at some point if it is to be successful for the year.  For some it will be overcoming a three or four game losing streak.  For others it will be a goalie that has a stretch where he melts down and couldn't stop a beach ball if you gave him an industrial fan and a brick wall.  It may be injuries, poor power play performance or any other litany of things that teams overcome and turn them into salty, chiseled warriors for their playoff run at season's end.  The Nashville Predators are facing one of those obstacles in the upcoming eight days and it will tell much of the intestinal fortitude this team is.
Over the next eight days (Tuesday to Tuesday) the Nashville Predators will play a total of five games against four teams, all of which are better than .500 sans the Calgary Flames.  To make the task more daunting, this stretch starts and ends with back to back games in different cities the following night.  Nashville will host Edmonton Tuesday before traveling to Minnesota for another game on Wednesday.  Next Monday, the Predators will be in Edmonton before traveling to Calgary for a game on Tuesday.  The icing on the cake of this eight day, five city tour, is that there's a major US Holiday on Thursday.  Thanksgiving can only add to the calamity of stress and strain this team is about to embark on.
The full five city tour that would make most rock bands weary of the schedule includes: Nashville, St. Paul, Detroit, Edmonton and Calgary.  All of the travel woes aside, the schedule itself is quite the uphill battle.  Edmonton's Nikolai Khabibulin may have come back to earth some in his last five games, but still holds a very daunting 1.86 goals against average.  The Minnesota Wild are tied for the most points in the Western Conference and are on a four game winning streak.  The Detroit Red Wings, for all their problems so far this year are sixth in the Western Conference, have won their last two games, and net minder Jimmy Howard has proven to be on par with the NHL's best goal tenders this year.  The Predators continue this run by going to Edmonton where they have to deal with the stingy defense and goal tending some more before heading to Calgary next Tuesday.  While Calgary appears to be the easiest part of this run, it is the second half of two games in two nights and the end of a very difficult stretch of scheduling.  There will be nothing easy about being in Calgary that night for the Predators.
It's gut check time for the Predators.  If they intend to be a Central Division and Western Conference force for the remainder of the year these are the types of weeks that make or break a team's confidence.  A successful run would tally the Predators six to eight points and keep them in the mix with the Western Conference elite.  An abysmal trip will watch them easily slide from fourth in the conference to fourth right in the Central Division.  Nashville Predators better grab their suitcase, their aspirin, and their man card.  It's time to punch in, and get to work.