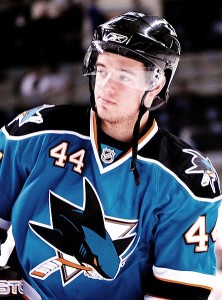 That's one crunchy pickle™!
In the Silicon Valley, Vlasic means much more than cucumbers soaking in a brine of distilled vinegar and corn syrup.  It's also the last name of a young, emerging, former 2nd round pick in his sixth full season with the Sharks, carrying a team-best plus/minus of +11 and registering a defensive-corps leading eleven points in 18 games thus far this season.  Extrapolated over a full 82 games, the non-vegetable version's pace would reach 9 goals and 41 assists — the exact numbers former top defenseman Dan Boyle recorded just one season ago.
The trade
With the Sharks perennially at the top of the Pacific division, it's easy to forget that Marc-Edouard Vlasic cost the club a future Vezina-winning goalie when he was first acquired.  Behind entrenched #1 goaltender Evgeni Nabokov was a certain 28-year old backup netminder named Mikka Kiprusoff, who appeared to have no shot at usurping Nabokov in San Jose.  Thus, Kiprusoff was traded to the Calgary Flames in November, 2003 for Calgary's 2nd round draft pick in the 2005 entry draft, which the Sharks used to select Vlasic.
19 year old NHL'er
The trade yielded nearly immediate dividends for the Sharks.  Vlasic made the club following a strong 2006 camp and played in 81 games, recording three goals and 23 assists, along with a third-best +13 plus/minus rating.  Although he didn't exactly distinguish himself in the playoffs (one assist, +5), the trajectory was set for upcoming seasons for the 19-year old French-Canadian blueliner.
After a sophomore slump in 2007-08 (2 goals, 12 assists, -12) and a career-best 6 goal, 30 assist campaign in 2008-09, Vlasic's progression leveled off over the next two seasons.  Known as a puck-moving defenseman with an uncertain offensive upside, he became a consistent minutes-eater with solid defensive positioning and tactics.  However, the jury was still out with respect to his offensive instincts and overall upward potential.
Oh, there were certainly moments.  This compilation demonstrated that:
And although he'd never be mistaken for Matt Carkner or Colton Orr in the fisticuffs department, he'd occasionally mix it up with feisty, diminutive types such as Daniel Briere, as shown below:
Steady maturation
Although the statistical output leveled off, Vlasic's offensive efforts nonetheless ticked up a notch or two every year.  He took 66 shots his first season, followed by 72, 104, 74 (in 64 games), and 116 last year.  Only Dan Boyle and Ian White recorded more last season amongst the club's defensemen.  Meanwhile, his defense remained consistently solid and his status as a legitimate top-four NHL defenseman was affirmed.  The only thing missing was that one last step, the leap into the pantheon of NHL defensemen, a step which (for obvious reasons) eludes most players.  Still just 24, a degree of postseason success and a statistical push up the ladder were all that separated Vlasic from reaching that last level.  Perhaps it always would.
2011-12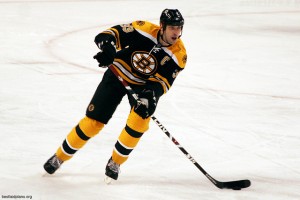 Or perhaps not.  After being named the NHL's "second star of the week" (read here) with seven points and a +7 rating in three Sharks' victories, Marc-Edouard Vlasic now has the fourth best plus/minus amongst league defensemen, behind elite blue liners Shea Weber, Ryan Suter and Zdeno Chara.  His points total is climbing rapidly and now stands within three points of their elite-level status at this juncture of the season.
Called "a hot pickle" by team announcer Randy Hahn, Vlasic tied a club record with four points (1G, 3A) on November 17th versus the always-tough Red Wings, and then proceeded to record three assists in a 4-1 triumph over the Colorado Avalanche three days later.  Regarding his historic four-point night, Vlasic said, "I just think tonight the opportunities I took, went in for me.  They don't always.  Tonight, I was fortunate to get many bounces my way."
The Sharks' Pickle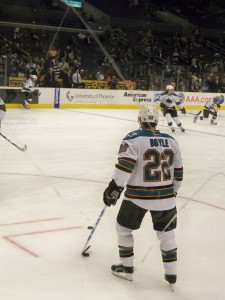 Vlasic's upswing, if it continues, may present an interesting dilemma for Sharks' General Manager Doug Wilson before the 2012-13 offseason.  San Jose already spends nearly $20 million on its defense (by comparison, the Stanley Cup champion Boston Bruins and their $6.9 million man-mountain pictured above spend $18 million), and that's without factoring in a large raise "Pickles" may earn if he continues producing at this level.  With Dan Boyle locked in through 2013-14 and Brent Burns through 2016-17, another massive cap hit on defense may be difficult-to-impossible to fit within a budget already favoring one of the league's most prolific offenses.  However, that's a problem for another day.  For now, the Sharks are more than thrilled with the progression of their defensive chess pieces, not to mention the roster as a whole.  "Our team is in great shape," said Wilson.  "We have an elite level of fitness, our trainers do a great job.  But you have to execute.  So, not necessarily the urgency, but the importance of playing up to our capabilities right out of the gate is the main focus on this one."
The future
The team's future is now.  After two straight conference final losses and a chemistry-altering offseason, nothing short of a trip to the Finals will satisfy the computer programmer nerds that flock to the HP Pavilion to watch their beloved Sharks play.  Amidst all the obvious and high profile puzzle pieces at San Jose's disposal, the suddenly high-profile play of a certain defensemen nicknamed "Pickles" may be that final nudge the team needs to push past the rest of the West and into their first Finals appearance.  Groucho Marx (reincarnated as a stork with granny glasses) would be proud.
Walter McLaughlin is a Los Angeles Kings correspondent for The Hockey Writers. He is an avid sports fan, having followed the Kings since living in L.A. in the mid-1970's, as well as suffering through Seattle sports teams' general futility. He has a Bachelor's degree in Finance and has worked in community banking for over 25 years, specializing in SBA loans. He is married and has two daughters.