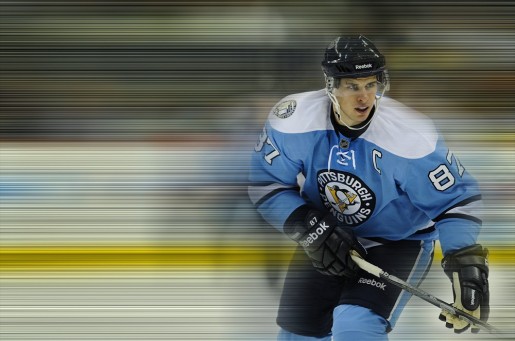 We have survived many calamities this early fantasy hockey season but not comes the next November edition of "Chutes And Ladders". Riding the fortunes of a fantasy hockey team can be a lot like the original Milton Bradley game.  There are enough twists and turns to drive any normal person crazy. So imagine what it is like for the average hockey fan who takes on a fantasy hockey league.
There are no lulls even in the dog days of November where bad starts can turn into deep holes and good starts can fade to black. Once again, we ask the same question that seems to plague us every week and we have a much different answer.  Welcome back Sidney Crosby.
The Crosby Question…….nevermore!

Now that Sidney Crosby is back and has played a game….what is next?
Crosby came back tonight on a line with Pascal Dupuis mostly and James Neal for stretches. Here was a breakdown of the ice time which came out to 15:54 tonight:
7:10 in the first period
4:31 in the second period
4:13 in the third period
Obviously he was dialed back some and granted the opponent may have been not quite at NHL caliber, but four points is still impressive considering the ten month layoff. Now the rest of the week looks like this for Crosby owners. Wednesday at home against St. Louis, Friday at home against Ottawa, and then at Montreal (likely on HNIC) on Saturday.
Being realistic about this, Crosby will likely play two of these three games. Wednesday is a given but does he play in Montreal on Saturday or no? We will be on this all week but the level of competition will go up. Tonight was the perfect tuneup for a player who had not seen NHL action for ten months. Every game will not be this easy fantasy owners but that 1.25-1.5 points per game projection looks better and better by the day.
The fun will be the bump in some players and then the $64,000 question will be how does this affect that Penguins power play? This is something that will have to play out over time but more than likely positive for fantasy owners.
Now it is time to take a look at a few new injuries that seem to be popping up in fantasy circles……
Beware the injuries……..
Thanksgiving Week offers little solace for the fantasy weary. The injury counter is up to 121 this week even with the return of that Pittsburgh Center. If you are not careful, you may just find some of your positions decimated. There is no time like the present to go into some of these injuries so let us get down to business.
James Reimer (Toronto Maple Leafs) — Now me worry a bit less as Reimer is skating at the very least. Three days in a row of skating is encouraging but he is not expected to play this week even though he is on the road trip with the team. It still looks as if Reimer is at least 7-10 days away and the reality is owners need him a bit more than they think.
Mike Green (Washington Capitals) — Green just has that knack of not being able to stay healthy. First it was the head, then the groin and the ankle, leg, and whatever other body part it seems. The latest injury (groin thanks to Katie Carrera) means he did not travel to Nashville and his return timetable is uncertain. Keep Green on your bench until he can at least play a full game without injuring himself. This does like very cold, pragmatic advice but that is the reality.  Buyer beware. If anything new breaks, we will pass it on.

Tyler Myers (Buffalo Sabres) — Buffalo really did not need an injury like this but now Myers finds himself out 4-6 weeks with a broken wrist. This was not the news that Buffalo needed but yet it is the reality. Obviously there are Buffalo defenseman that take a tick upward fantasy value wise but on a team that was already kind of thin on physical presence, this injury hurts. Yes Myers only had six points in 19 games but was starting to put it together in the last couple games. The defense was thin already and the offensive depth is not there either. Those are two very bad signs.
The Flu? — Nothing claims more players (albeit for a short term) quite like the flu. Just ask Chris Pronger and Brandon Dubinsky for example. Yes usually a player may only miss 1-3 games from the flu typically but it can affect a player for weeks beyond. Watch how media and announcers alike talk about players' weight loss or physical appearance as a key. It may tell you just how long the "flu" really will affect them.
There are other injuries but these are ones that impact fantasy rosters the most for the fourth week of November in fantasy leagues.
Here are the ladders…….
These are for the players who have seen their values shoot up in Week 6. Some are waiver wire pickups but most are not. November is when the number of games start going up in earnest. Inevitably fantasy values for certain players will continue to look very enticing and here is our best.
Carey Price (Montreal Canadiens) — It just seems that Price finds a way to play very well for sustained stretches which is good for fantasy owners. Monday Night he got the loss but only gave 1 goal on 18 shots. After having two shutouts last week, Price has been in a bit of a zone lately. He has given up two goals or less in his last six games. Montreal plays it close which means if he can makes the saves he should then his value is going up.

Matt Read (Philadelphia Flyers) — This is a rookie who has some serious moxie and Calder Trophy potential. Four goals and five points in three games last week including a game winner has us singing a positive tune with the Forward who few knew going into training camp but clearly fantasy owners are picking him up at a solid clip now. He has 13 points in 16 games and has averaged over 20:00 ATOI in his last two games. Here is a player definitely on the rise.

Nick Leddy (Chicago Blackhawks) — Maybe the real reason why Leddy is not more praised is because of his age but remember age is only a number, especially amongst some younger players. He is still only 20 but is producing with 15 points in his first 21 games. Also he is a +4 on a team that has been hurting as far as +/- in the past week. His ATOI of 21:48 has jumped in the last week as well due to the injury of Brent Seabrook. Seabrook is expected to return but with some other Chicago defenseman not living up to billing, Leddy could keep that ATOI up.

Eric Staal (Carolina Hurricanes) — This may be a bit more of a flyer on our list but Staal has been playing with Jeff Skinner for a few games now along with Tuomo Ruutu and it seems to be starting to click for the Captain. Maybe the slump can be put to rest at last and the point a game player that we all grew accustomed to will now stay and not just be a one week cameo appearance. Again keep an eye on the linemates always.
Let's slide down a few chutes……
California Dreaming? (Goalies) — Sometimes we look to Southern California for warmth, sun, and some good fantasy fun. This is not one of those times as Jonathan Quick (LA Kings) and Jonas Hiller (Anaheim Ducks) have not been exactly lighting it up.  Quick seems to have a knack for giving up late goals while Hiller gives up early goals. Either way their GAA's have both been climbing in recent weeks making Hiller a near persona non grata fantasy wise while Quick's ownership rates are dropping. Until these goalies pick up their game a bit, one may want to look elsewhere.

New York Islanders Goaltending — The results speak for themselves as the Isles have just gone south because of management's inability to resolve this issue.  They have now dropped to the bottom of the Eastern Conference and do not look anything like the team that started the season with all three phases working so well.  Either Rick DiPietro, Evgeni Nabokov, and Al Montoya get no support or they are just too rusty to get in any sort of rhythm.  This is why a three headed system just does not work at the NHL level in any way, shape, or form.  Jack Capuano and Garth Snow have to make a decision soon for the benefit of this team.
It is rare to have something like this be up for a second consecutive week but the situation has actually become much worse as injuries to Evgeni Nabokov (groin) and Al Montoya (Hamstring – IR) have forced the Islanders' hand. Anders Nilsson started tonight, backed up by Rick DiPietro. Nilsson was pulled after this start (Sidney Crosby was thankful Nilsson was in net) and considering he gave up three goals to Boston in mop-up duty Saturday Night, there really is little hope for this situation. Stay far away no matter the temptation.
Kyle Okposo (New York Islanders) — The simplest thing that can be said here is to not touch at all. He has no goals on the season and honestly his confidence is beyond shot after being a healthy scratch all of last week. Okposo was expected to break out this year and the reality is everything has broken down. Whether that is management, Okposo, or some combination of the two almost does not matter. The damage has been profound. Stay away until he scores.
Well that wraps it up for this week.  Good luck and hopefully November keeps rolling for everyone out there.  Do not forget to follow us @TheProgramBTR for all your fantasy hockey questions and more.
Simply a hockey writer who is a jack of all trades. No question is too big or too small and in fantasy hockey there is no such thing as a stupid question. Now a proud, accredited member of the FSWA. I am also a New Jersey Devils lead writer, prospects writer, humorist, and so much more. You can find me on Twitter at @ChrisWasselDFS