Did you work late last night? Did your significant other make you run errands while the game was on? Did your dog chew off your TV cable wires?
Have no fear – THW's Monica McAlister has your back, covering everything in the hockey world from From Abdelkader to Zuccarello every morning. Check in daily to quickly get up to speed on all things hockey – recaps, storylines, videos and great links.
While You Were Sleeping
Carolina Hurricanes 4 Philadelphia Flyers 2
It would be early penalty problems for the Flyers that would lead to a power play goal by Alexei Ponikarovsky as he put a wrist shot past Ilya Bryzgalov to give the Hurricanes the early lead.
With 15 seconds left in the first Jeff Skinner would make it 2-0 over Philadelphia before Jussi Jokinen would take a penalties for holding and roughing while Flyers Danny Briere was called for holding the stick. At the end of the period Scott Hartnell was assessed a two-minute roughing penalty.
It took James van Riemsdyk less than two minutes into the second period to make bring the game within a goal as he put an un-assisted shot past Cam Ward.
Chad LaRose would answer back to give Carolina a two goal lead again before a penalty to Tim Brent would set up Flyers Matt Read for a power play goal to make it 3-2.
Late in the second Philadelphia's Andrej Meszaros would get called for hi-sticking and see Alexei Ponikarovsky score his second of the night on the ensuing power play.
Three Stars:
Alexei Ponikarovsky (CAR) 2 goals 3 points
Chad Larose (CAR) 1 goal 3 points
James van Riemsdyk (PHI) 1 goal 2 points
New York Islanders 0 Pittsburgh Penguins 5
The Return of Sid the Kid saw both US and Canadian television pick up the game nationwide and Crosby made the most of his return to the game.
It would take just 5:24 for Crosby to make his presence known on the scoreboard as he went backhand on Anders Nilsson to score his first of the season; and by the end of the first period Crosby would add an assist on Brooks Orpik's goal.
The second period would see a power play goal from Evgeni Malkin put the Penguins up 3-0 over the Islanders; incidentally Crosby went up to three points on the play.
Just shy of the six minute mark in the period it would be a tipped-in goal from Steve Sullivan that would be the only goal of the night that Crosby did not have a part of.
With the Penguins up 4-0 to start the third it would be a backhanded shot from Crosby to make it 5-0 for the home team for their captains long awaited return.
Three Stars:
Sidney Crosby (PIT) 2 goals 4 points
Pascal Dupuis (PIT) 3 points, plus/minus 3
Marc-Andre Fleury (PIT) Save percentage 1.000
Phoenix Coyotes 3 Washington Capitals 4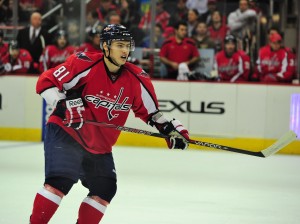 The Capitals would fall 2-0 to the Coyotes after Radim Vrbata scored short handed and Lauri Korpikoski scored on a short handed penalty shot; but the Capitals would rally to get coach Bruce Boudreau his 200th win in record time beating out Don Cherry's record.
John Carlson would bring the Capitals within a goal of the Coyotes with an unassisted slapshot past Jason LaBarbera. It would be Cody Eakin with his second goal of the season to tie the game before heading off to the second intermission.
Nicklas Backstrom wasted no time in the third as he gave the Capitals their first lead of the game just 1:52 into the final period. A power play goal from Brooks Laich would give Washington a two goal lead before Lauri Korpikoski would bring Phoenix within a goal. Korpokoski's goal would not be enough to rally the Coyotes as the fell to Washington.
Three Stars:
Nicklas Backstrom (WSH) 1 goal 2 points
Lauri Korpikosky (PHX) 2 goals
Joel Ward (WSH) 1 point, plus/minus 2
Calgary Flames 1 Columbus Blue Jackets 4
For the first time in what felt like forever the Columbus Blue Jackets won two games back to back.
Jeff Carter started off the scoring early as he scored his second of the season just over three minutes into the game as he put a snap shot past Henrik Karlsson to give the Blue Jackets the early lead.
Minutes later it would be Antoine Vermette with his second of the season to put Columbus up 2-0 over the Flames before heading to the first intermission.
A power play for the Blue Jackets early in the second would lead to the second goal of the night from Cater to make it 3-0.
The Flames would make it on the board with a power play goal of their own when Mark Giordano put a snap shot past Curtis Sanford to make it 3-1.
Rick Nash would make it 4-1 with an empty net goal at the end of the third.
Three Stars:
Jeff Carter (CBJ) 2 goals, 4 shots on goal
Curtis Sanford (CBJ) save percentage – 0.964
Vinny Prospal (CBJ) 3 points, plus/minus 2
Boston Bruins 1 Montreal Canadiens 0
In a game of goaltending the only goal in the game would come at 15:41 in the first as Andrew Ference would put a wrist shot past Carey Price to put the Bruins up 1-0 over the Canadiens.
The Canadiens would have three power play chances that they were unable to get the puck past Tim Thomas.
Three Stars:
Tim Thomas (BOS) – save percentage 1.000
Carey Price (MTL) – save percentage 0.944
Alexei Emelin (MTL) 0 goals, 1 shot on goal
New Jersey Devils 3 Florida Panthers 4
The Devils would take an early lead as Ilya Kovalchuck would score put a wrist shot past Jose Theodore; followed just over a minute later with a backhanded shot from Petr Sykora to make it 2-0 for the Devils over the Panters.
Dainius Zubrus would make is 3-0 with a snap shot before the end of the first period.
The second period would start off with a goal from Kris Versteeg to revive the Panthers.
It would be Versteeg again about five minutes later to bring Florida within a goal of the Devils.
A short handed goal from Stephen Weiss early in the third would tie the game for the Panthers; and a late goal from Tomas Fleischmann would give them the win and the lead in the southeast.
Three Stars:
Stephen Weiss (FLA) 1 goal, 3 points
Tomas Fleischmann (FLA) 1 goal, plus/minus 3
Kris Versteeg (FLA) 2 goals, plus/minus 3
Edmonton Oilers 1 Dallas Stars 4
After lighting up the Blackhawks the Oilers fell to the Stars.
It would take exactly eight and a half minutes before Toby Petersen would score his first of the season as he put a wrist shot past Nikolai Khabibulin.
With a 1-0 lead heading into the second period Steve Ott would make it 2-0 as he netted his third of the season.
Ryan Nugent-Hopkins would get his eighth of the season as he put the Oilers lone goal past Kari Lehtonen; only to be answered back less than a minute later by Michael Ryder with a wrist shot of his own.
It would be a short handed empty net goal for Radek Dvorak to net his first of the season and make it 4-1 for the Stars over the Oilers.
Three Stars:
Steve Ott (DAL) 1 goal, 4 shots on goal
Jamie Benn (DAL) 5 shots on goal
Toby Petersen (DAL) 1 goal, 5 shots on goal
Up into the Netting
Is Brendan Smith the next great Red Wing?
The Return of the King… well Captain Crosby at least (have to admit the media treats him like royalty) saw Crosby net 4 points as the Penguins shutout the Islanders 5-0.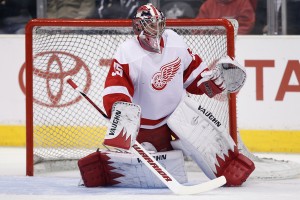 Top Spots:
Points: Phil Kessel – Toronto (29)
Goals: Phil Kessel – Toronto (16)
Assist: Daniel Sedin – Vancouver (18)
Plus-Minus: Shea Weber – Nashville (19)
GAA: Brian Elliott – St. Louis (1.43)
Save Percentage: Brian Elliott – St. Louis (0.947)
Wins: Kari Lehtonen – Dallas (12)
Shutouts: Jimmy Howard – Detroit (3)
Northwest: Minnesota Wild
Pacific: San Jose Sharks
Central: Chicago Blackhawks
Atlantic: Pittsburgh Penguins
Northeast: Boston Bruins
Southeast: Florida Panthers
Face-Off
7:30 p.m. EST
Toronto Maple Leafs at Tampa Bay Lightning
Los Angeles Kings at St. Louis Blues
8:00 p.m. EST
Edmonton Oilers at Nashville Predators
An avid hockey lover that grew up in Michigan and lived in the Washington D.C. area while going school for Sports Management. Volunteer with the American Special Hockey Association (ASHA); and follows as much SM-liiga and Elitserien as possible along with the vast array of North American leagues.