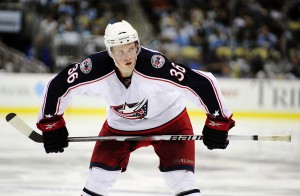 Headed into the November 12 meeting with the Winnipeg Jets the Columbus Blue Jackets were mired in a horrible slump.  With a record of 2-12-1 and coming off losses of 9-2 and 6-3 it looked hopeless for the boys in Union Blue.  The Blue Jackets went out that night and defeated the visiting Jets by a score of 2-1 and have looked like a different team since then.  They followed that game with a bad loss to visiting Minnesota letting a two-goal lead slip away late, but they looked better in stretches.
The road trip that followed was a daunting one, first visiting the defending Stanley Cup champion Boston Bruins and then their division rival Nashville Predators in a city the Blue Jackets had not won a game in since 2006.  Coincidentally this was also the Blue Jackets father's trip, an annual tradition started two seasons ago where the players bring their fathers along for a road trip.  Head Coach Scott Arniel decided to give goaltender Curtis Sanford his first start of the season in Boston and he rewarded him with a hard-fought 26 save performance that earned the team a point in a shootout loss against an explosive Bruins team.  The team looked energized and more confident playing in front of a steady, veteran goaltender.
"We wanted to play a complete hockey game and I thought tonight we did," Arniel said, "I'm real proud of the way the guys battled.  I thought we played really well away from the puck.  We went toe-to-toe with the defending Stanley Cup champions."
Two nights later the Blue Jackets found themselves in unfamiliar territory, leading the game in Nashville in the third period.  With Sanford in net again, Columbus let the lead slip away, but made it to overtime.  In the past, many Jackets teams would have been happy just to earn that point, but not this team.  The Jackets looked hungrier and carried the play in overtime.  Antoine Vermette battled hard and won an offensive zone faceoff back to defenseman James Wisniewski who fired a bullet of a one-timer past Nashville goaltender Pekka Rinne to secure a massive victory for the team.
"This is the kind of game that we came together as a family and realized not to get down on ourselves and keep playing with resiliency and tenaciousness for the whole 63 minutes," said Wisniewski.  "They scored late to tie it but we kept after it."
After two well-played games tonight's tilt against the visiting Calgary Flames had the appearance of a possible trap game.  Riding the hot hand of Curtis Sanford and a dominant first line, the Blue Jackets didn't allow the Flames to get their forecheck going and opened the scoring just three minutes in off a nasty wristshot from Jeff Carter.  The Flames never got closer than 3-1 and the scoring was finished by captain Rick Nash who fired in an empty-net goal to seal the game at 4-1.  The win gave the Blue Jackets their first back-to-back victories in a whopping 42 games.  The question now is can this team sustain this play to get back into the playoff race?  The lineup is mostly healthy, the defense is playing better, the goaltending situation has seemingly stabilized (more on that later), and the forward lines are playing well.  The hole this team has dug for itself is deep.  Even after garnering seven standings points in their last five games they are dead last in the league.
NEWS & NOTES
Goaltender Steve Mason took a Rick Nash shot off the mask in practice today that sent him to the ice.  The Blue Jackets recalled Allen York on an emergency basis to backup Sanford tonight.  Mason's status going forward is unknown but signs point to him being ok.  With the NHL's rightfully  increasingly cautious approach to head injuries I wouldn't be surprised to see Mase sat for a week or so just to make sure he is ok.
York must feel a bit like a yo-yo.  He backed up Mason against Winnipeg on the 12th, then was demoted to Springfield of the AHL the day after.  Three days later he was assigned to Chicago of the ECHL where he played on the 19th earning himself first-star in a 2-1 Express victory.  He was recalled from Chicago to Springfield on the 20th, then was recalled to Columbus on the 21st.  When he got the call that he was needed back in Columbus he was in the middle of practice and didn't have time to shower before leaving to catch his flight.
Part of the reason the defense has looked better of late has been the play of newly acquired Nikita Nikitin.  Playing on a pairing with fellow Russian Fedor Tyutin, the two have played extremely well together.  Nikitin has four assists and is plus-two since being acquired from the St. Louis Blues for defenseman Kris Russell.  Nikitin has added a more physical presence and more of an offensive threat than originally thought.
Kris Russell has also played well under former coach Ken Hitchcock in St. Louis, putting up two goals and a plus-two in four games.
Rookie forward Ryan Johansen has looked especially good over the last few games.  He hasn't been putting up points but he has looked dangerous and is starting to win more battles along the boards.  You can read all about young Ryan here.
The first line of Vinny Prospal – Jeff Carter – Rick Nash has been put back together and is looking very good.  They have combined for twelve points in the last two games.
Signed late in the offseason to replace the injured Kristian Huselius, 36 year-old Vinny Prospal has been a revelation for the Blue Jackets posting 6-12-18 Even in twenty games.  Who knows where they would be without the veteran winger.
Alex is a credentialed reporter covering the Columbus Blue Jackets. He is currently attending Western Governors University. He lives in Columbus with his wife and five children.