Nashville GM David Poile is known for his superb drafting, selecting the likes of David Legwand, Shea Weber, Pekka Rinne, Ryan Suter, and Scott Hartnell. While Poile has seen great success in many of his picks, he has also seen failure. Here are the five biggest Nashville Predators draft busts.
Predators Draft Busts #5
Jonas Andersson – 1999 33rd overall
In Poile and Trotz's second year together in Nashville, they were still learning the ropes and evaluating talent properly. Well, 1999 was not one of the team's better years at the podium. Actually, it was quite bad.
After 2 years in the Swedish junior league, Jonas Andersson was selected in the summer of 1999. Andersson pursued a hockey career in North America and elected to play in the OHL. After 1 year of domination in North Bay as a point-per-game forward, Andersson turned pro and played for Nashville's minor league affiliate in Milwaukee. At 20, Andersson played 5 games with the Predators during the 2001-02 season, while spending the rest of his time developing with the Admirals. On September 30, 2003, he suffered a wrist injury that kept him out the '03-'04 season. And the following year, the NHL unfortunately had the full season lockout in '04-'05, keeping Andersson from playing in Nashville for 2 consecutive seasons. Andersson went to Europe for several seasons, but the NHL did not see the last of him.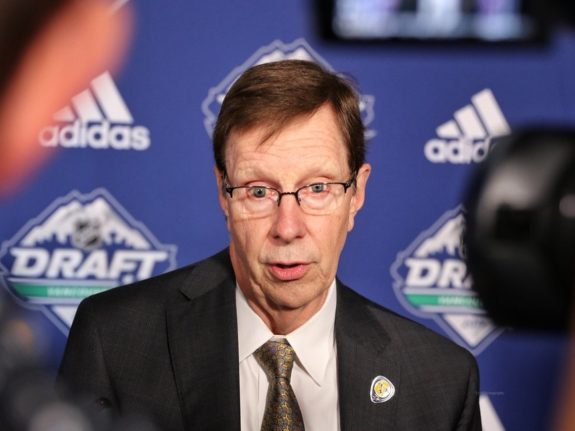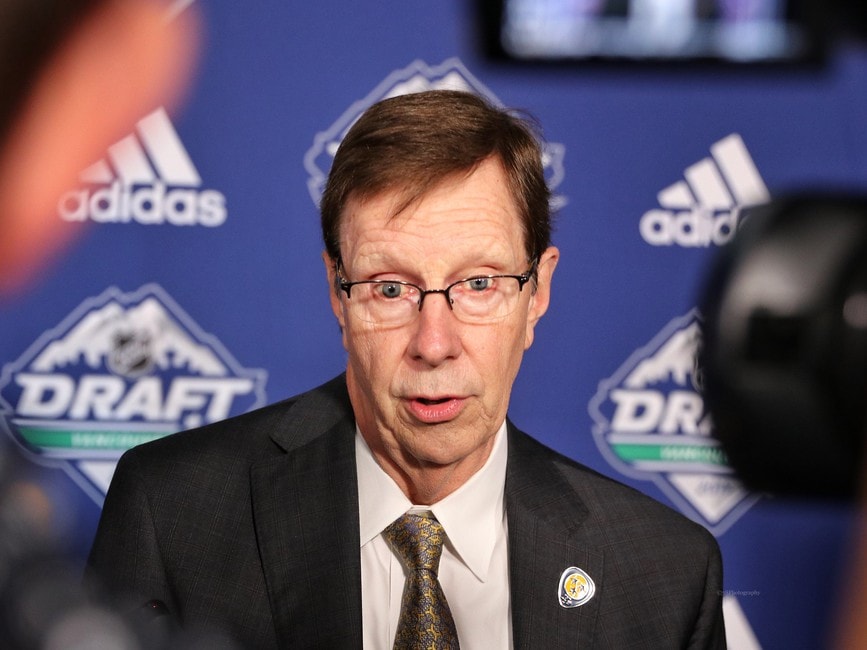 In June 2010, Poile hinted at signing a "mystery free agent" that he could not announce quite yet. On the first day of free agency, his hint came into fruition with the signing of Andersson to a 1-year, $675,000 contract. Despite a solid training camp, Andersson would not once step onto the ice as a Predator during the regular season. Andersson, along with another bust you'll read about down the page, were traded to Vancouver for Shane O'Brien and Dan Dengur. Vancouver dressed him for 4 games, but Andersson did not make an impact. Andersson then saw his North American career come to an end and fled to the KHL, where he continues to play for Yugra Khanty-Mansiysk.
The way Andersson's career panned out was unfortunate because he possessed Datsyuk-like hands, as seen below.
Notable Players Drafted In the Same Round: Mike Commodore (42nd) and Jordan Leopold (44th)
Predators Draft Busts #4
Timofei Shishkanov – 2001 33rd overall
Nashville's history with Russians is not a memorable one. Timofei Shishkanov is no different. The Moscow, Soviet winger dominated the QMJHL with the Quebec Remparts during the '02-'03 season, posting 36 goals, 46 assists in 51 games. The superb year in Quebec gave Shishkanov an immediate ticket to Milwaukee, where he dazzled as well, winning the Calder Cup in 2004.
At 20, Shishkanov made his NHL debut with the Predators playing in 2 games. After, he saw just minor league minutes until being traded to St. Louis for Mike Sillinger on January 30, 2006 — a move that benefited Nashville greatly. Shishkanov played 22 games with the Blues scoring 5 points in the remaining months of the season. The 6'1, 209lbs scorer saw a better hockey career in mother Russia and left the Blues prior to the '06-'07 year. Shockingly, his KHL career has been worse.
In 2012, Shishkanov played 11 games in the VHL — the KHL's minor league. Next season, he will play for expansion club Sochi.
Notable Players Drafted In the Same Round: Tim Jackman (38th), Fedor Tyutin (40th), Jason Pominville (55th), Jay McClement (57th), Nathan Paetsch (58th) and Peter Budaj (63rd)
Predators Draft Busts #3
Konstantin Glazachev – 2003 35th overall
The 2003 draft is known as one of the best drafts of all-time. Players like Eric Staal, Dustin Brown, Marc-Andre Fleury, Nikolai Zherdev and many more highlighted the list of names as part of the draft class. The draft was also held in Nashville for the first time, giving the Predators' picks an immediate feel of their future home.
The 35th overall pick was used on a Russian and once again was not a fit in the Predators' organization. NHL Central Scouting Services had Konstantin Glazachev ranked 5th in European skaters. The winger was expected to do big things once he was NHL-ready. Unfortunately for the Predators, Glazachev never became NHL-ready and continues to play in Russia. Next season, Glazachev will play for Dynamo Moscow
Luckily for the Predators, they also selected defensemen Kevin Klein and Shea Weber later on in that round. So it is fair to say Poile made up for his mistake.
Players Drafted In the Same Round: Kevin Klein (37th), Patrice Bergeron (45th), Matt Carle (47th), Shea Weber (49th), Corey Crawford (52nd), B.J. Crombeen (54th), Patrick O'Sullivan (56th), Maxim Lapierre (61st), David Backes (62nd) and Jimmy Howard (64th)
Predators Draft Busts #2
Ryan Parent – 2005 18th overall
After an impressive 2005 Ivan Hlinka tournament, the NHL CSS ranked Ryan Parent eighth among North American skaters, in front of Mark Staal (9th) and Devin Setoguchi (10th), entering the 2005 draft. The 6-foot-3, 198 pound defenseman was supposed to fill the missing piece in the Predators' defense core for years to come. With high ratings and expectations came high value.
Related: 5 Forgotten Picks of the 2005 NHL Draft
During the 2006-07 season, the Predators were looking to make a run for the Stanley Cup. The only thing missing was another elite talent up front. Word on the street said future hall-of-fame forward Peter Forsberg was available. On Feb. 15, 2007, Parent, Scottie Upshall, and 2007 first and third round picks were sent to Philadelphia in exchange for Forsberg. It was now the Flyers' responsibility to develop Parent into the defenseman many dreamed he'd be.
Nashville did not see the end of Parent, however. UFA Dan Hamhuis was traded to Philadelphia in exchange for Parent and future considerations in June 2010. It became obvious the Predators wanted nothing to do with Parent as he was traded months later to Vancouver as part of the aforementioned Jonas Andersson deal.
Parent, a first round pick, never stepped onto the ice for the Predators. In 106 career NHL games between Philadelphia and Vancouver, Parent has just a goal and 6 assists.
Players Drafted In the Same Round: Jakub Kindl (19th), Tuukka Rask (21st), T.J. Oshie (24th), Andrew Cogliano (25th), Matt Niskanen (28th) and Steve Downie (29th)
Predators Draft Busts #1
Brian Finley – 1999 6th overall
When looking back at the worst draft pick of all time in the Predators' organization, the first name that comes to mind is goaltender Brian Finley. Finley saw success with the Barrie Colts in the OHL and was named to Canada's U20 World Juniors squad twice as a backup. The Ontario native was just about to begin his pro development prior to the '01-'02 season, Finley re-aggravated a groin injury from the past season. The injury was enough to keep him out the whole season, which inevitably would kill his young career at 20.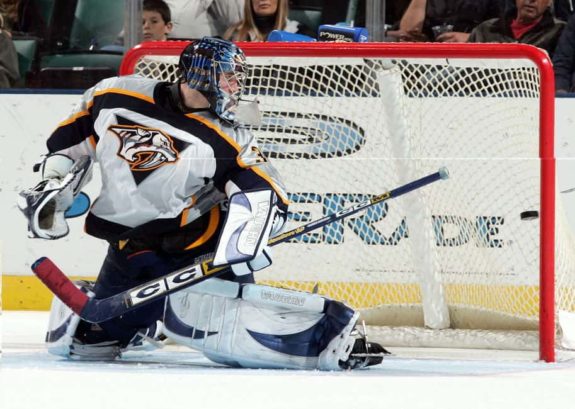 Returning from injury the following year, Finley saw himself in a stiff crease battle with Tomas Vokoun, Mike Dunham, Wade Flaherty and Jan Lasak. Finley appeared in 1 game with the Predators allowing 3 goals on 13 shots in 47 minutes and spent the rest of his year in Milwaukee. He then became a full-time AHL goaltender until his contract expired with the Predators. Boston signed Finley in July 2006 and received 2 starts between the pipes that year.
With just 4 career NHL starts after the '06-'07 season, Finley retired from the game.
Players Drafted In the Same Round: Taylor Pyatt (8th), Barret Jackman (17th), Nick Boynton (21st) and Martin Havlat (26th)
Honorable Mention: Ed Hill (61st overall in 1999) – Played 0 games in Nashville and was never signed to a contract after 2 seasons in the OHL. Hill did not play a game in the NHL and has since retired.
This article was originally published in July, 2014.