After consecutive first-round exits, Calgary Flames general manager Brad Treliving made some tweaks to the forward group moving into the 2020-21 season. After rumors swirling about the possibility of moving Johnny Gaudreau or Sean Monahan, it looks like Calgary will stick with their core group. The additions of Dominik Simon, Josh Leivo, and Joakim Nordstrom make for a quick fix on the fourth line and other spots within the lineup. The team can keep the forward lines status quo to last season, but they also have the ability to get a little creative with their combinations.
Remaining Status Quo 
The Flames were close to having a 3-1 lead over the Dallas Stars in the 2020 Playoffs and those crucial last few seconds before Dallas tied the game could've pushed them through to the second round. Sticking with the lineup Calgary rostered in the playoffs may be a good way to start the 2020-21 season, just plugging in the newly acquired depth forwards.
[table id=404 /]
This lineup is a quick creation and it is not much different from the 2019-20 season. It will hinge largely on the bounceback of both Gaudreau and Monahan to bolster most of the offense. Another boost for the lineup would be the continued success of the Sam Bennett, Milan Lucic, and Dillon Dube line that had spurts of offense against the Stars in the 2020 Playoffs. Most noted by the skillful emergence of Dube becoming a factor every time he was on the ice.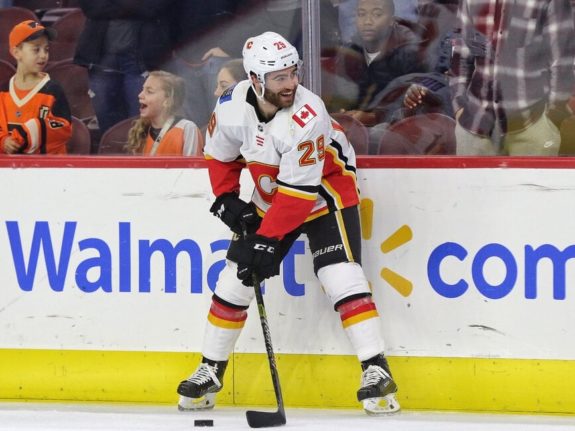 This is the most likely lineup Flames fans will see come the beginning of the 2020-21 season. The players are familiar with their lines and with consistent defense and goaltending these are viable options for the forward group. It's worth exploring other options that players may benefit from with other lineups at forward.
Getting Creative
It has been made known by head coach Geoff Ward that Elias Lindholm will get work at center this season, this opens the door to get more creative with the forward group.  The move of Lindholm to center though affects the Flames already weak right side, and with very little cap room to add a right winger, could make for a tough fix.
[table id=405 /]
This lineup can give Calgary a little more flexibility in terms of switching players from line to line while not losing too much talent. In the top six, Matthew Tkachuk and Andrew Mangiapane are capable of playing in either spot, while Monahan and Lindholm can be swapped easily in the 1C/2C positions. The emergence of Dube and Mangiapane both with speed and skill could give Monahan the ability to continue thriving in the slot as he does with Gaudreau.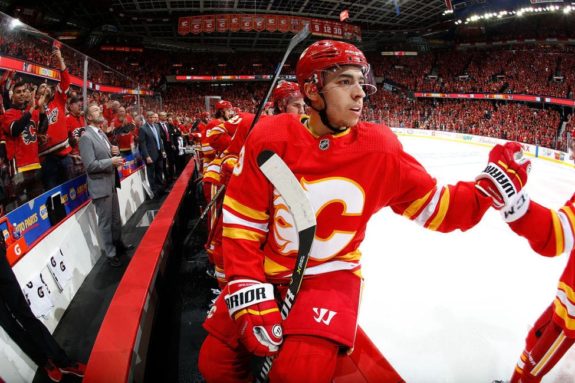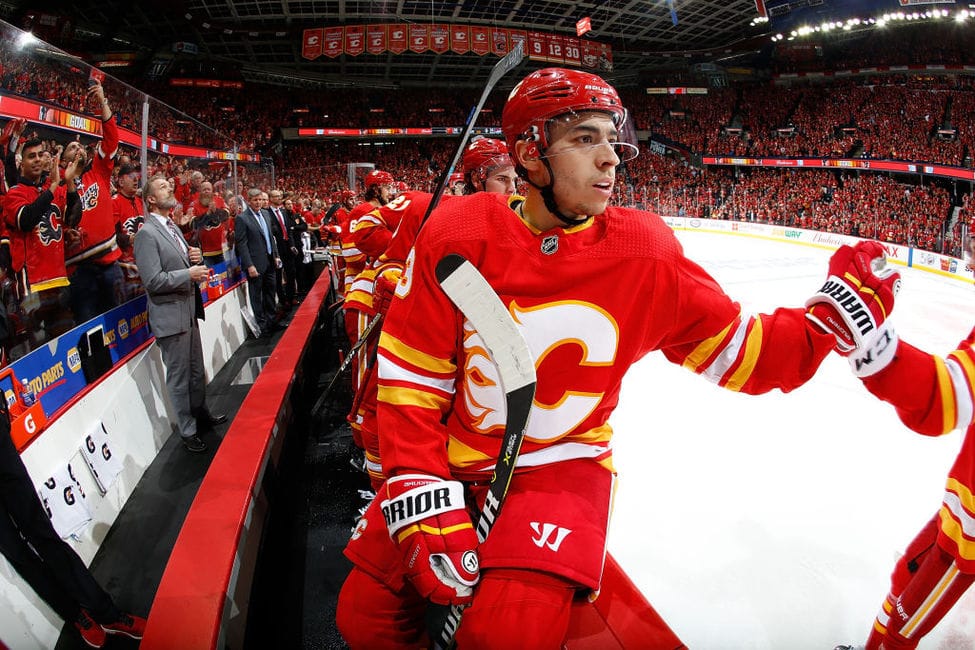 The bottom six starts with Mikael Backlund centering the third line with Bennett and Leivo. Backlund moves to a more distinct defensive/shutdown role while having support from Bennett's physicality and skill.
Leivo played a majority of 2019-20 with Bo Horvat and Tanner Pearson, he maintained a Corsi for above 50% and both Horvat and Pearson saw a drop below 50% Corsi for when playing away from Leivo (via naturalstattrick.com). This means Leivo will probably be able to handle a more defensive role, playing with Bennett and Backlund. The fourth line once again revolves around Ryan at center and the three options to plug in beside him in Lucic, Simon, and Nordstrom pending their nightly performances.
Let's Get Really Creative
This is more an exercise in getting creative with the players the Flames have but without throwing all logic out the window as to why this lineup should see a game or two. Fans may be used to the given each season that Gaudreau and Monahan are the first line guys of the team, but as with the last line up, it may be time to start thinking of Lindholm in place of Monahan.
[table id=406 /]
During his career, Simon has played a ton of minutes with Sidney Crosby and Jake Guentzel especially during the 2019-20 season. Not shockingly Simon's Corsi for was propped up playing with Crosby and Guentzel, an interesting takeaway was that both players Corsi dropped when playing away from Simon. This may be of interest to Flames coaching staff as it begins to show a possibility that while Simon wouldn't be a play driver on the first line, he could be effective alongside Gaudreau and Lindholm.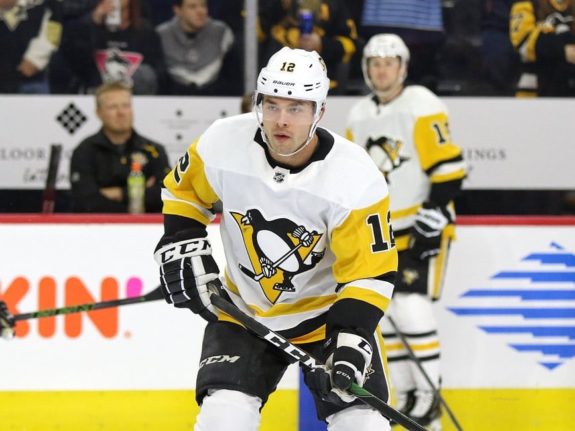 While getting creative, this lineup has a moment of status quo on the second line. The Mangiapane, Backlund, Tkachuk line worked great for the Flames during the regular season and playoffs. The line can take many defensive zone draws and also help to contribute on offense.
After a tough season for Monahan, it may be worth a demotion into an easier role against weaker opposition. Playing with very capable linemates in Dube and Leivo this line may have enough skill and offense to run the table against third and even fourth lines.
Finally, the fourth line sees the addition of Bennett at center and right-shot Ryan moved to the right side. Nordstrom and Lucic continue to be the two guys battling for that final spot on the left wing.
Multiple Forward Options
Whether it's plugging in the new guys in the bottom six, moving Lindholm to center, or promoting Simon to the first line the Flames have good options going into 2020-21. Ward has the ability to mix and match lines to try and find chemistry while keeping lines together that have already found their stride. Calgary has depth this season on forward and they should utilize any combinations whether it's status quo or somewhat creative.
---
---