Last season, the Predators combination of Filip Forsberg, Ryan Johansen and Viktor Arvidsson helped bring national attention to Nashville. Certainly, the team's defensive personnel is among the best in the league. However, before the acquisition and subsequent emergence of a true number-one center, the team remained predictably one-dimensional in its forward lines.
This line of Forsberg, Johansen and Arvidsson undoubtedly made waves in their introductory season. Among lines with over 500 combined minutes, they placed second overall in five-on-five Corsi percentage. Beyond dominating possession, Nashville's first forward line combined for 28 even-strength goals in 52 games played together.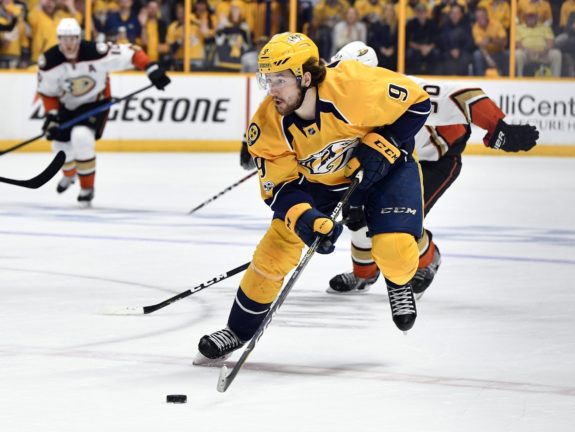 Versatile Filip Forsberg
This season, the Predators have played around with their forward lines at several points. It's a luxury for a team that features strong possession drivers like Forsberg, who can be slotted in anywhere to boost production from his linemates. Even so, this trio of players has remained a staple of the Nashville offense. Like last season, they are producing top-ten possession numbers in terms of the league's consistent forward lines.
Here's a quick look at their comparison to last season, using Corsi-for percentage (CF%), high-danger chance percentage (HDCF%), and offensive zone start percentage (oZS%):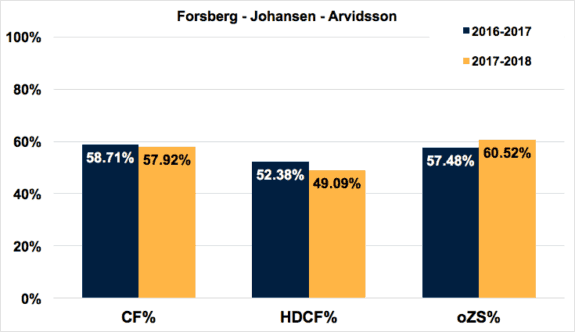 Compared to last season, this line is slightly underperforming at five-on-five, in spite of an increase in their offensive zone starts. Most notably, there is their sub-50% high-danger chance share. Although it is close, opponents are generating slightly more high-danger chances than Nashville with this line on the ice.
In terms of pure shot attempts, Johansen is centering another dominant line. Forsberg has missed several games, first due to injury and then a suspension. When he is playing, though, the result is clear — the crafty winger has a knack for scoring timely goals, especially on the power play, to make his team competitive. Arvidsson, meanwhile, is putting together a very solid season, though perhaps not living up to the expectations generated from his breakout year.
Enter Kyle Turris
The Stanley Cup Final series last season exposed one of the Nashville Predators' glaring weaknesses: lack of depth at center. With Johansen and Mike Fisher injured, players like Colton Sissons and Calle Jarnkrok were matched against Sidney Crosby and Evgeni Malkin. A team fielding depth forwards against world-class talent faced an uphill battle from the start.
In the offseason, the Predators picked up free agent Nick Bonino in a move to address the issue. While Bonino is a perfectly serviceable third-line center, the loss of Fisher left the team still hollow down the middle. The fanbase voiced its growing concern that the front office had not done enough to cement Nashville's role as a true Cup contender.
The major news, of course, came several weeks into the regular season. On an otherwise quiet Sunday evening, Colorado's Matt Duchene unexpectedly left the ice in Brooklyn, bound for Ottawa. News quickly spread that a perceived dead trade rumor had new life. When the dust settled, of course, Nashville had acquired Senator Kyle Turris as a part of the same trade.
For the first time in franchise history, the Nashville Predators boasted a truly deep group of centers.
Internal Competition
In short, the acquisition has paid off for Nashville. Turris' impact became immediately apparent through the blossoming of snakebitten Kevin Fiala and Craig Smith, who flanked the new center on the second line. Since the debut of Kyle Turris in Nashville, Fiala has produced 29 points (18 goals, 11 assists), and Smith 26 (12 goal , 14 assists).
Nashville now has somewhat arbitrary line assignments from their top six. While the Johansen line is still the team's first, Turris' line plays nearly identical minutes and generates similar production. Here's a look at the comparison of these lines this season, using the same possession stats as before: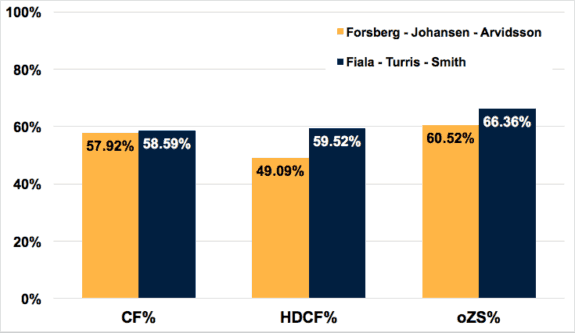 In terms of shot attempts, the two lines are very similar indeed. Turris' line has a slight advantage, but both lines are producing extremely impressive values in this category. In high-danger areas, the Turris line has a substantial advantage — over 10%. Unlike Johansen's line, opponents are generating far fewer high-danger chances than the Predators with Nashville's second line skating.
The final category adds an interesting layer to this story, however. Both lines are heavily sheltered, with the majority of their faceoffs being taken in the offensive zone. Nashville's second line of Fiala, Turris and Smith is actually the third-most sheltered line in the NHL this season. In other words, they are rarely, if ever, relied on in a defensive capacity. With this in mind, it's easy to see why their other possession numbers are so impressive.
Lethal Johansen, Turris Combination
Nashville's first and second forward lines are being used in a similar way. The team's entire top six enjoys a healthy portion of offensive zone time. The recipients of the proverbial short end of the stick are, naturally, the bottom six forwards. From these players, it's common to see offensive zone start percentages of less than 35% throughout a game.
In terms of pure offensive possession, Nashville is now being led by its second line. For a team hoping to make another deep playoff run, this is actually an ideal situation. Johansen, who excels at neutral zone possession and passing to the slot, can be used to neutralize opponents' top forwards. In the meantime, Turris' line is free to skate against lesser opposition, creating offense with little defensive responsibility.
The Nashville Predators are poised to seriously compete for a Stanley Cup this year. With their dominant top six forwards leading the offensive push, they can do real damage against any opponent.