The Columbus Blue Jackets made history on Wednesday night.
For the first time in the expansion era, the Blue Jackets unleashed at least 50 shots on goal in three straight games. Their third such game happened in Toronto where they delivered a staggering 57 shots on the Leafs' net.
Since 1955-56 when shots on goal became an official NHL statistic, the @BlueJacketsNHL became the second NHL team to record at least 50 shots on goal in three consecutive games, joining CHI from Oct. 9-16, 1955 vs. TOR (51 SOG), DET (54 SOG) and MTL (51 SOG). #NHLStats pic.twitter.com/KoeJDYsCrz

— NHL Public Relations (@PR_NHL) February 15, 2018
Unlike their first two performances, a 6-1 win over the New Jersey Devils and a 4-1 win over the New York Islanders, the Blue Jackets couldn't leave Air Canada Center with two points.
The biggest reason for this is simple. His name is Frederik Andersen. He enjoyed a career performance.
Andersen turned away 54 of 57 shots to earn his fourth straight win. He is now 29-15-4 with a 2.66 goals against and a .922 save percentage for the season.
Considering how much he's played (49 starts and the most minutes in the league), it's time we consider Andersen in the Vezina conversation. It's not out-of-place.
Why Andersen for Vezina?
Let's look at where Andersen ranks league-wide in the important statistics. For this, we are looking at goaltenders who have logged at least 2000 minutes this season.
Wins: 29, tied for second.
Save percentage: .922, tied for fourth.
Shutouts: 4, tied for fourth.
Minutes: 2930, most in league and 160 minutes more than anyone else.
Games started: 49, most in league.
Andersen is a true workhorse and still is putting up great numbers. Although he isn't the favorite for the Vezina at this time, he must be included in the conversation. If he keeps this up playing as much as he does, an invitation to Las Vegas for the awards show will await him.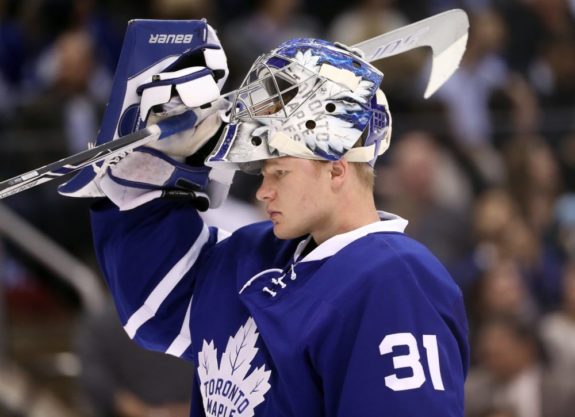 How About Some Advanced Stats?
Andersen fares well here. Let's look first at what's called GSAA or goals saved above average. According to this chart produced by the Athletic's Sean Tierney, Andersen ranks 6th overall in GSAA per 60. He also ranks well in other measures such as save percentage differential (6th) and total goals saved above average (3rd). He's saved over 12 goals above average. His play tends to get overlooked with the likes of Auston Matthews, Mitch Marner and others racking up points in bunches.
But there is more. According to Corsica, Anderson has a save percentage of 93.97% for medium-danger shots. That is second in the league only to Mike Smith for those over 2000 minutes. And for GSAA per Corsica, Andersen leads the league with over 22 goals saved above average.
Simply put, the Leafs are not in the place they're in without Andersen's play. He's taken them to a new level. With the numbers he's putting up, he can help the Leafs enjoy playoff success.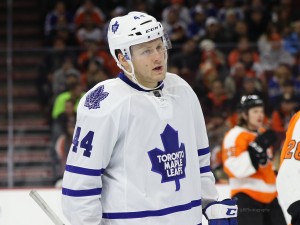 Forward Thinking
The question for the Leafs is their defense. While they have some good pieces in Morgan Rielly, Jake Gardiner (although he left Wednesday's game with an injury) and others including rookie Travis Dermott, you'd think they'd want to add to their blue line by adding another experienced vet to stabilize them. Giving up 57 shots and over 80 attempts to the Blue Jackets is not ideal.
If the Leafs figure out their blue line, they have the kind of team that can win a Stanley Cup. Andersen is showing us he can win when it matters. Wednesday's performance put him in the Vezina conversation.
Now the question is, will the Leafs continue to ride him hard down the stretch or will they try getting more starts for Curtis McElhinney? Ideally, they want Andersen fresh for the playoffs. But when you're third in the Atlantic behind the Lightning and Bruins, you'd open the playoffs on the road. Home ice advantage is a must for the Leafs. With that in mind, expect Andersen to play huge minutes. It will be fascinating to see how the Leafs play their goalies down the stretch.
For now, let's welcome Andersen into the Vezina chat. No conversation is truly complete without at least mentioning him. He has every chance to win it, especially if he plays like he did Wednesday for the rest of the season.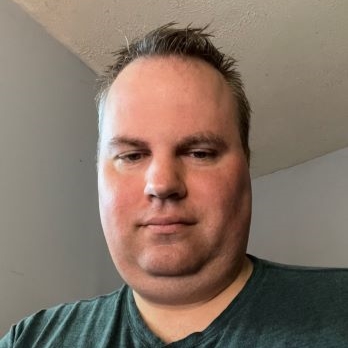 I am a fully credentialed writer who covers the Columbus Blue Jackets, Cleveland Monsters and Erie Otters as well as the Ontario Hockey League and NHL Draft. The 2022-23 season will mark nine seasons with the Hockey Writers. I am also the site's Credentials Manager. Please take note of the updated Twitter handle: @mark_scheig.