Portland Winterhawks forward Kieffer Bellows has been on quite the journey over the past year. Last winter, he was playing through his freshman year at Boston University, and, in the summer to follow, made the tough decision to change course and join Portland in the Western Hockey League. On top of all that, there was a training camp with the New York Islanders and a second run with Team USA at the World Junior Championships in Buffalo.
That's quite a ride, but the 19-year-old Islanders first-round pick has taken it all in stride.
"It's been a lot of travelling compared to normal for me but I've really enjoyed it so far," he says. "I love Portland, the city, my billet family, and the guys are fantastic. I'm just very humbled to be part of such an amazing organization."
For a young player, that kind of change can lead to an adjustment phase and lead to struggles. So far, that hasn't been the case for Bellows. Armed with a big league shot, he joined a Portland team loaded with fellow NHL first-round draft picks and has flourished.
In his first 41 games in the WHL, he has potted 29 goals and 56 points and has helped lead his club to a fight for the top spot in the WHL's U.S. Division and Western Conference.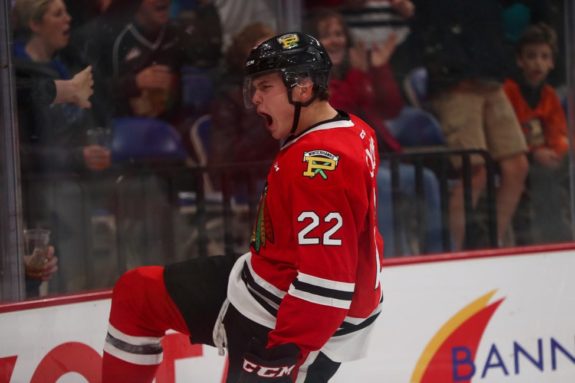 Bellows Made the Tough Choice to Go From the NCAA to the WHL
All young players have the same goal in mind; get to the NHL. There are many paths to get there and no real right answer as to what the best path is.
Bellows says that he loved his time in Boston and was very thankful for the time spent playing for coach David Quinn along with his teammates. He was excited to root for the university in this week's Bean Pot games, which he was watching from Portland.
In the end, he made the hard choice to leave and change courses. It was a choice that he felt was best for his development as a player.
"Just playing more games was the biggest thing," he says about the draw of the WHL. "I thought that would elevate my game to a whole new level. I thought that playing under (Portland head coach) Mike Johnston would help too. He's an elite coach with NHL experience. In the league too, you play against so many elite players every single night that every day you're going to get better."
Bellows has had the unique experience of getting to walk down several of the paths to pro hockey. He started in the USHL with Sioux Falls and later the U.S. Development Team. He then got a taste of NCAA hockey with a top program and now is experiencing major-junior hockey in the WHL.
There's a lot of debate, with no real answers, as to which route is the best for a young prospect to take in order to realize their NHL dreams.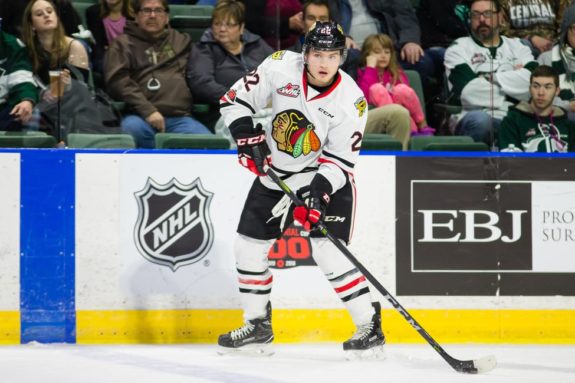 Bellows says each has its merits and that each stop has helped make him a better player. He also says that he couldn't say one route is the sure-fire best for a young player to take.
"It's whatever fits your game the best," Bellows says. "It's really what you think is best for you. For me, at first I thought playing in college was best for me and I think it was. I think playing that year of college and then coming to the WHL helped elevate my game. But it's unique for every person, so you have to decide what path is right for you. There is no perfect path."
Kieffer Bellows Looking to Carve Out His Own Identity
The Bellows name is a familiar one to hockey fans everywhere. Kieffer's father, Brian Bellows, played over 1100 games in the NHL and racked up 485 goals.
Kieffer feels lucky to be able to have had his favorite player growing up come home every night, and says he has a special bond with his dad.
"My dad has helped me so much throughout my career," he says. "The biggest thing about my dad is he's been my best friend growing up and a guy that I love to spend time with. We hang out all the time when I'm home. Obviously I'm trying to create my own path and identity around the name on the back of the jersey.
"Every team I play for I try to make an impact and represent the team and the organization the best I can. I know if I do that, success will come."
With a heavy shot, Bellows describes himself as a power-forward but one that can play a strong 200-foot game and still create. With the big year so far in Portland, the younger Bellows is continuing to make a name for himself.
His play in the USHL got him drafted 19th overall by the New York Islanders in the 2016 NHL Draft. He then won gold with Team USA at the 2017 World Juniors, and, to prove that he's not afraid to shine in big moments, he set a new US record for goals in one tournament when he lit the lamp nine times at this winter's championship.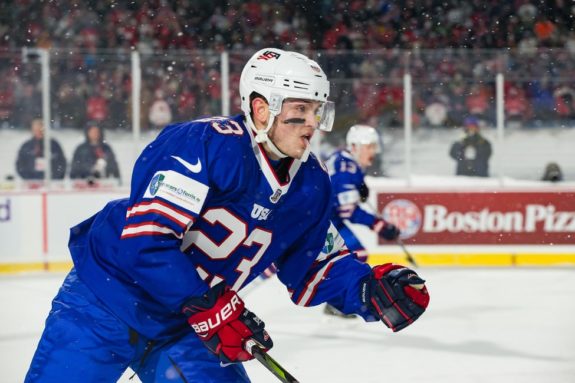 That surpassed the mark set in 1989 by Jeremy Roenick and his tournament was highlighted by his goal and shootout conversion during Team USA's victory over Canada in the snow at New Era Field in Buffalo. It was an experience that the Edina, Minnesota product won't soon forget.
"It was such a unique atmosphere and I just thought it was well done and organized event by the IIHF," Bellows said. "If any kid can experience an outdoor game, they should. It really brings you back to your roots growing up playing hockey on the outdoor pond. That's where I learned to skate and play hockey."
Finishing With the Portland Winterhawks and Beyond
Bellows and his Winterhawks teammates still have some work to do as the WHL season comes down the home stretch. They are locked in a battle with the Everett Silvertips for the top spot in division and conference. Coming into this weekend, Portland trails Everett by just two points.
Portland started the season on fire but then suffered some injuries and struggled while Bellows and players like fellow first-round NHL pick Henri Jokiharju (Chicago Blackhawks) were away at the World Juniors.
They are healthy now and Bellows, who plays on a line with Vegas Golden Knights first-round pick Cody Glass and Winnipeg Jets prospect Skyler McKenzie, are flying high again. The team has won five out of its last six games and looking to push for a long playoff run.
"We had some injuries there but I think once we get healthy, like we are now, good things will come to our team," Bellows says. "I think we're a good team that loves to work hard and play hard. Hopefully we'll have a long run because our goal is to win a Memorial Cup."
While Bellows still has a laser-like focus on helping Portland now, he can't help but keep an eye on the Islanders. New York has some promising young players and Bellows is excited about the prospect of joining them at some point over the next couple of years.
"I always keep up with New York and watch their games on TV," he says. "It's really exciting to see how their young guys are doing. Guys like Mathew Barzal and Anthony Beauvillier and those guys. Guys that I got to meet in camp the last two years. I could see at camp that they deserved it and I'm happy to see what's going on."
With the big shot and overall pro-style game that Bellows has already displayed, don't be surprised to see him in Islanders blue and orange sooner, rather than later. However, before that can happen, he has some business to finish in Portland.