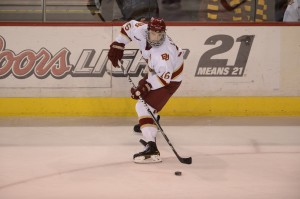 With the University of North Dakota and Princeton University traveling to Burnaby, British Columbia to play in the
Great Northwest Showcase
in early January 2014. I asked myself the question, is college hockey expansion in the works?
I have to believe that NCAA Division I hockey is ready for expansion. I would have to think that college hockey fans have a strong desire for college hockey expansion as well, too. Why not add Canadian Inter-University Sport teams? It makes perfect sense to me.
I think College hockey got it right, the Great Northwest Showcase is a great way to way to put Division I college hockey on center stage in western Canada for future expansion. Adding college hockey in British Columbia, Canada would also put the NCAA in direct head-to-head competition with the CHL, something I would like to see happen.
In the future, I don't think that it would be that much of a stretch for the NCAA to add a few CIS teams. In my opinion, the University of British Columbia and Simon Fraser University would seem like logical teams to add to the NCAA Division I college hockey, from the current lineup of CIS teams. Actually, Simon Fraser University is already a member of the NCAA Division II and plays multiple Division II sports in the GNAC.
One of the possible benefits of having a Division I college hockey team or two in the Vancouver, British Columbia market would be exposure. Vancouver is a major media market, which could bring big-time media exposure to Division I college hockey in western Canada. That exposure would be huge for college hockey, especially in western Canada.  The added exposure would help grow college hockey and make it even bigger in North America.
We might be getting ahead of ourselves.
Moving forward, SFU is already a member of the NCAA Division II, so they could add Division I hockey. At the current time, SFU only has a club hockey team. Also, UBC isn't in the NCAA, so they would need to join the NCAA before they could move forward and joining the NCAA is a long process.
College Hockey Expansion in the Southwest is an option as well
On September 17, 2010, it was officially announced that Penn State University was adding men's and women's ice hockey programs. This was due to a very generous donation of 88 million dollars by Alumnus Terry Pegula.  The University was to use the donation to build the Pegula Ice Arena. Completion of the on-campus arena is set for October. The first game at the new arena is scheduled for October 11, 2013, against Army.
Pegula's generous donation set the college hockey world upside down.  His donation also set in motion the formation of the Big Ten Hockey Conference and the National Collegiate Hockey Conference and finally the collapse of the CCHA and the restructuring of the WCHA.
The summer of 2011 was a turbulent time for college hockey. With the realignment, college hockey kind of resembled the rest of Division I sports, but on a smaller scale. The dust has finally settled, and we're moving forward. Eventually, I believe that Division I college hockey will grow.
Westward expansion seems like an attractive and viable option. The NCHC currently only has eight teams, which would allow for the league to comfortably expand in the future. It would also allow to league to be selective in who they take on as new members, as well. Adding the right high profile school could help with their branding and appeal. I found this article on Jar Pride, a Bentley college hockey blog and the author has an interesting idea; add a couple of Arizona ACHA Division I club hockey teams to college hockey.
It's unlikely the Arizona schools would ever be able to join the WCHA because of how stretched that league already is. Travel costs are a concern of many programs, and taking trips to Alabama, Alaska, and Arizona only makes sense from an alphabetical standpoint. Schools like Michigan Tech, Bemidji State, and others couldn't make that jump without major concerns. At the same time, the WCHA is already maxing out its ranks in terms of numbers, and with only 60 programs approximately in college hockey, having 14-20 teams in a league doesn't make much sense.

The NCHC does, however, seem like a logical fit. The schools in the NCHC stretch west to Colorado, with both Colorado College and Denver. The furthest school east is a place like Nebraska-Omaha, a major metropolitan area for the Midwest, or Miami University in Ohio, and the other remaining schools like North Dakota and Western Michigan are considered the hallmark programs of their respective institutions. Additionally, the NCHC only has only eight teams, so adding two would only bolster its ranks if the programs can financially and competitively step in. [JAR PRIDE]
Here's the kicker, last winter, then NCAA Division I Independent PSU played ACHA D-1 Arizona State in a two game weekend series. ASU actually split that series with Penn State (3-8L, 3-1W) on Nittany Lions home ice. Maybe ASU is ready for the big-time already? Maybe, who knows, but I think it's time for the powers that be to start thinking about expanding the Division I ranks.