This season, the NCAA has, once again, mandated that the on-ice officials put more emphasis on calling obstruction. Per NCAA's release, the officials will ensure that all players have the right to meet their offensive and defensive responsibilities without being held, hooked, or otherwise obstructed.
Of course, the fans and the media are cynical. As we've seen in the past, the games were called tight at first and then the refs let up after a few weeks. If history proves anything, the number of penalties called should go down as the season progresses. Or will they?
After two weekends of play, there's been a parade to the penalty box.  Early on, teams are using their special teams often,  and that tends to slow down the games. During the first weekend of the season (Oct. 7-8, 2016) six teams have had 15 or more power play opportunities.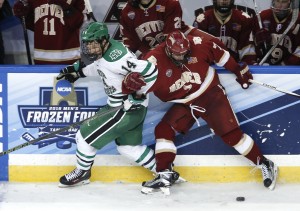 Two weeks ago, during a two-game non-conference series between Notre Dame and Arizona State University, the two teams racked up an impressive 224 penalty minutes. For the weekend, the Sun Devils were whistled for 43 penalties accounting for 148 penalty minutes. Breaking it down further, there were 23 minor penalties called for hooking, holding, and interference. Both teams combined had 41 power play opportunities.
On the same weekend, in non-conference action, the Providence Friars hosted the Miami RedHawks and the two teams racked up 101 minutes and combined for 37 power plays. That's a high number for any league.
The bottom line is that the interference, hooking, and holding penalties are going to be called this season and the players are going to have to make adjustments or suffer the consequences.
---
Complete College Coverage From THW
---
Coaches and Players React
During the Wednesday press conference, I asked UND Fighting Hawks forward Austin Poganski if he's changed the way he plays the game due to increased enforcement.
"I haven't really thought about it too much," Poganski said. "Kind of stick with what's working for me and keep doing that. I just use my leverage and weight to lean into guys and go around that, but no, I am not going to change my game all that much."
The coaches and their players have been put on notice and they're aware of the tougher standards.
"Officials are trying to adjust, too," Minnesota State head coach Mike Hastings told the Mankato Free Press. "They're on point. They're on the lookout knowing they have to call a tighter standard."
If you take your hand off your stick or raise it above parallel you're going to get called for a minor penalty. The on-ice officials aren't letting very much go at all.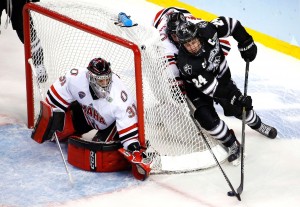 "We actually talked about that a little bit after Friday's game," associate head coach Dane Jackson said. "It was even a bigger part of the game (to start) on Saturday… it's getting sticks on the hands and they're calling it closer a little bit. The refs are calling it closer to the NHL level when you get your stick parallel to the ice they're going to call it. I think it's good. We tell our guys to keep your sticks on the ice and don't be chopping guys and hooking them in the hands."
Eventually, the players will get used to how the officials call the game and they will make adjustments.  If they don't, the players will spend a lot of time on special teams killing penalties. During last Saturday's game between RPI and UND, the on-ice officials called a combined 12 minor penalties, this slowed down the flow of the game.
"When the other team gets a power play, then obviously, it gets the other team out of rhythm," UND head coach Brad Berry said.  "When we get a power play it gets us out of rhythm, too. Our success comes with (rolling) four lines.
"Early in the game where there were some power plays we couldn't get everyone in the game. In the second period, it started to flow a little bit more. That's when we started to get some momentum when we got the four lines (rolling) out there. When you get a power play or a penalty kill it takes away some momentum."