Most Valuable Player
Jamie Lee Rattray, Senior, Forward, Clarkson
Runner-ups: Hannah Brandt, F, Minnesota; Jill Saulnier, F, Cornell; Sarah Lefort, F, Boston University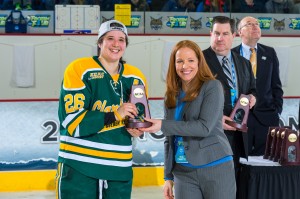 Named the winner of the 2014 Patty Kazmaier Memorial Award as well as the Most Outstanding Player at the Frozen Four, Rattray was a crucial part of the Golden Knights' national title run. She led the country in scoring with 66 points from 29 goals and 37 assists in 41 games; she also led the nation in shots with 239 and power play goals with 10. As one of the game's best power forwards, Rattray carried Clarkson's offense all year and made a significant impact for the team in all situations.
Best Goaltender
Alex Rigsby, Senior, Wisconsin
Runner-ups: Erica Howe, Clarkson; Emerance Maschmeyer, Harvard
Rigsby's .945 save percentage was tied for the national best with Minnesota's Amanda Leveille, and her goals-against average of 1.32 was good enough for third-best in the country. She missed a decent chunk of time with injury, but I still think she was the Badgers' best and most valuable player, and the best goalie in the nation when she was in the net.
Best Defenseman
Rachel Ramsey, Junior, Minnesota
Runner-ups: Erin Ambrose, Clarkson; Alyssa Gagliardi, Cornell; Sara Schmitt, Ohio State
It was incredibly hard to not give this one to Clarkson's Erin Ambrose, who led all blue-liners in scoring with 50 points in 37 games. But Ramsey was no slouch offensively, either; she scored 12 goals and 43 points in 41 games, second only to Ambrose. She was huge for the Gophers in all areas, and her play down the stretch is what gave her the edge for me over Ambrose as the best overall defenseman.
Best Two-Way Forward
Josefine Jakobsen, Junior, Forward, North Dakota
Runner-ups: Rebecca Vint, Robert Morris; Louise Warren, Boston University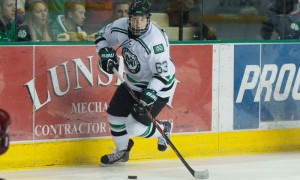 Jakobsen led all true forwards with 86 blocked shots, and she also led North Dakota in scoring with 33 points in 36 games. She won 55.9% of her draws, and her 435 faceoff wins were good enough for ninth in the country. She was a huge factor for UND at both ends of the ice, and the nation's most dominant two-way player this year.
Rookie of the Year
Phoebe Staenz, Forward, Yale
Runner-ups: Dani Cameranesi, F, Minnesota; Lara Stalder, D, Minnesota Duluth; Brittany Howard, F, Robert Morris
The Bulldogs proved to be a surprisingly tough opponent for a lot of ECAC teams this year, and Staenz is the biggest reason why. She led all freshmen in points per game with 1.30. She probably would've had more overall points if she hadn't been busy winning an Olympic bronze medal with Switzerland, but that's besides the point. Staenz's play was the best of any rookie this year, making her deserving of this award despite the low number of games played.
Breakout Player of the Year
Amanda Pelkey, Junior, Forward, Vermont
Runner-ups: Shiann Darkangelo, F, Quinnipiac; Rachael Bona, F, Minnesota
Pelkey tallied 21 goals and 40 points this season, doubling her output of nine goals and 20 points from 2012-2013. She's been relied on heavily to score her entire career, and she came through this year for the Catamounts, developing into one of Hockey East's best forwards.
First Team All-America
Jamie Lee Rattray, Senior, F, Clarkson
Hannah Brandt, Sophomore, F, Minnesota
Sarah Lefort, Sophomore, F, Boston University
Rachel Ramsey, Junior, D, Minnesota
Erin Ambrose, Sophomore, D, Clarkson
Alex Rigsby, Senior, G, Wisconsin
Second Team All-America
Jillian Saulnier, Junior, F, Cornell
Rachael Bona, Junior, F, Minnesota
Kelly Babstock, Senior, F, Quinnipiac
Alyssa Gagliardi, Senior, D, Cornell
Sara Schmitt, Junior, D, Ohio State
Erica Howe, Senior, G, Clarkson
Honorable Mention: Christine Bestland, F, Mercyhurst; Josefine Jakobsen, F, North Dakota; Mel Desrochers, D, St. Lawrence
All-Rookie Team
Phoebe Staenz, F, Yale
Dani Cameranesi, F, Minnesota
Brittany Howard, F, Robert Morris
Lara Stalder, D, Minnesota Duluth
Gracen Hirschy, D, North Dakota
Jessica Dodds, G, Robert Morris
Honorable Mention: Andie Anastos, F, Boston College; Maddie Elia, F, Boston University; Heather Mottau, D, Northeastern