The New Jersey Devils started this constantly changing 2020-21 NHL season with the third-youngest roster in the league. So with all of the games, they have left to play in a short span – 39 in 70 days as of press time – they could have a slight advantage against their seven division rivals this season. Maybe. 
In March, New Jersey will play 17 times in 30 days. It basically breaks down to this: every Tuesday, Thursday, and Sunday this month they play; and they also play on three of four Saturdays, and one of four Fridays. Rest, recovery, and recuperation will be paramount – even for a team filled with so many young players.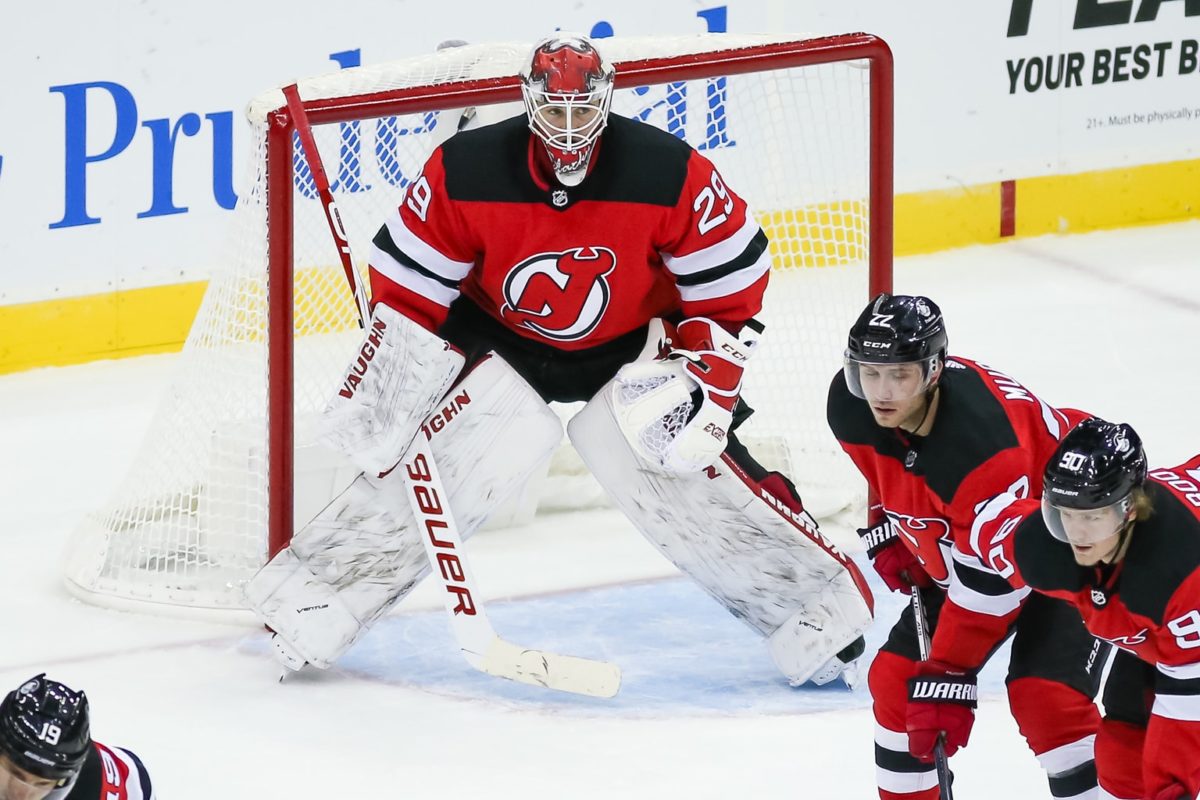 "This season is going to be all over the place with games. It's probably the most hockey any of us will have ever played in that short of a period of time," said 24-year-old Devils netminder Mackenzie Blackwood. "Any time you can get a chance to rest, get a night off and recuperate, it's beneficial."
With so many of their players already spending time on the NHL's covid list, if any of their remaining games are postponed it likely won't because a Devils' player has tested positive for the virus.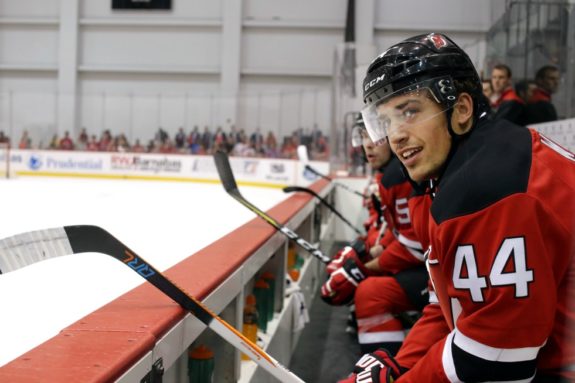 "We have like 46 games in 80 days or something since we came back from that quarantine break. It's unheard of and I'm still trying to learn the ropes on trying to take care of myself on the off days that we do have," said 25-year-old forward Miles Wood, who mentioned recently that he was one of the few Devils not on the covid list – because he had contracted the virus during the off-season. "We're not practicing much, so it's all about rest right now and being prepared for that next game."
With the games now coming fast and furious Wood is right – there has been little time to practice. Even with a mostly healthy (injury-wise) team. Wood left the last game (Feb. 28) after taking a puck in the ear, and a day earlier newly named captain Nico Hischier took a puck in the face. Lindy Ruff and his coaching staff will have to be able to read their team's level of fatigue and know when to schedule a day of practice (on Mondays, Wednesdays, or Fridays) and when not to.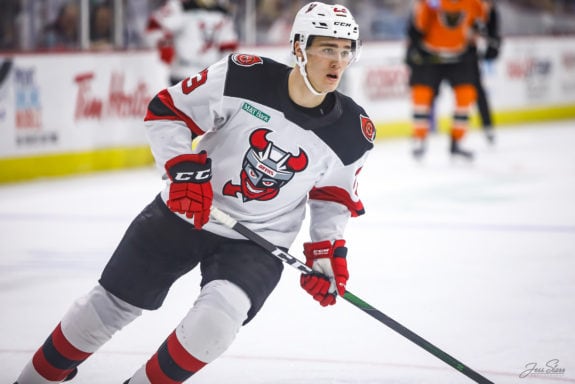 "We're going to continue to use our young guys," replied Ruff when asked about having a variety of options to make lineup decisions to help keep his team fresh. "I like (Janne) Kuokkanen's game, I like (Mikhail) Maltsev's game. We're in a unique situation right now where we're healthy and have all of these extra bodies. All of these guys have been important to our club at the start of this season. They've been important to the wins, played a big role, it's part of the growth."
ZachaMania
Growth is something that we have written about in this very same space a few times this season. This is the year to let the kids play, see if they can play at this level, and evaluate their value to the franchise going forward. 
Related: A New Era of Devils Hockey Begins
Pavel Zacha is only 23-years-old, but it feels like he's been wearing the red and black of the Devils for at least a decade, right? He just played his 283rd NHL game recently and this season is off to the best start of his career. Entering the 18th game of the season on March 2, Zacha is leading New Jersey in points (14) and is tied (with Wood) for the team lead in goals (6) and tied with Yegor Sharangovich for the team lead in game-winning goals (2).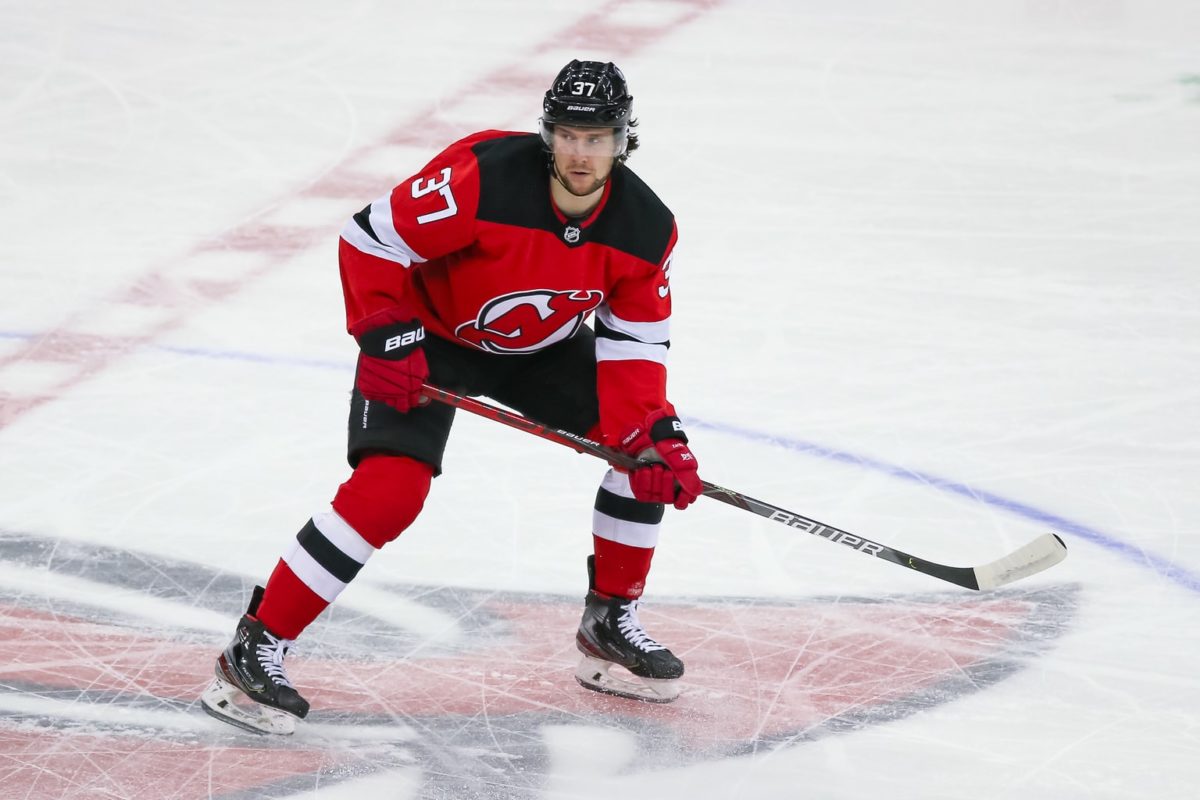 This is the first (mostly) full season for Zacha without the leadership of John Hynes and Ray Shero and it seems (at least so far) that he has responded to the new leadership duo in Newark.
"The system we're playing now – it works for our team," explained Zacha, who carries a 10-game point streak into the Devils' next game. "We're a fast team, we're using that to our advantage, and I think we're playing way more on the puck, creating more chances."
Is his confidence at an all-time high as an NHLer?
"I think you create your own confidence. If you work hard in practice and games – it will be there; even if you don't have points. It's good that I'm getting rewarded, but it's also motivation for me to keep going," he said after his three-point game in Buffalo on Feb. 25.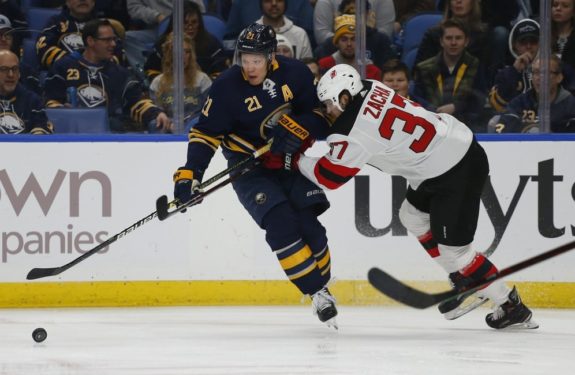 "Pavel realizes there are some areas of his game that he wants to improve. He's working on that part of it," said Ruff. "We know we're a better team when he's skating and playing. He's got an unbelievable shot."
Can he sustain the 18.2 shooting percentage? Probably not. But if his game doesn't completely fall off of a cliff he could be putting together a nice season, and should easily challenge his career-high of 32 points (set last season in 65 games). He's two points away from having half of that total and hasn't played 20 games yet.
Familiar Foes
After a solid start, the Devils have fallen on some hard times, dropping five of six (1-5-0) after beating the mighty mighty Bostonians. 
"We're a pretty young team so we'll make a couple of mistakes, but there is a lot of compete and guys are always trying hard," Blackwood said. So is it easier or harder to play a schedule against the same seven teams for five months straight? According to Blackwood, there's no real distinct advantage.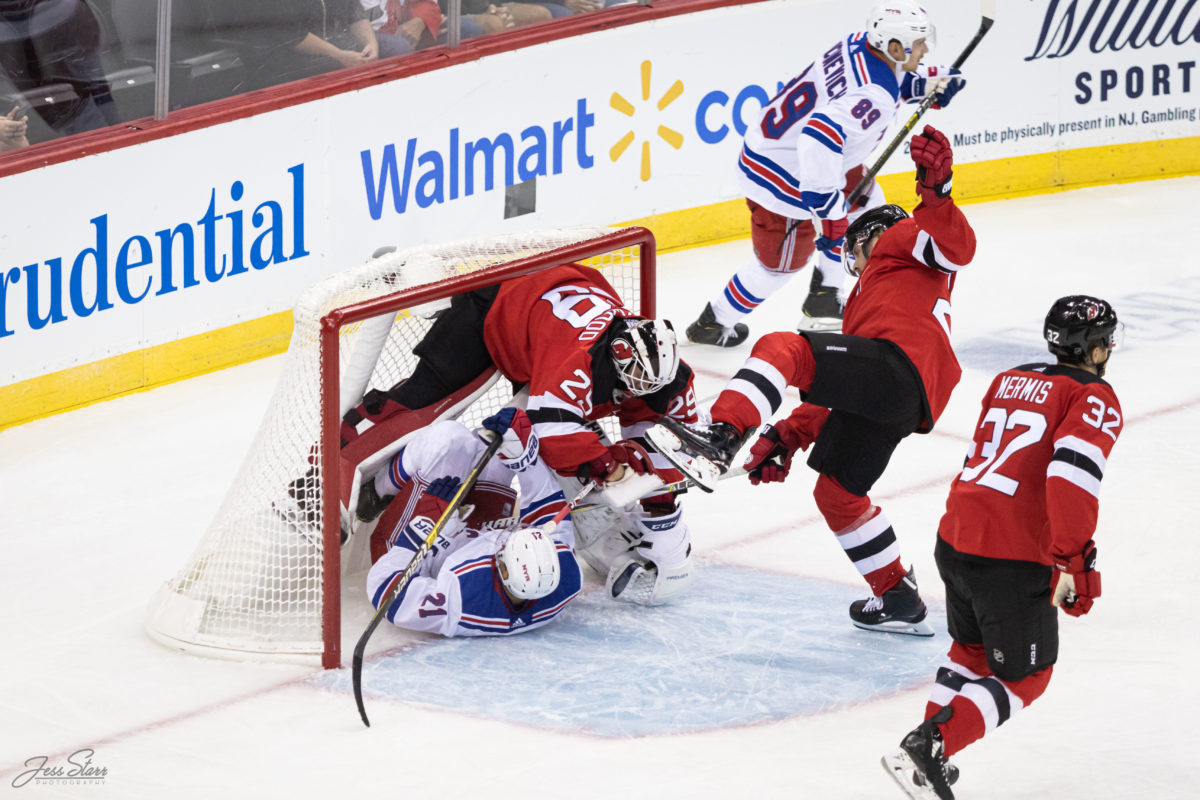 "I don't think it makes your job easier," he replied when asked if playing other teams so frequently in this division-only, 56-game schedule. "You know their tendencies, you know what they're trying to do. But they also know you. They've played you a few times; so it goes both ways."
"It doesn't make it easier, but you know what to expect. You're not surprised when you see plays happen, but I don't think it makes the shots any less challenging if you have seen them before," he added with a laugh.
"Obviously you watch the tendencies, you watch what they do on the power play, who their top players are – but you don't worry too much about who you are playing," Blackwood went on to say. "Every team is good. You have your notes, but you worry about yourself and your own game. Usually, that's what I do. It's worked for me so far!"
Recovery is Key
"I do a lot more cold tubs or cold plunges after games or practices," replied Wood when asked if anything has changed in his routine this season. "It shocks your body, wakes you up. It's something I've read about during training camp, so I do it right before a game to wake the body up, shock the system. I think it's the high 40s, maybe low 50s, but yeah, it's cold."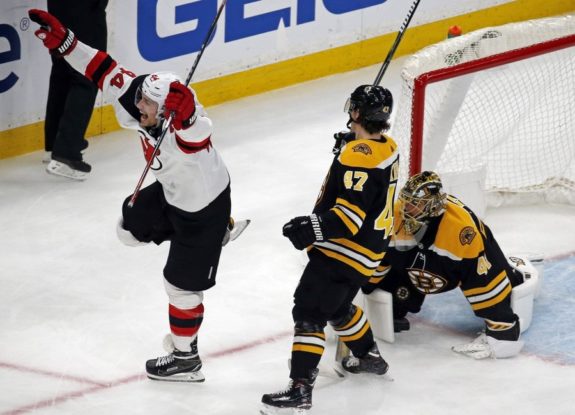 For Blackwood, once he's away from the rink he tries not to think too much about hockey. He even admitted he doesn't watch many games once he's home or in his hotel room on the road.
"I don't really watch a ton of games. We play so much that in my off time I don't really want to be watching more," said the netminder. "Sometimes I watch some highlights here and there but I won't sit down and watch a full game too often."
"One of the things that's different I noticed is that practice this year, we don't get too much of it because we are playing so often. It's hard to work on stuff in practice because you're just trying to be ready to go for the games, save your energy for them."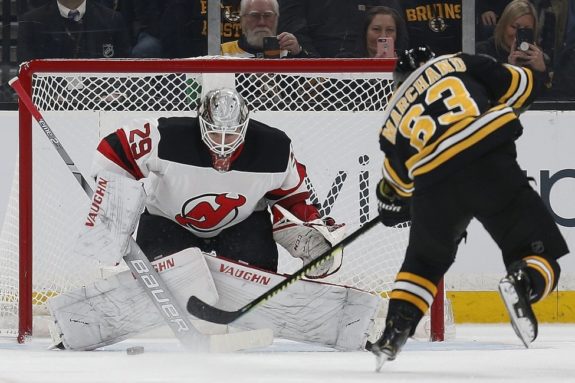 "So far, I've felt pretty good in the games. In years past, you had a lot more time in practice to build things up or to work on." 
It's definitely a challenge for the coaching staff to work on or to tweak things with so few practice days. One thing that has been very noticeable so far through 17 games is that the team has struggled on special teams.
At press time, New Jersey's power play is currently ranked 23rd (16%) and their penalty kill is ranked 31st/dead last (62.3%).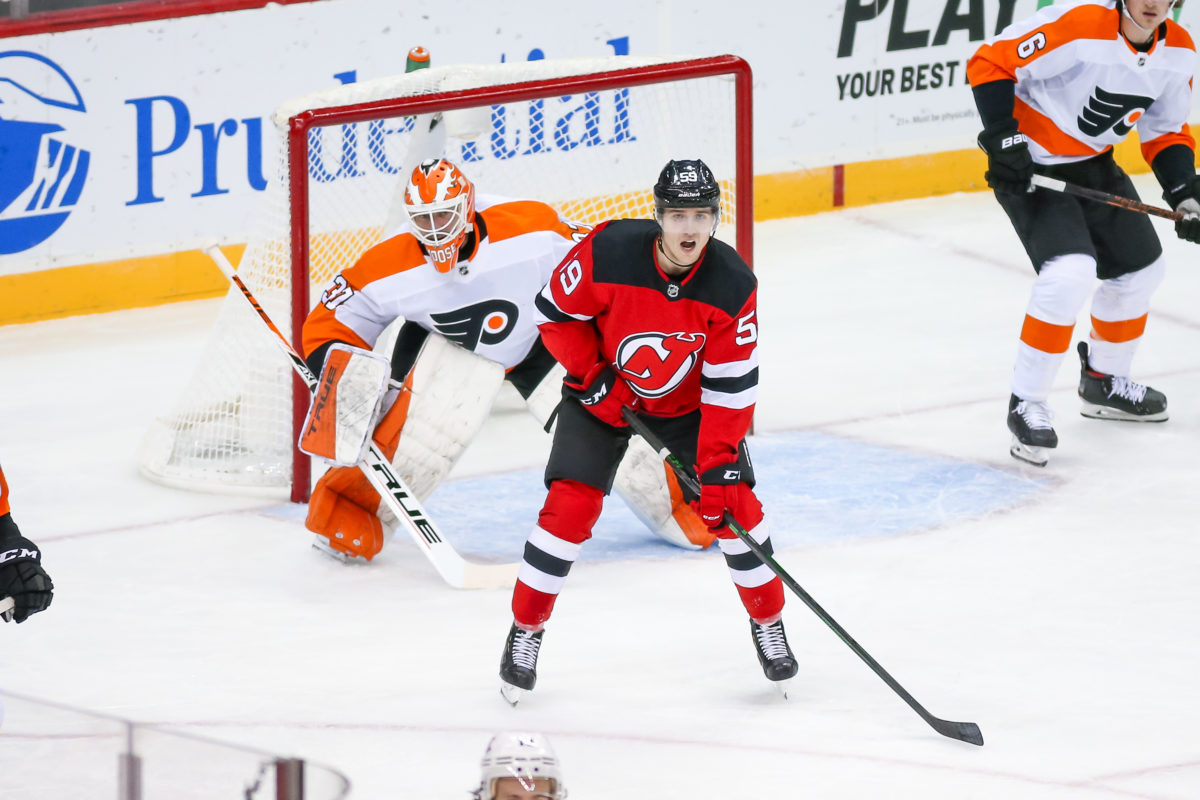 "I thought we got ourselves into a real good place," said Ruff when asked to evaluate his team through 1/4 of the season. "We've played some really good hockey, had some really good wins, and built a foundation around trying to play really strong 5-on-5 hockey to give ourselves a chance to win."
"On the other side of that, we're going to have to be better offensively, we're going to have to have more nights where we are scoring three or four goals. But at the same time, we have to make sure we are doing our job inside our own zone and not giving up the opportunities that will allow the other team to win."
It will be interesting to see how things play out this month. The Devils have four games against the New York Islanders, three against the Boston Bruins, three against the Pittsburgh Penguins, three against the Capitals, two against the New York Rangers, and one each against the Sabres and Philadelphia Flyers. Eight are home games, and nine are on the road – including a six-game road trip to end the month. Buckle up!
---
---
Dan Rice is in his 9th year of reporting for THW & has covered NJ Devils home games for 15+ years at various websites. He began his journey working for legendary broadcaster/writer Stan Fischler from 2002-04 & completed an internship at the ECHL; he also has been writing features for the NWHL (nwhl.zone) website since 2016.