Tonight the New Jersey Devils are back on the ice in a meaningful game for the first time in over ten months. Since that last game, a 5-2 loss to the Pittsburgh Penguins on March 11 at Prudential Center, we've all added words like zoom, bubble, sanitizer, pandemic, masks, and now taxi squad to our daily vocabulary. It's been 310 days, but who's counting?
The Devils didn't add words this off-season, rather adding new players for the 2020-21 NHL season. Defenseman Ryan Murray (Columbus) and forward Andreas Johnsson (Toronto) were added to the roster via trade. Goaltender Scott Wedgewood and defenseman Dmitry Kulikov were signed as free agents, and they even signed old friend Sami Vatanen after trading the defenseman to Carolina at the trade deadline.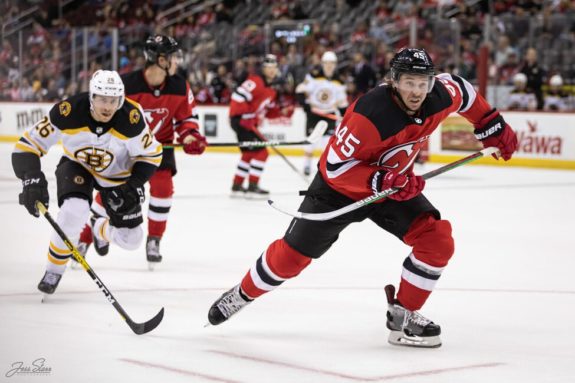 They may not be the favorites in their division, they may not be expected to make it to the Stanley Cup Playoffs, but the Devils will be playing meaningful hockey again and that's something that should be celebrated.
Enjoy the Ride
If there was ever a year to let the homegrown drafted, younger players get some serious minutes, this would be the one. Shortened schedule (56 games), only divisional games, and an organization looking to see exactly what they have in their prospect pool.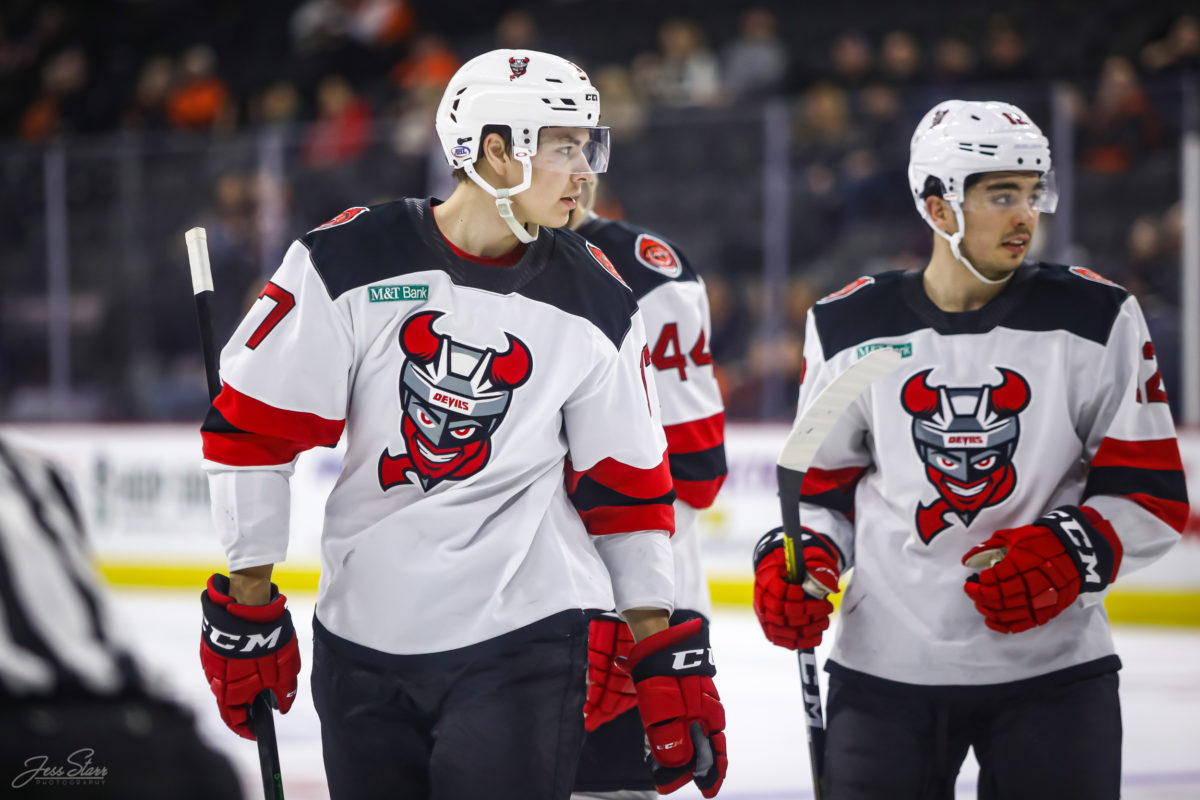 Yes, Jack Hughes and Nico Hischier will get the bulk of the most important minutes; Hischier will once he recovers from his ankle injury. But this is the year to really see what they have in Pavel Zacha (2015, Rd. 1/6th), Michael McLeod (2016, Rd. 1/12th), Ty Smith (2018, Rd.1/17th), Jesper Boqvist (2017, Rd. 2/36th), Nathan Bastian (2016, Rd. 2/41st), Mikhail Maltsev (2016, Rd. 4/102nd), and Yegor Sharangovich (2018, Rd. 5/141st).
Related: Q & A with Devils Prospect Ty Smith
Also, they need to see what they have in top prospects acquired via trade Nick Merkley (Arizona), Janne Kuokkanen (Carolina), and Nolan Foote (Tampa Bay).
This is the year to see if they are NHL-caliber players, to see if they can survive the rigors of playing eight games against talented, top teams like the Flyers, Capitals, Penguins, and Bruins over and over and over again.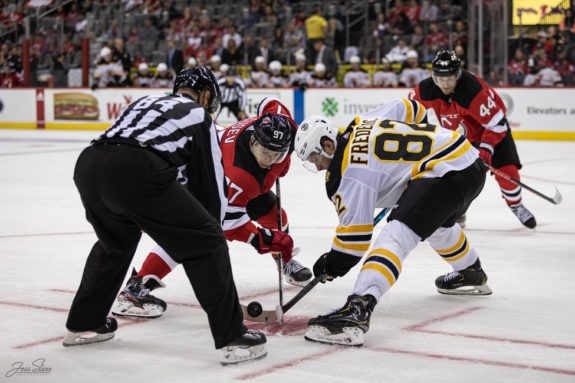 But don't give up on them after five games, or ten games, or even 23 games. Let the season play out. Enjoy the ride. For the last ten months, you've missed your favorite team on the ice and likely took it for granted until the entire sports world shut down due to the pandemic.
Defense Could Be a Mess
To put it frankly, the Devils' defense was bad last season. It started right on opening night and continued all season. That group needs to be better and they need someone to step up and be the main guy. Could it be PK Subban? Unlikely, as he has clearly lost a step and is a shell of who he was when he won the Norris Trophy. The addition of Murray was a savvy move on the cheap (for a 2021 5th round pick), but he's not going to be superman on the blueline.
Smith might get there eventually, but unlikely it happens this season. Butcher and Carrick? (Shakes head vigorously).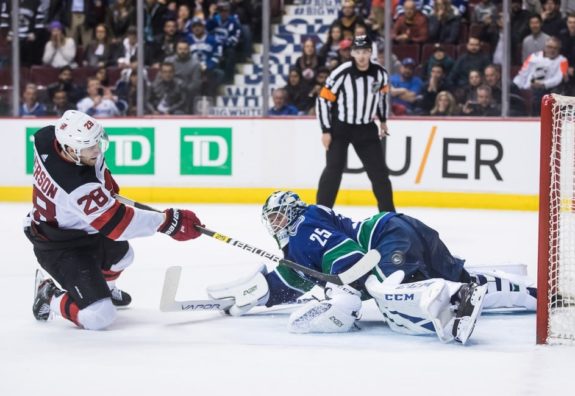 How about Damon Severson? He is entering his seventh full season in New Jersey, and won't turn 27-years-old until August/after this season is completed. This could be the year he has an All-Star caliber season (however you define that). He's been durable, we've all watched him grow up the past six seasons, and maybe new head coach Lindy Ruff can help him unlock and reach his true potential.
Do You Respect Wood?
"I respect wood. I revere wood. I'm considerate of wood," – Larry David.
With the re-addition of Wedgewood, the sudden retirement of Corey Crawford, and the emergence of Mackenzie Blackwood over the past two seasons, it appears as if we will be seeing a lot of 'wood' in the Devils' crease. As we mentioned earlier, if there was ever a season to let the kids play…this would be it. Blackwood hasn't even played in 100 career NHL games yet (he's at 70 before opening night).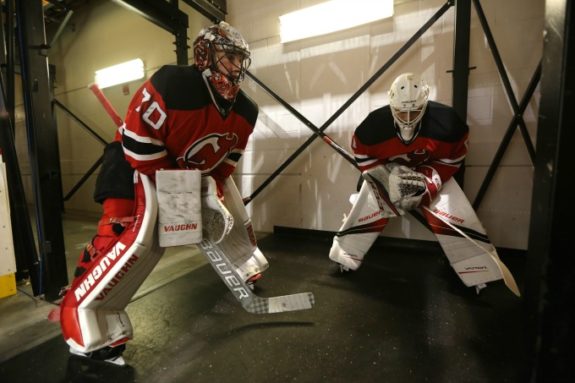 He should hit that 100-game milestone sometime this season barring injuries. Surely the rotation of goalies will be dictated by schedule and success at most points, but if the front office and coaching staff really wants to see if they have a bonafide no. 1 netminder for the foreseeable future – they need to play Miles Wood in goal! Kidding, of course.
Let Blackwood carry this team in this unusual season that will have limited travel. See what he can do without the safety net of Cory Schneider or Crawford behind him to take over if he falters.
Expectations
Don't have any; with no expectations, you can't be disappointed. Enjoy it. Don't take things for granted. There will likely be games postponed. Players will be held out due to an abundance of caution. If we've learned anything since March it's that things can change quickly. 
Devils hockey is back. You missed the goals, the saves, the agony of defeat, the exhilaration of an overtime goal. You missed Kyle Palmieri's beard and Hischier's boyish charm. You missed Blackwood doing the splits and making a glove save, and Wood skating a million miles an hour and crashing into the boards. You've missed Travis Zajac (nine games from 1,000) being the good soldier in the Devils Army (entering his 15th season as a member), and shouting 'Goooooooooose' when Nikita Gusev clowns an opponent and lives up to all the hype.
Enjoy it all, look out for one another, and stay safe out there so we can all be together again at an arena near you sometime soon.