For the first time since 2011 (Adam Larsson) the New Jersey Devils selected a defenseman with their first-round pick when they nabbed Ty Smith with the 17th overall pick at the 2018 NHL Draft. Most pre-draft rankings, including our own Ryan Pike, had him ranked somewhere between 9th and 13th and the Devils were more than happy to select the 18-year-old Albertan when he fell into their laps. With an immediate need for help on the blue line, it was a no-brainer to draft a player whose point total jumped by 41 points from 2017 to 2018.
With young defensemen like Will Butcher, Steven Santini, Damon Severson, Mirco Mueller, Colby Sissons, and Jeremy Davies already in the organization, Smith will have his work cut out for him to climb the depth chart, but would it be really shocking if he made the NHL club out of training camp this September if he showed the skill and smarts he flashed during the Devils Development Camp?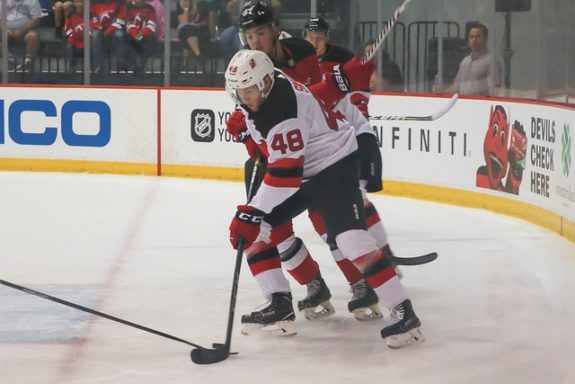 Like any player, that's his goal and he put on quite the show during the two days of the annual camp that was open to the public. His team won the mid-week 3-on-3 tournament and then he followed that up with a hat-trick in the Red-White scrimmage to close camp out.
Following the scrimmage, The Hockey Writers caught up with Ty Smith for an exclusive chat to find out why his production jumped so dramatically this past season in the WHL and if his head has stopped spinning since Draft Day in Dallas, who some of his favorite players are, and much more.
Super Smith
The Hockey Writers: This is your first time at a professional camp. What's this week been like for you?
Ty Smith: It's been awesome. Finally getting to come to New Jersey and see the arena, it's beautiful. Meeting all of the guys and all of the staff has been great too. Everyone has treated me great this week and I've learned a few things too.
THW: Has your life been a little bit of a whirlwind for you from draft day until today, the final day of this Development Camp?
TS: Yeah, for sure. After the draft, I had a couple of weeks where I was able to skate a little bit and do some training. Then I came here to New Jersey for this camp, so it's all gone pretty fast, yeah.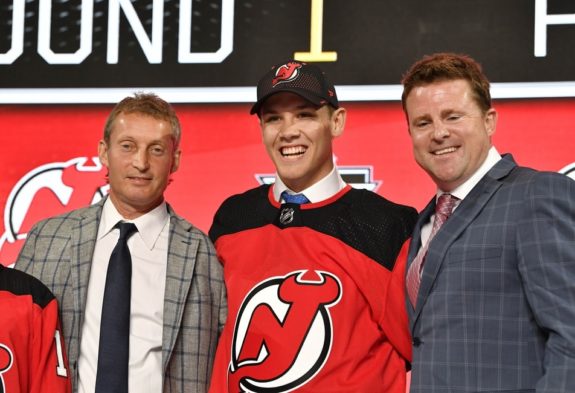 THW: The Devils have had a lot of great defensemen over their history. Do you look at that as high standards for you to live up to, or do you like that kind of pressure?
TS: I like that. I think it's cool, it means that they're a good organization and they obviously treat their players awesome. I'm pretty thankful that I ended up in New Jersey. 
Taking the Next Step
THW: What are some things that stick out for you about your NHL Draft experience? Were you surprised your name wasn't called earlier than it was? Or are you just happy to be in the league no matter what team it is?
TS: I was just trying to enjoy the whole experience with my family and all of the people that helped me get to this point so far. The draft is the first step and getting selected by New Jersey was awesome; now after this camp, my goal is to make the team.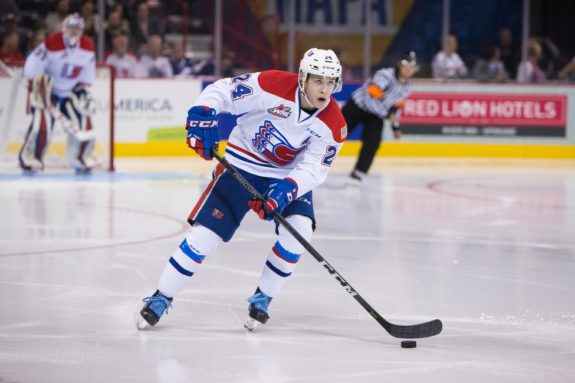 THW: Your point total jumped up significantly from one season to the next with Spokane (32 points to 73 points). What do you think was the biggest change for you?
TS: I think just another year in the league, a little more experience and we had a better team too, that always helps. We were a little better this year – we were last in our division last year and third in our division this year. Obviously, team success leads to individual success, those things go hand-in-hand. I was thankful I was able to play on a better team this year.
THW: Do you know any of the players here or are you just familiar with them from playing against them in the WHL and at tournaments?
TS: Yeah it's good to meet some of the guys that I've been playing against and heard about growing up. It's been an exciting week in that aspect.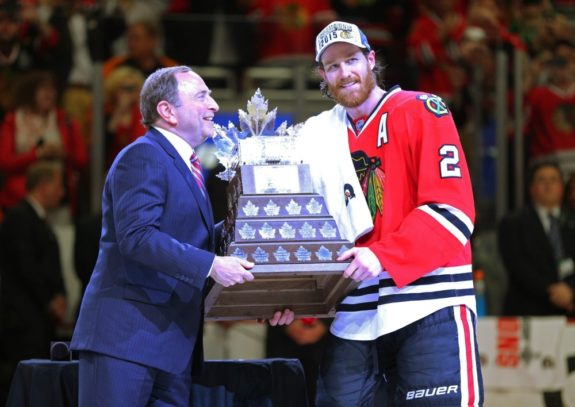 THW: Who was your favorite defenseman or player growing up?
TS: Growing up it was probably Duncan Keith but now I just watch games, watch teams and watch all of the good defensemen who are good two-way defenders. Guys who have some offense in their game and I just try to learn little pieces from each guy's game and bring it into my own game.
THW: Are you a student of the game like that where you watch a lot of video and other games when you can?
TS: Yeah, I love to do that stuff. Just watching other games, watching myself and going over my games to see what things I can improve on and what things I did well. 
THW: Your team wins the 3-on-3 scrimmage tournament earlier in the week. Today your team wins again and oh by the way you had a hat trick. So this is all super easy for you, right?
TS: No I wouldn't say it's easy (laughs). Both days we won, but like I mentioned before team success goes with individual hand-and-hand. I was fortunate to be on the winning team both times.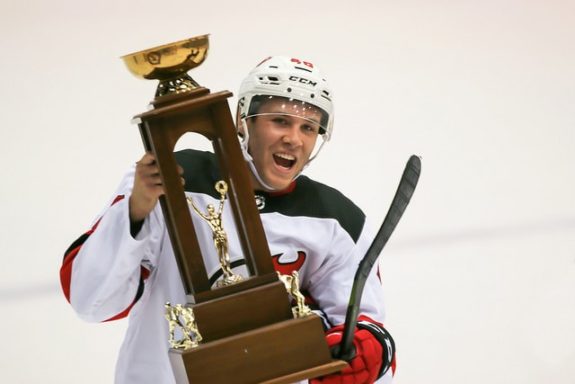 Captain Canada
THW: You've represented Canada a few times before, and you've been a captain too. That has to be quite the honor for you?
TS: Yeah that was amazing. The first time I was playing midget hockey still, it was the Youth Olympics U-16s and I was the captain for that. That was my first event and it was pretty special. U-17s I was a captain there as well, there are only three teams for the country so that was a big honor as well. At the under-18 World Championships in April I was the captain there too as well. It's always a great honor and Canada has a great program with lots of good players who are great leaders. To be selected to be one of the leaders of a team is pretty special to me.
THW: Would you rather score a goal or get an assist?
TS: I don't know (smiles), probably score a goal because I mostly get all assists, so when you can score one it's pretty cool.