As a defenseman at Northeastern University Jeremy Davies' game has taken some big strides since he started attending the school in 2016. The New Jersey Devils selected him in the 7th Round at the 2016 NHL Draft following a career in the USHL that saw him rack up 69 points (16g-53a) over 103 games. As a kid from Montreal he could have opted to play junior hockey in Canada, but instead, he chose to go the collegiate route.
This past July Davies attended his second Devils Development Camp after a stellar season with the Northeastern Huskies – his 35 points were tied for fifth in the country among all defensemen, and the most by an NU defender in almost twenty years! But ask anyone who's seen him play and they'll tell you he's more than just an offensive threat, he contributes just as much on the defensive side of the puck – 103 blocked shots over his first two seasons with the Huskies while scoring the most points by a blueliner in over 15 seasons.
A few days into the Devils' annual summer camp for prospects The Hockey Writers caught up with Davies to talk about why he chose the college route, his hockey playing sister Emily, getting confused for an actor with the same name and a few other topics.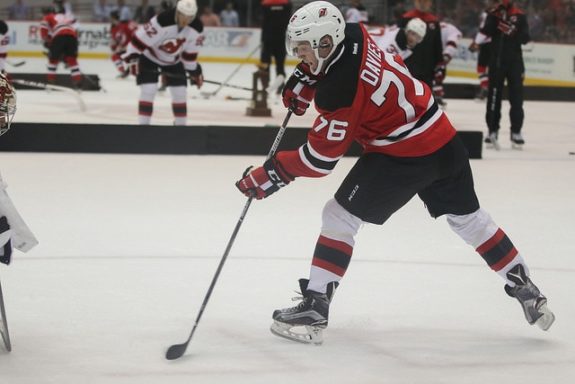 The Hockey Writers: How are things going for you a few days into this camp?
Jeremy Davies: It's been great, last year I didn't really know anyone so being a second-year guy it's a lot more fun when you get to mingle and chat with the guys and hang out with everyone. You know everyone a little better, so it makes this that much more fun.
THW: What are your impressions of these 3-on-3, half-ice games during Development Camp?
JD: They're pretty fast and there's a lot of ice-time out there. I don't know about other guys but I was getting tired pretty fast (smiles). It's pretty competitive, and with so the fans coming out (to see us play) it makes it that much more competitive, that much more fun to play in.
Always a fun time in Jersey. Cant wait to be back next year @NJDevils pic.twitter.com/Mz4CxhofWH

— مشرف الرقعي (@JDavies_4) July 16, 2018
THW: What are some of your draft day memories?
JD: It was an awesome day. I wasn't at the draft but I was following it and when I saw my name pop up there I was really excited. It's been a helluva ride so far and this Development Camp is a week that I definitely have circled on my calendar. It's great, a lot of fun, and you can learn a lot.
THW: Were the Devils a team that had spoken to you prior to the NHL Draft?
JD: No, not at all. I had spoken with a couple of other teams so I was following who they were picking and the Devils came out of nowhere and drafted me. I was really excited.
THW: Your sister Emily also plays hockey, also on defense. Who's a better player, you or her?
JD: She's really good, but I think I'm a little better (grins). She's a really good player.
THW: Maybe one day you'll both be playing home games in Newark, you with the Devils, and her with the Riveters?
JD: Yeah that'd be fun.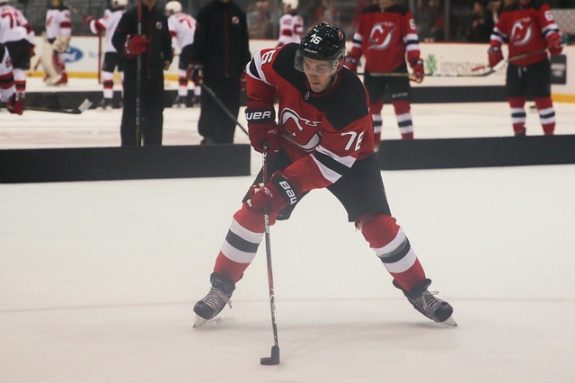 THW: Last season at NU you had the most points by a defenseman since 2001-02 (Jim Fahey). What does that mean to you?
JD: We had a really good team, so a lot of credit goes to my teammates. It was a really fun year, a really successful year for the team and myself. It was a lot of fun winning the Beanpot and going pretty far into the playoffs.
THW: For those who haven't seen you play at NU, what would you say are your strongest attributes?
JD: Probably my first pass. My skating. Getting the puck out of our zone with that first pass up to the forwards.
The #HowlinHuskies are very excited to announce our leadership corps for 2018-19!

C: Eric Williams
A: Jeremy Davies
A: John Picking
A: Ryan Shea

🔖: https://t.co/uUwxU63H3W pic.twitter.com/wkreoSko3U

— Northeastern Men's Hockey (@GoNUmhockey) May 29, 2018
THW: Next season you'll be an alternate captain at NU. How big of an honor is that for you?
JD: It really means a lot to me. Northeastern is a pretty historic school, a historic hockey program. To be one of the leaders of a great group of guys – it means the world to me and I'm excited to see what we can do next season.
THW: Who was your favorite player growing up?
JD: Definitely Andrei Markov was a great player for the Montreal Canadiens, my hometown team. I like to watch the college guys in the league now like Shayne Gostisbehere, Will Butcher, and Torey Krug. Guys who are smaller-sized defensemen, but guys who are dynamic and can move the puck out there.
THW: Why did you choose the college route over junior hockey?
JD: They were both an option but when it came down to it being able to go to school and play hockey at the same time at the highest level…at a school like Northeastern…The location, the Beanpot, the coaches – everything put together, it was a no-brainer for me and my family.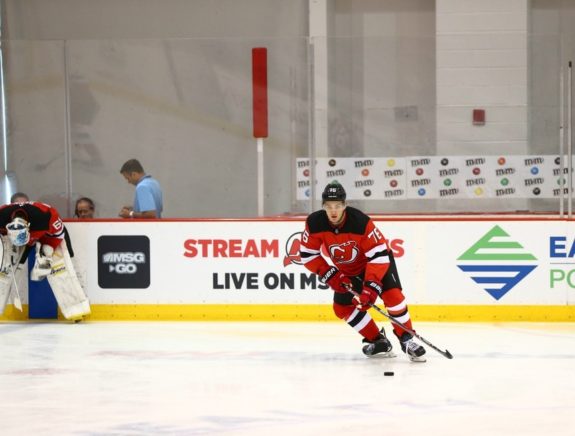 THW: Would you rather score a goal or assist on a goal?
JD: Either or. Probably score a goal because I don't score them too often. 
THW: There are a lot of talented players at NU that you've played with (Dylan Sikura, Adam Gaudette), how do you think that has helped your development?
JD: People say your best players are your hardest workers and that's true on our team. Our top line, our top three guys – they're the first ones on the ice and the last ones off. They really put in the work; I've seen them go to the NHL and obviously I want to do the same thing. Those are some things that I try to put into my game.
THW: What's it like living life in 2018 with the same name as an actor (Saving Private Ryan, LOST)?
JD: Yeah (laughs)! Oh yeah, I'll get tagged in some social media posts that have nothing to do with me.