After this upcoming season could we see Mackenzie Blackwood make his NHL debut as the backup to Cory Schneider in 2018-19? Very possibly, if everything goes well; but first things first. Blackwood is about to enter his second full season as a pro in the New Jersey Devils organization and he doesn't turn 21-years-old until December, so he still has room to grow his game before he will be counted upon to tend goal at the NHL level.
Having said that, last season he took a huge step forward in adjusting to the style of play in the pro game as compared to junior hockey and that really showed as he excelled in net for the Albany Devils in helping the team clinch their second consecutive playoff appearance before bowing out in a low-scoring series against the Toronto Marlies.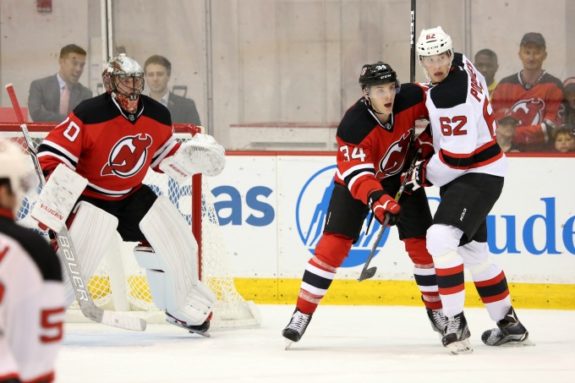 In 36 games Blackwood was 17-14-3 with three shutouts, a .907 save percentage and a 2.55 GAA for Albany and he is expected to be the main man in net when the Devils' AHL affiliate begins the season in their new home of Binghamton in early October. In the playoffs the 42nd overall pick in the 2015 NHL Draft was outstanding in three of the four games, including the triple-overtime game they were eliminated in — he surrendered only nine goals in the series and his only win was a shutout.
As he explains a little bit below in our Q & A with him during the 2017 New Jersey Devils Development Camp, it was a great season of learning for him, and a great show of confidence in him from the coaching staff as they handed Blackwood the keys to the crease down the stretch and throughout the playoffs. Two years ago at one of these camps, we interviewed the Devils' goaltending prospect and the difference in him from then to now is quite impressive from his play on the ice to his confidence talking with reporters about his game and team.
#NJDevils prospect Mackenzie Blackwood was very impressive in limited work tonight. 17 efficient saves. Little to no rebounds allowed. Sharp pic.twitter.com/bbHERCxJry

— Dan Rice (@DRdiabloTHW) April 16, 2017
The Hockey Writers: You've been to a few of these camps before, what's different about this one? Do you have more confidence this time around?
Mackenzie Blackwood: Yeah, every time you come here you have a little more confidence, you're a little more comfortable because you know what's going to happen. You come in (now) as one of the older guys at the Development Camp here and it definitely changes your perspective a little bit. My first year I came in and I was nervous, didn't know what to expect. Now you just take it all in stride, it's just another Development Camp for you.
THW: You just mentioned that you're one of the older guys, so have you been helping some of the younger players that have come in here for the first time as Devils' draft picks?
MB: Any time any other player needs a hand or wants to learn something, everybody feeds off of each other. (Evan) Cormier, (Gilles) Senn, (Ken) Appleby, and myself – we all need to see what each other is good at and take it, incorporate it into our own game any chance we can. The best way to learn is from watching other people do things that they are better at than you.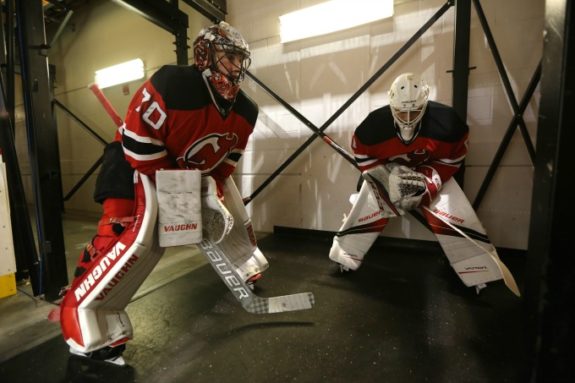 THW: You went through your first pro season last year where you started off a little slow and then really picked it up towards the end. Can you tell the fans what last season was like for you?
MB: Last season overall was a good year (for me). The start, like you said, was a lot of growing pains and some major adjustments for me going from juniors to pro. But I think after Christmas I handled it pretty well, settled in and then I just started to take everything in stride. Last year was definitely huge; the level of play is a big adjustment. There are lots of better players: skill, speed, strength. I mean — you're playing against men, not boys so it's definitely difficult to adjust to. But once I did I kind of just took the ball and ran with it there.
THW: Your coach gave you the ball in the playoffs and you ran with it there too. Obviously, it was a really tough ending, but are you happy overall with the way you played? You didn't really give up a lot of goals.
MB: Yeah, there was that one game there (Game 2) that I struggled but the other three were really good games and I was pretty happy with that overall. The playoffs, for me, it was a good experience, I had a good run there; I'm happy with it but obviously, I just want to build off that for next year.
THW: The last game goes three overtimes and your team gets eliminated; that has to be one of the toughest feelings for a goalie doesn't it?
MB: I can't really remember how many (saves) it was but let's say ballpark it was 60. It's tough. Third overtime, you have to give everything you can in an elimination game and not leave anything out that you would regret over the summer. Everyone just played their heart out and it's just one of those unfortunate bounces that were bound to happen for one of the teams. I can't be too mad about it now because it's over with. But it's definitely good to take that and use it as a learning experience for next year.
THW: Have they talked to you about what the plan is for next season with yourself, Appleby and (Scott) Wedgewood in the mix to play in Binghamton next season?
MB: I don't really know too much about what's going to happen with that; I'm just going to come to camp (in September) and that stuff will all sort itself out.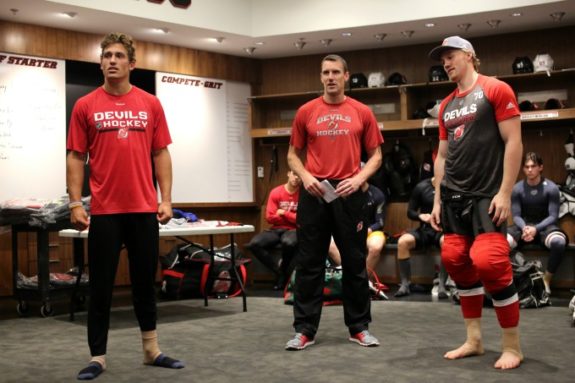 THW: How much of an influence has coach Scott Clemmensen been on you and your progression since you joined the Devils organization?
MB: Scotty's been huge for me there, he helped me fix my game in Albany from the start of the year to the end. He was really patient working with me and definitely helped me get my game to where it ended off there at the end of the season. He's going to be huge for me here moving forward as someone I can really rely on to take my game where I need it to be.
THW: These 3-on-3 games at this camp seem like they are pretty unfair for the goalies, would you agree?
MB: Ha ha, I mean they're definitely not suited for goalies, ha ha; I mean they're not formatted for us to have the best success. But it's all for fun, so you just try to do the best job you can (laughs) but you don't even have a crease; The net's in the middle of the white ice (smiles) you have no idea where you are. But it's all just about battling and having some fun out there, so you can't get too frustrated with that.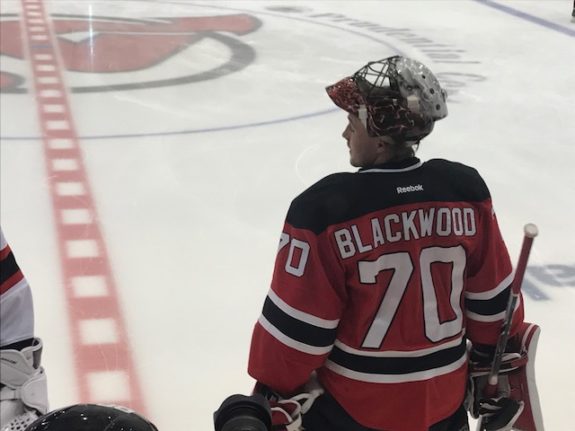 THW: You all have a lot of fun off the ice here at these camps, what's something that sticks out in your memory?
MB: This year so far we only did the cooking class. In other years we did some go-karting, a boat cruise, a New York Yankees game…so there's some pretty cool stuff there. It's nice to have some fun with the guys after the work is all done.