In hockey, the best offense is a good defense, as the saying goes. A reliable team defense will lead to greater opportunities up the ice. Moreover, talented defenders are capable of creating scoring chances. After dismal scoring success in 2016-17, the New Jersey Devils are among the first teams to see the truth in the adage.
The Devils finished 27th in goal scoring last season despite icing a strong forward corps. Taylor Hall is one of the top players at left wing and Kyle Palmieri continues to push the envelope on the right. The supporting crew ranged from difference-maker to deployable. The forwards contributed on offense and defense but were unable to shoulder the load.
It All Comes Back to the Defense
The onus of the team's shortcomings should fall in large part on the defense. Some of the blue-liners produced in the offensive zone – like Damon Severson and John Moore – but were totally ineffective at the other end. On the flip side, Andy Greene and Ben Lovejoy adequately performed as a stay-at-home d-man though they struggled to muster any offensive production.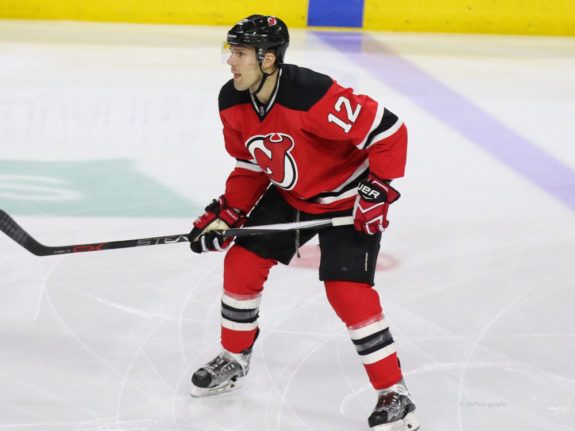 Others – including Dalton Prout, Steve Santini, and Mirco Mueller – have only recently arrived in New Jersey and have not yet carved out a niche. As Jesse Kinney predicts, Mueller and Santini could have bigger roles in New Jersey this upcoming season.
The Devils ultimately need a Swiss Army Knife on defense and Mirco Mueller (no pun intended), the team's lone offseason acquisition, will not suffice. The Devils lost out on the Kevin Shattenkirk sweepstakes. The team needs to make a splash but it won't come cheap; all the top free agents are signed and any worthwhile trade target comes with a hefty price tag.
No player on the roster nor in the system projects to be a do-it-all talent. There is no Erik Karlsson or Victor Hedman or even Adam Larsson in the Devils organization. In today's NHL, it is absolutely necessary to have a player of that calibre to make noise in the playoffs.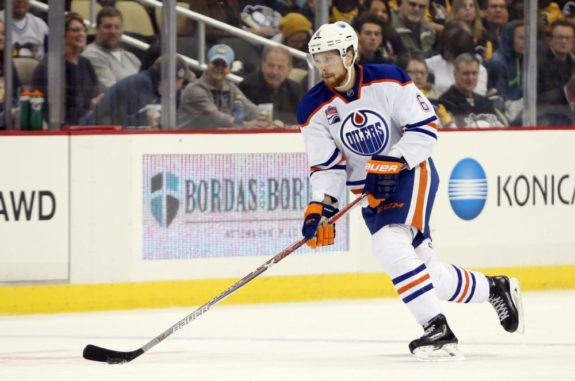 No team can make noise in the playoffs without a top defenseman capable of eating big minutes and chipping in some points. Each of last year's playoff teams had a top-30 defender on their roster. Just look at the following list: Kris Letang (in addition to Olli Maatta), Roman Josi, Mark Giordano, Hampus Lindholm, Duncan Keith, Ryan Suter, Alex Pietrangelo, Adam Larsson, Brent Burns, Erik Karlsson, Ryan McDonagh, Shea Weber, John Carlson, Morgan Reilly and Seth Jones.
The least established member of the above group is Larsson, who is a former Devil and was the organization's best defensive prospect since Scott Niedermayer. That should say something about the Devils' current need for a bona fide top pairing defenseman.
Benefits of a Star Defender
A star defender would help the Devils in more ways than one. First, it would reduce the amount of time that the team's lesser defenders have to face off against top opponents. Essentially, adding a great blue-liner would push all the others down one pairing. Andy Greene no longer looks out of place as a top-2 defender; instead, he's seeing just 18-20 minutes per night on the second pairing.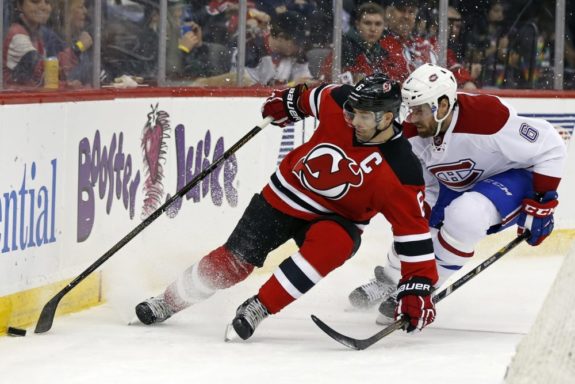 Second, bringing in a new number one defenseman would aid both defensive and offensive play. This will happen regardless of the style of play of a new addition. If he lives in his own zone like Marc-Edouard Vlasic, the Devils will be able to suppress chances in the defensive zone, leading to more breakouts. Conversely, if he prefers to shoot first, then his teammates will pick up the slack by filling in at the other end.
Finally, adding a top defender would signal to the team's stars that the Devils are looking to compete. The Coyotes' acquisition of Niklas Hjalmarsson, for example, was a clear sign that GM John Chayka wants to sniff the playoffs in 2017-18. The same can be said about the Flames and Travis Hamonic.
No matter what Shero tells his players, actions speak louder than words. Cory Schneider wants to start for a playoff contender now that he's on the wrong side of 30. Meanwhile, Taylor Hall is still looking for his first playoff experience after seven straight years with an extended offseason.
Hynes isn't Helping
Maybe the team's defensive shortcomings should fall on coaching. Fans chided Pete DeBoer when he was at the helm in New Jersey for his supposed inability to develop young defenseman. However, it was under DeBoer that fans saw the best of Jon Merrill, Eric Gelinas, and Damon Severson. DeBoer's lone failure, as the story goes, was Adam Larsson, but even that success is not attributable to John Hynes. His career blossoming took place under the Devils' 2015 coaching triumvirate of Lou Lamoriello, Adam Oates, and Scott Stevens that coached him up, not under John Hynes' tutelage.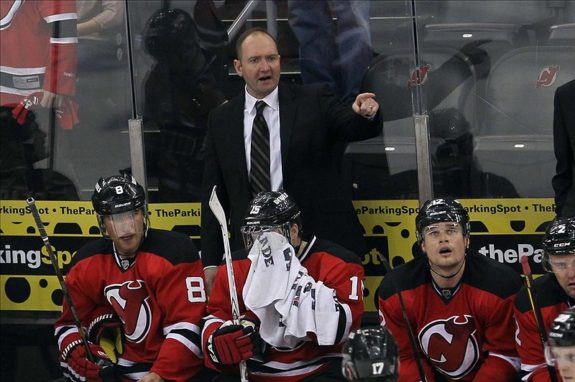 Has Hynes really done anything to prove that the same defensive system that earned him praises in the AHL can translate to the NHL? It does not seem that way after two seasons in charge. Time will tell if he can pull it together with the current crew. If he can't, the Devils could miss the playoffs for another year.