Ryan Murray has accomplished a lot for a hockey player of his age. He was selected second overall in the 2012 NHL Draft, has played 220 regular season NHL games, and suited up for Team North America in the 2016 World Cup of Hockey. But despite all that, it's hard to say what the Columbus Blue Jackets truly have in their 23-year-old defenseman.
Murray is set to become a restricted free agent after the 2017-18 season, and the need for a new contract alone can provide plenty of motivation. Still, if he wants to play a significant role for the Blue Jackets in the future, Murray will likely need to do more over the next year than simply sign a new deal. Our team of Blue Jackets writers discussed this in our May roundtable, but let's go a little bit deeper into what makes this such a big year for the young defenseman.
Staying on the Ice
Perhaps the biggest issue that has affected Murray's young career is his health. Outside of playing all 82 games in 2015-16, he has missed playing time due to injuries in three of his first four NHL seasons, playing 66, 12 and 60 games, respectively, in those three campaigns. An injury also caused Murray to miss a large chunk of his final junior season with WHL Everett.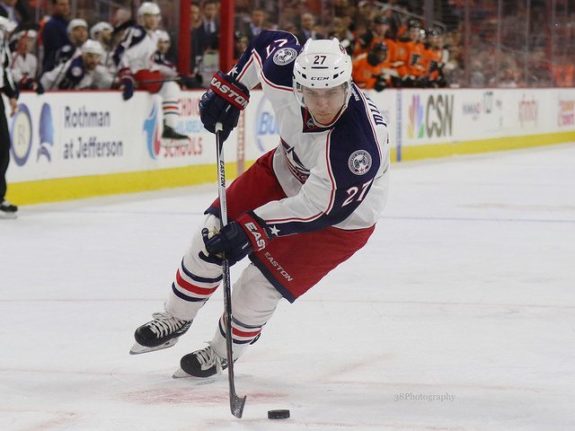 It's not really fair to blame Murray for these issues, especially considering the variety of injuries he has sustained. That list includes an incident this past season when he broke his hand after blocking a shot, causing him to miss the end of the regular season and the playoffs.
It's hard to evaluate a player who isn't on the ice, and if Murray is to earn and play a significant role for Columbus, he'll need to stay healthy. Of course, that's easier said than done, but some good fortune on the injury front would be a big help in the upcoming season.
A Crowded Blue Line
The Blue Jackets' defense is deeper and more talented than it's ever been. That's a good thing, obviously, and Murray is part of it. However, that depth and strength are also reasons why 2017-18 can be a make-or-break campaign for him.
Last season, Murray was a third-pair defenseman. As I discussed in the aforementioned roundtable, to me this wasn't because he "belonged" on the third pair, but because the play of top-four defenders Seth Jones, Zach Werenski, David Savard and Jack Johnson made it impossible to warrant Murray playing anywhere else. Jones and Werenski are both younger than Murray and seem poised to be the Blue Jackets' top defenders for years to come, while Johnson and Savard thrived as a tandem last season.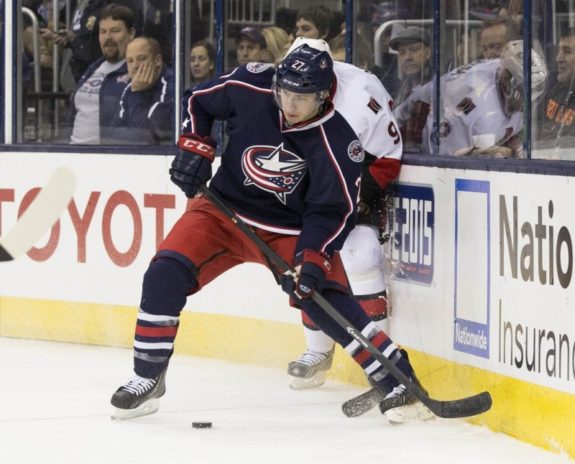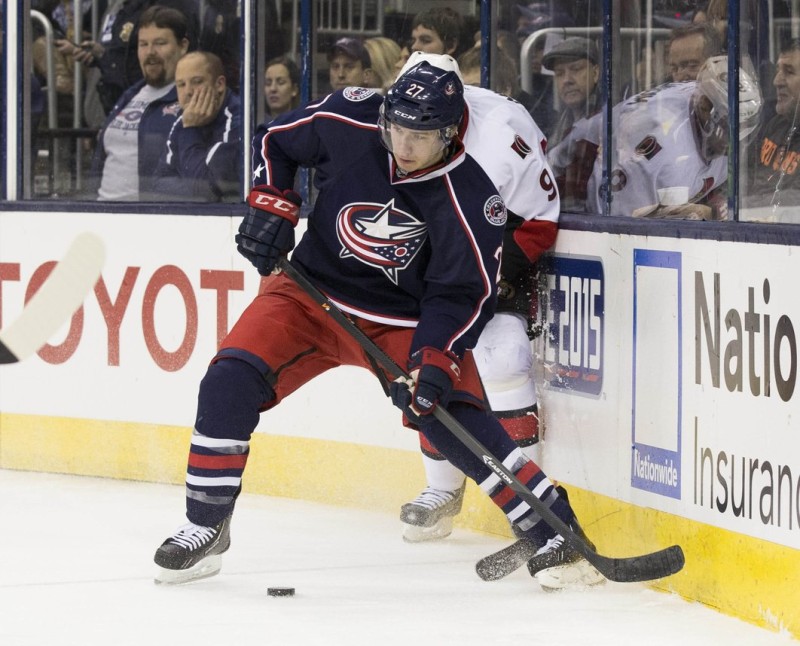 Murray, on the other hand, went from averaging a career-high 22:50 of ice time per game in 2015-16 to skating a career-low 18:19 per contest. He was consistently used on the penalty kill, ranking fourth on the team in shorthanded ice time, and it's safe to say he could have helped the Blue Jackets in the playoffs against the quick and talented Penguin offense. Still, he was a third-pair defender.
While it's up to Murray to show he deserves to move up the Columbus depth chart, he has company from more young defenders looking to do the same thing. Markus Nutivaara made a major impression last preseason and earned a spot in the team's opening night lineup, while 20-year-old Gabriel Carlsson made his NHL debut late last season before playing in all five games of the Blue Jackets' playoff series. Murray is an NHL veteran compared to Nutivaara and Carlsson, and as such will likely continue to carry a higher salary to remain on the Columbus roster, so he needs to prove that he's worth keeping in that scenario.
Murray on the Move?
At the end of the day, this entire discussion of how important the upcoming season is to Murray's role with the Blue Jackets has a huge asterisk next to it because there's a chance he could be moved to another team. Rumors swirled earlier this offseason involving the Blue Jackets pursuing a trade to acquire Matt Duchene from the Avalanche. It's been suggested that Murray could have been one of the pieces headed out of Columbus in that theoretical deal.
So what's the price for Duchene? Have to assume #CBJ D Ryan Murray is part of it. He needs a bigger role than #CBJ can provide w top 4.

— Aaron Portzline (@Aportzline) July 1, 2017
Of course, as of this writing, Duchene is still with the Avalanche and Murray is a Blue Jacket. All things considered, though, it makes sense that Murray would be both targeted and offered in a potential major trade. After all, you can't get a good player for nothing, so if Columbus is to add a talent like Duchene, the Jackets will have to give up a valuable asset or two.
As a young defenseman who still has considerable potential, Murray fits that bill. And considering his aforementioned spot on the depth chart, there's a chance that the return for trading Murray may be more valuable than the role available to him in Columbus.
This, again, is why the upcoming season will likely have a major impact on Murray's future. If he takes a leap forward he could prove he deserves a larger role in Columbus and earn a new contract. After all, Johnson and Nutivaara also need new deals after the upcoming season, and there's no telling what will happen in 2017-18. Maybe Murray has a breakout season and suddenly becomes a higher priority for management to re-sign than those other defensemen.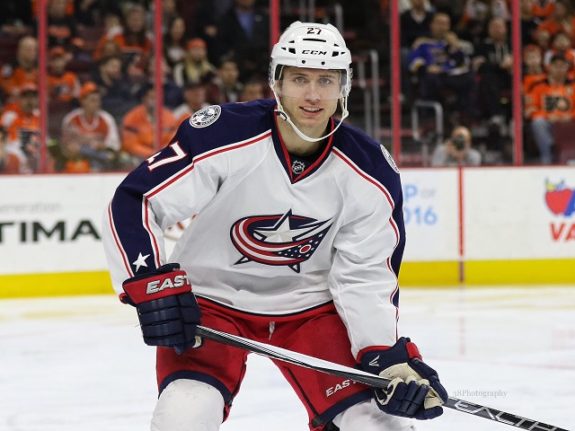 Improved play would also increase Murray's trade value. If this should happen but he still can't crack the top four, it would make sense for the Blue Jackets to look to trade him in order to strengthen a different part of their lineup, whether that happens during the season or in the offseason.
At this point, I don't think it's fair to say Murray's days in Columbus numbered. He shouldn't simply be cast aside considering he still has the potential to become a key player for the Blue Jackets. Still, the 2017-18 season will play a crucial role in determining his place in or out of the organization.
Jeff is a college hockey and Columbus Blue Jackets contributor for The Hockey Writers. He is a former TV sports reporter who has covered, broadcasted, coached and played hockey at various levels. You can follow him on Twitter @jeff_schaffer13