As has been the case for the last few years, there is a clear scoring problem affecting the New Jersey Devils. The team is 27th in the NHL in goals scored per game with 2.25. The team's defense, unlike previous years, has also struggled its way to 24th in the league with a 2.94 goals against per games played (GA/GP). Most of the troubles can be credited to roster construction issues, but the Devils have little flexibility.
To start using other talent, the Devils must trade players away or bring up their young guns from Albany. Unfortunately, trading is only an option if another party shows interest. Similarly, moving players between New Jersey and Albany is not a plausible option either because of waivers. General managers do not usually send talented players through waivers and Ray Shero is likely to follow that tactic.
With that, the most immediate and robust change that management can make is a change to the lines. The forward corps has some great contributors but also several liabilities. The defense has seen better days. But if John Hynes can harness players' strengths and use them to cover others' weaknesses, then the Devils may return to winning ways soon enough.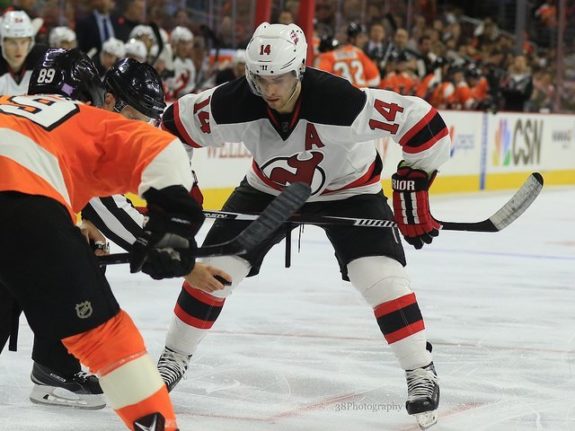 Forwards
The forward corps has plenty of talent. But there is yet to be a trio of forwards that has proven successful over several games. At one point, Travis Zajac, P.A. Parenteau and Taylor Hall were working well together but once Hall went down with injury, the lines were readjusted. Elsewhere in the lineup are several moving parts that lack chemistry and complicate matters.
The Devils currently have 15 forwards in the NHL right now: Beau Bennett, Michael Cammalleri, Vern Fiddler, Luke Gazdic, Hall, Adam Henrique, Jacob Josefson, Sergey Kalinin, Nick Lappin, Kyle Palmieri, Parenteau, Devante Smith-Pelly, Miles Wood, Pavel Zacha, and Zajac. Some of those names clearly belong on the fourth line or as depth forwards, so it may work best to start there.
First Line
Now, it is easiest to move to the top of the lineup. Realistically, the only players that could perform like top-line forwards would be Hall, Zajac, Palmieri, Cammalleri, Henrique, Parenteau, and perhaps Bennett. Starting at center, Zajac has been far more successful this season than Henrique and is a better talent on the defensive side and in creating chances for the team's top goalscorers. He should be on the top line.
As mentioned earlier, Hall had instant chemistry with Zajac upon the start of the season. Lately, Hall has moved around the top-six to help jumpstart Henrique and Parenteau but at this point, reuniting Hall and Zajac seems to be for the best. Given that Zajac and Hall are high energy players who chip in defensively and can pass the puck well, the third member should be somebody who can light the lamp and keep up with the speed of play.
Palmieri may seem like an easy choice there, but given his lack of success paired with those two, it would be worth giving Lappin a chance on the top scoring line. He might not be as talented as Palmieri or Parenteau, but Lappin brings energy to every shift and is an able shooter in his own right. Lappin's gone cold as of late but his quick start to the season is a clear testament to his scoring capabilities.
Second Line
This first line ultimately leaves the second line with plenty of available high-end options, with Cammalleri, Henrique, Palmieri, Parenteau, Bennett, Wood, Zacha, and Smith-Pelly all looking for roles. The next task will be finding players to fit on that third line.
Henrique is a good bet to play on the second line given the Devils' lack of center depth — Zacha is the only other natural center in the above list. Henrique would benefit from a physical forward next to him, so perhaps Wood would be a good fit on the left side. Parenteau, one of the team's more adept puck-movers, could round out a very balanced line as the right flank.
Third Line
That leaves the following five to battle for a third line spot: Palmieri, Cammalleri, Zacha, Smith-Pelly, and Bennett. The first three are all far too talented to be scratched and each of their styles of play complement each other's very nicely. Zacha is a defensively capable power forward who can take the body. Cammalleri has the stick skills but also the playmaking ability to set up one of the team's top goal-scorers in Palmieri.
Michael Cammalleri and Jacob Josefson showed of their smooth moves in last night's shootout win presented by @TheNJLottery! pic.twitter.com/TgfST7fFbX

— New Jersey Devils (@NJDevils) December 30, 2016
Fourth Line
Finally, the fourth line is easy to set because there are some talents that should be nowhere else but in that depth role. Gazdic, Kalinin, Josefson, and Fiddler belong nowhere but the bottom line at this point in their careers. That line will not score many goals and has struggled to date, but piling up that much defensive talent will help to suppress the opposition when leading or when trying to escape with a win. Three of them can start with the fourth one rotating in. Fiddler is a natural center and is most effective there, so Kalinin can take his natural left wing and Josefson can slot in on the right side.
Essentially, that balances the Devils top-nine while ensuring a defensively reliable fourth unit. Any of the top-three lines could be counted on to score a quick goal and none of the lines would be a liability in the defensive zone. The lines would be:
Taylor Hall – Travis Zajac – Nick Lappin
Miles Wood – Adam Henrique – PA Parenteau
Michael Cammalleri – Pavel Zacha – Kyle Palmieri
Sergey Kalinin – Vern Fiddler – Jacob Josefson
Defense
It's surprising to see the state of the defense after the Devils spent numerous high draft picks on the backend over the last decade and have had several seemingly blue-chip prospects. Sadly, things haven't worked out as planned and Hynes is left with a juggling act on the blue line.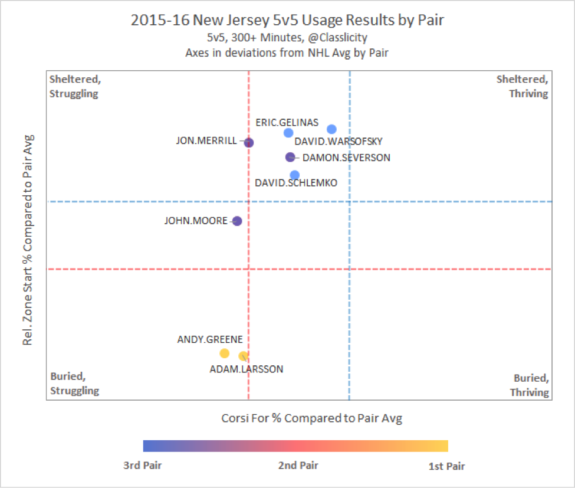 As Carolyn Wilke's Rainbow Chart shows, Devils' defensemen were either given favorable minutes — zone starts in the offensive zone instead of the defensive — or were thrown to the wolves, like Andy Greene and Adam Larsson.
That strategy works if the ones being sheltered are able to create chances in their roles or if the ones being buried are incapable of creating offense. Neither of those are true about last year's or this year's Devils, which is why players like Kyle Quincey, especially when paired with John Moore or Yohann Auvitu, has been completely ineffective.
If the pairings are going to be specialized and implemented only in certain situations then that restricts Hynes' ability to change lines in-game. Creating a duo with the team's two best puck-moving defensemen seems like a great strategy when down a goal, but they can only play for so long before needing a switch. And when that happens, who goes in?
Balanced pairings will do the team wonders. Certain defensemen are jacks of all trades in that they can provide a scoring boost or be a stay-at-home defender (Greene especially), but most others are far better suited at either scoring or playing the defensive zone. Yohann Auvitu, for example, is one of the team's more apt playmakers on offense but struggles in transition.
Auvitu, Moore, and Damon Severson are clearly more talented with the puck than without it, while Ben Lovejoy is most successful when he's in the neutral and defensive zones. Greene, Jon Merrill, and Quincey can work either way.
Then there is the issue of handedness. It is not dogmatic that all defensemen must be played based on their handedness, but it makes the game easier for left-shooting defensemen to play on the left and vice versa. Quincey, Merrill, Greene, and Moore are lefties while Lovejoy, Severson, and Auvitu are righties.
First Pairing
Greene has to be a first-pairing defensemen as he is clearly the best on the team. He can create offense but not to the extent that Severson can. Moreover, Greene has succeeded in mentoring his defensive partners, as has been the case with both Mark Fayne and Larsson in prior years. Putting the two together permanently could help the defense and, by extension, the offense.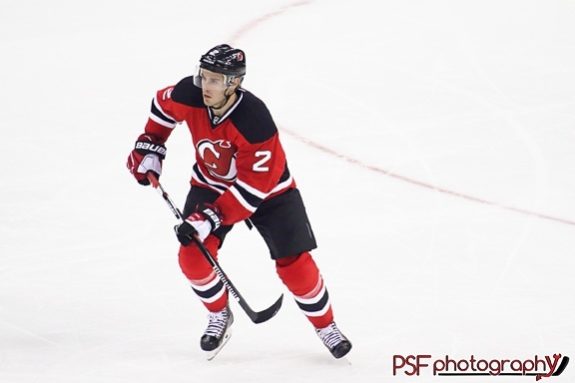 Second Pairing
Moore is the next most talented defender of the bunch and he excels in the offensive zone. He's on pace for more than 25 points in 2016-17 and has steadily improved the entire season.
He could use a stabilizing pairing mate like Lovejoy so that he can take risks without fear of letting up a goal. Lovejoy, at his current pay and age, is playing at expectations in Hynes' system and has been a pretty important shot suppressor to date. Puttting him with Moore would benefit both parties.
Third Pairing
Finally, Auvitu deserves a spot in the lineup. He struggles in the defensive zone and could greatly benefit from a seasoned veteran like Quincey back there helping him.
Quincey has had some scoring success in his NHL career and could help keep Auvitu grounded while the French blueliner works to build up his scoring ability. Auvitu, a 26-year old rookie, will need time to develop and learn from his mistakes, so a partner like Quincey would be invaluable.
With that, the Devils would have three balanced pairings with a puck-moving and stay-at-home defensemen. There are no pairings that are overly liable in the defensive zone. Similarly, there is no pairing that would mightily struggle to create chances.
These lines and pairings would be an efficient way to divide up the talent in this world where trades and callups are unlikely to happen until later in the season. The Devils have few waiver-exempt players and there have been crickets on trade possibilities for New Jersey. That means that the current group is the most likely one that Hynes can rotate around.
Hynes still has the backing of Shero and is unlikely to be fired mid-season, but one has to wonder when he will start a more aggressive experimentation with the lineup. His job could depend on it. Even Andrew Gross of the Bergen Record is cognizant of Hynes' results lately:
I am paid to be an objective reporter. My observations are I believe John Hynes is a good coach regardless of results since mid-November. https://t.co/IbCYgh5N55

— Andrew Gross (@AGrossNewsday) December 21, 2016
Instead of specializing within the lineup, Hynes should look to balance his talents and create lines and pairings in such a way that produces synergy. With that, the team will ultimately be able to be greater than a mere sum of its parts.