Author's Note: As part of the New Jersey Devils' 30th anniversary season, we will be looking back at the careers of several prolific Devils players and coaches. We hope the Devils are able to play this year and celebrate their time in New Jersey, but in the meantime, enjoy catching up with your former favorite Devils figures.
Bob MacMillan
Position: Center
Height/Weight: 5'11", 175 lbs.
Drafted: New York Rangers, first round (15th overall), 1972
Pre-NHL Squads: St. Catharine's Black Hawks (OHA), Minnesota Fighting Saints (WHA), Providence Reds (AHL)
Devils Career
MacMillan joined the Devils after spending four years with the Flames organization from 1977 through 1981. He was with the club during their time in Atlanta and the relocation to Calgary. In fact, he helped the team to the semifinals of the 1981 postseason, tallying 14 points in 16 games.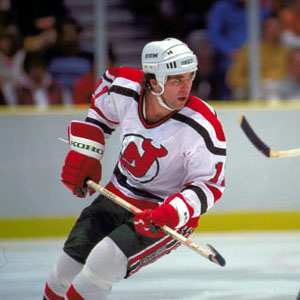 After being traded to the Colorado Rockies in 1981, he had 50 points in 57 games and was part of the move when the Rockies started their inaugural season in New Jersey in 1982-83. He was third in points in 1983 with 48 and fourth with 19 goals. In the 1983-84 campaign, he was fifth on the Devils with 17 goals and 40 points.
Post-Devils
Before the 1984-85 season, MacMillan went to the Chicago Blackhawks, where he had 12 points in 36 games. He then joined the Milwaukee Admirals of the IHL and had four points in just eight games. He retired in 1985.
Did You Know?
MacMillan has two sons who are hockey players. Logan was drafted by the Anaheim Ducks in the first round (19th overall) in the 2007 draft. He spent time in the ECHL and AHL before signing in Austria this season.
Younger son Cole was undrafted and played in the QMJHL with the Moncton Wildcats and Chicoutimi Sagueneens. He is attending the University of Prince Edward Island, where he will play hockey and soccer.
Where is He Now?
After retiring from hockey, MacMillan served in the Prince Edward Island legislature from 2000 through 2003. He is currently an amateur scout for the Calgary Flames and owns a sports bar in Charlottetown called The Sport Page Club.