With the NHL announcing it has cancelled all games on the schedule through the rest of October, hockey fans will have to continue their long wait. Since both sides are un-wielding in their positions, it could be a while before we see NHL hockey.
One of the fun parts of hockey that we've been robbed of is seeing a team's draft picks and prospects compete in training camp. After reading all you can on the internet about the team's prized picks you can't wait to see how they match up against the more polished NHLers.
For the Vancouver Canucks they were hoping to see how 2011 draft pick Nick Jensen fared, or if Alexandre Mallet really was an Alexandre Burrows clone. While the greed-mongers in the NHL have taken that from us they have not taken the game away from us.
The minor, junior and European leagues are in full swing and there are Vancouver Canucks draft picks littered throughout them. So where are they? How can you tell if they are playing well?
Here is a quick guide as to where you can find all of the past two season's draft picks playing. You can also get their stats from one of the best hockey resource pages on the net, here.
1st round (26th overall) Brendan Gaunce –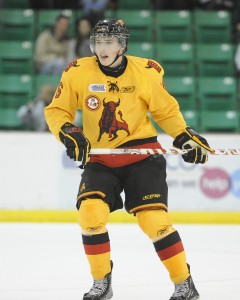 Where is he playing? Back in the OHL after signing a contract with the Canucks, Gaunce returned to the Belleville Bulls and was named the team captain before the season started. Through ten games with the Bulls he has scored four goals and has nine points. That early pace is just a shade below his point-per-game average last year.
57th Overall- LW – Alexandre Mallet – 
Where is he playing? The Canucks took Mallet as a late blooming 20-year-old with the hope that he was closer to being NHL ready. While the team did not get to see him playing with the regulars in training camp they will get to see him play this year. He is in the AHL with the Chicago Wolves. With several Canucks players sent down to the Wolves Mallet has found himself on the fourth line so far. He has appeared in only two games and has yet to register a point.
147th Overall- D – Ben Hutton –  
Where is he playing? Hutton was selected out of the CCHL last year and this year has begun his NCAA career with the University of Maine. Maine's season has just got under way and the 6-foot-3 and 200-pound defenseman has appeared in three games so far and chipped in with one assist.
177th Overall- LW – Wesley Myron 
Where is he playing? The Canucks stayed close to home in selecting Myron, who hails from Victoria, and after playing in the BCHL he finds himself in Boston playing for the Boston University Terriers. Boston has only played in one game so far so it's a bit early to gauge how Myron is fairing in the NCAA.
207th Overall- LW/RW/C – Matthew Beattie 
Where is he playing? The Canucks reached into the U.S. prep ranks with the 207th pick and selected Beattie who was listed at 6-foot-3 and 175 pounds. Beattie scored 74 points in 28 prep games last year and is attending Yale this fall but has yet to appear in a game.
2011 Draft Picks
Nicklas Jensen – LW/RW -29th overall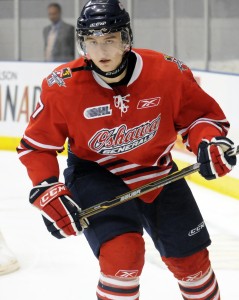 Where is he playing? With the looming lockout Jensen decided he would not stay in North America and the AHL. Instead he opted to head back to Europe and play in the Swedish Elite League with AIK. He has appeared in 13 games with AIK and has six goals and eight points so far this season.
David Honzik – G –71st overall 
Where is he playing? Honzik was playing in the QMJHL for Victoriaville but was slated to suit up for the Cape Breton Screaming Eagles this season but is injured and has yet to play in a game. He is expected to be back some time in October.
Alexandre Grenier -RW – 3rd round, 90th overall
Where is he playing? Like Jensen Grenier has decided to take off for Europe after spending last year with the Halifax Mooseheads in the QMJHL. Grenier is in Austria playing with EC Salzburg and has seen action in nine games with a goal and four assists so far.
Joseph Labate, C –101st overall
Where is he playing? The Minnesota product has started his second season at the University of Wisconsin. Last year he appeared in 37 games for the Badgers and chipped in 20 points. So far this year he's played in two games and has an assist.
Ludwig Blomstrand, LW – 120th overall
Where is he playing? Since being drafted by Vancouver Blomstrand has remained in Sweden to develop. Currently he is playing with Djurgården and has no points in eight games played.
Frank Corrado – D -150th overall 
Where is he playing? Corrado stayed in the OHL with Sudbury after being drafted but did get a brief call up to Chicago at the end of last year. This year is his back with Sudbury and has seven points through 11 games with the Wolves so far.
Pathrik Vesterholm – C – 180th overall 
Where is he playing? After playing in Sweden last year Vesterholm has stayed at home and is skating with BIK Karlskoga in the Swedish Elite League. In 12 games he has three goals and nine points on the season.
Henrik Tommernes – D – 210th overall
Where is he playing? Tommernes has not moved since being drafted by Vancouver and has begun his fourth full season with Frölunda of the Swedish Elite league. The defenseman has played in 15 games so far and has two goals and five points on the season.